Kabul Suicide Bomber Kills Dozens Registering to Vote, Islamic State Claims Responsibility
Updated | Afghan officials now say the Kabul suicide bombing killed at least 57 people, with 119 people wounded and receiving treatment at local hospitals.
The Islamic State militant group (ISIS) claimed responsibility for a Sunday suicide bomb blast in the western part of Kabul that killed at least 52 people as they lined up to register to vote ahead of the country's repeatedly postponed parliamentary elections.
The Ministry of Public Health confirmed 22 men, 21 women and 5 children were among those killed as authorities handed out national identity cards in the government's effort to register more voters, Afghanistan's TOLONews first reported. Afghan Health Ministry spokesman Wahidullah Majrooh said 112 are among the wounded.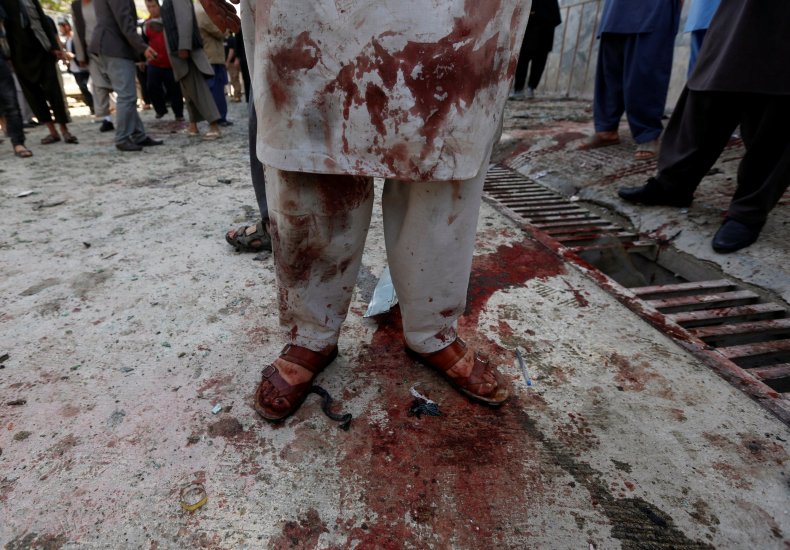 Interior Ministry spokesman Najib Danesh told Reuters a bomber approached the gathering on foot in the Dasht-e-Barchi area of the city dominated by members of the Shiite Hazara minority group. Windows were shattered and identification papers were strewn throughout the neighborhood. NATO forces continue to struggle to hold off Islamic State and Taliban attacks, with ISIS claiming responsibility for this latest attack through the Amaq News Agency.
"There were women, children. Everyone had come to get their identity cards," eyewitness Bashir Ahmad told Reuters.
The voter registration program is key to maintaining the credibility of Afghanistan President Ashraf Ghani's Western-backed government. Similar voter registration centers were constructed across the country in preparation for much-delayed parliamentary and district elections set to be held in October. TOLONews reported that 190,000 people have signed up to vote from an electoral pool that officials estimate to be about 14 million eligible voters.
Security had been stepped up in the area following several deadly bombings earlier this year. In January, a bomb hidden in an ambulance killed at least 40 people and wounded more than 140 when it detonated at a police checkpoint in an area of the capital near foreign embassies and government buildings. Dejan Panic, Afghanistan coordinator for the Italian aide group, Emergency, called it a "massacre." That attack was just one week after the Taliban claimed responsibility for an Intercontinental Hotel bombing that killed more than 20 people.
"I strongly condemn this morning's suicide attack on a voter registration center in #Kabul and offer my condolences to the victims and their families. This senseless violence shows the cowardice and inhumanity of the enemies of democracy and peace in #Afghanistan," John R. Bass, U.S. Ambassador to Afghanistan, tweeted in response Sunday.