Kabul Military Hospital Attacked for Second Time in Five Years, Leaving Over a Dozen Dead
A military hospital in Kabul, Afghanistan, was targeted in an attack Tuesday for the second time in five years, leaving at least 19 people dead and many more injured, according to Agence France-Presse (AFP).
The attack began with a suicide bombing near the entrance of the Sardar Mohammad Dawood Khan Hospital. From there, gunmen swarmed into the sizable facility and began firing weapons, Taliban sources told AFP. So far, no group has claimed responsibility for the assault.
"Nineteen dead bodies and about 50 wounded people have been taken to hospitals in Kabul," an unnamed health ministry official told AFP.
"All the attackers are dead," a Taliban media official said. "The attack was initiated by a suicide bomber on a motorcycle who blew himself up at the entrance of the hospital. Some attackers entered the hospital compound."
The hospital was previously attacked in 2017 when a group of gunmen disguised as medical personnel infiltrated the facility. Going room to room during the hourslong attack, the gunmen began killing people, switching to knives once they ran of ammunition, AFP said. At least 30 people at the hospital were killed that day.
Witnesses to the latest attack on the hospital heard what sounded like the gunmen going from room to room and compared the tactic to the 2017 assault.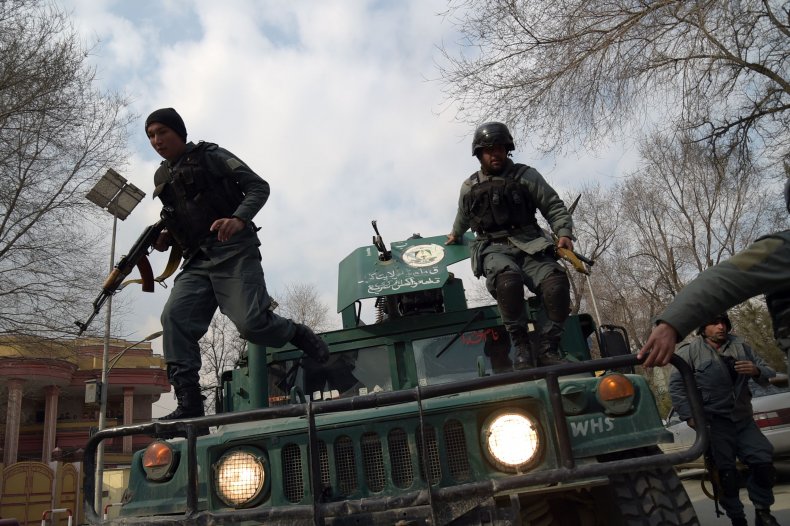 "I heard a big explosion coming from the first checkpoint," a doctor working at the hospital told AFP. "We were told to go to safe rooms. I also hear guns firing. I can still hear [guns] firing inside the hospital building. I think the attackers are going from room to room...like the first time it was attacked."
Responsibility for the 2017 attack was eventually claimed by the Islamic State militant group (ISIS), with the Taliban denying it was involved. Despite those claims, witnesses at the time reported hearing the attackers chant, "Long live Taliban."
While no group has taken responsibility for the most recent attack, a report from Afghanistan's state-run Bakhtar News Agency quoted witnesses at the scene describing the gunmen as ISIS affiliates. These claims have not been verified by any major news agency. AFP reporters witnessed Taliban fighters hurrying to the scene in armored personnel carriers and pickup trucks.
Since the Taliban took back control of the country following the U.S. military's recent departure, ISIS has claimed responsibility for four deadly attacks. They included assaults on mosques run by Shiite Muslims, whom ISIS views as heretics.
During this most recent attack, multiple sources said they heard a second explosion about 30 minutes after the first one, according to AFP.
Armored Personnel Carriers | The Armored Group, LLC
<cite class="iUh30 Zu0yb qLRx3b tjvcx" style="color: #202124; font-style: normal; padding-top: 1px;">https://www.ar