'The Kacey Musgraves Christmas Show': What You Need To Know, How To Watch and Stream Album, New Song 'Glittery'
Christmas is coming early this year for Kacey Musgraves fans.
The country/pop crossover artist released a holiday special on Amazon Video Friday morning. The special takes fans deep into a colorful world of Christmas magic, family features and a list of celebrity guest stars.
Filmed on a dollhouse-like set the special is full of comedic skits, monochromatic fashion moments and new takes on Musgraves' Christmas past. Here's everything you need to know about The Kacey Musgraves Christmas Show.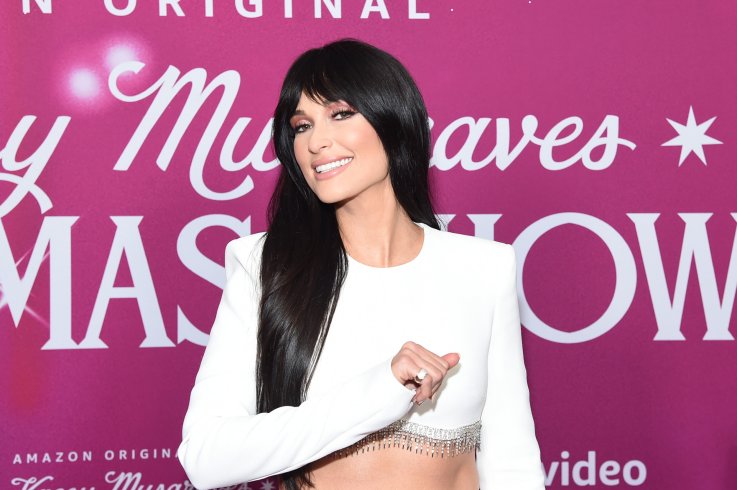 How To Watch
Fans can watch The Kacey Musgraves Christmas Show now on Amazon Video. This service is free to Amazon Prime subscribers. If you aren't a Prime member and haven't ever been, a free trial is available.
The Inspiration
Musgraves pulled inspiration from classic television specials like Judy Garland's Christmas shows and The Cher Show, she told Newsweek. She decided to create her own version of the family-friendly television show last year while brainstorming on her tour bus.
While the special is full of exciting, joyful moments, there's a bit of sadness to balance it. This isn't surprising for Musgraves, who has embraced the idea of mutual emotions in the past. Her song "Happy and Sad", off her Golden Hour album, talks of embracing two opposite emotions in a single moment. The Christmas special is no different. There are minutes of pessimism, confusion, sadness and celebration, all in the less-than-hour-long musical extravaganza. To partner, there are also dance numbers, comedic skits and emotional duets.
Musgraves designed the special to bring her 2016 Christmas album to life. A Very Kacey Christmas featured some classic Christmas songs along with some original holiday tunes. In The Kacey Musgraves Christmas Show, Musgraves performs them again.
"[The Christmas album] came out several years ago. It was one of the most fun projects I've ever worked on," she told Newsweek. "And I really didn't expect it to be because we all think 'Oh, Christmas music. There are a million versions out there.' But as I got deeper in the project, I realized I was treating it exactly like I would any other album of mine. The same amount of creativity and time went into that as the other ones."
To go with the Christmas special, Musgraves also released a new holiday song, 'Glittery.' The song is featured in the Christmas show as a duet with pop star Troye Sivan, but the solo version can be heard on her reimagined Christmas album, The Kacey Musgraves Christmas Show. The album is available on all streaming platforms.
'The Kacey Musgraves Christmas Show': What You Need To Know, How To Watch and Stream Album, New Song 'Glittery' | Culture