Kacey Musgraves Denies Slamming Taylor Swift, Blasts Kid Rock's 'Disgusting Misogyny'
Kacey Musgraves and Taylor Swift are on good terms after it appeared the country-crossover artist liked a tweet that slammed Swift for her liberal activism. Musgraves was accused of liking a tweet by musician Kid Rock that blasted Swift's political outreach and made a crude comment, but she later informed her fans there was a falsified image that inserted her name into the conversation.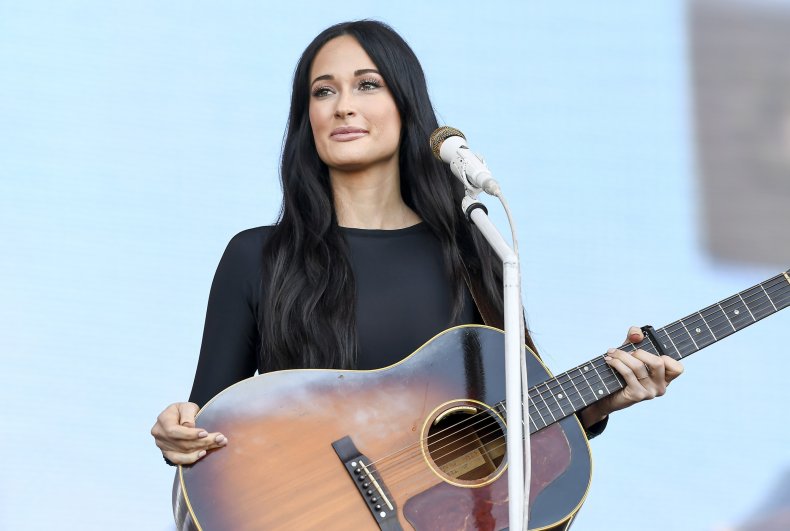 Musgraves posted an iPhone note screenshot to her Twitter account Sunday to explain. "Last week I was dragged because of how liberal I am and anyone that knows me knows how outspoken I am about equality & respect," Musgraves wrote on Twitter. "I've connected with Taylor - she knows this is NOT how I feel and we are cool."
She continued to explain an image of Kid Rock's controversial tweet was edited to look like it was first in her Twitter "likes" feed, implying she had acknowledged and supported it. "That was a manipulated image, (I don't even follow Kid Rock) and I would NEVERRR support any message promoting such disgusting misogyny," she explained.
Swift liked Musgraves' tweet, seemingly in a show of support or understanding. Kid Rock's original tweet is still on his feed. It was uploaded on Friday and reads: "Taylor Swift wants to be a democrat because she wants to be in movies....period. And it looks like she will suck the door knob off Hollyweird to get there. Oldest move in the book. Good luck girl."
Newsweek subscription offers >
Musgraves explained she first thought her account had been hacked until she was made aware that someone had edited the image. The country musician has long gone against the somewhat conservative genre's cookie-cutter views, not only being outspoken for her democratic values but sharing her interest and inspiration in marijuana, acid and other drugs.
On Twitter last week, Musgraves slammed President Donald Trump and America's current politics. "I love keeping things about the music and usually stay out of politics publicly UNTIL it barrels past political party preference points and dangerously encroaches on fundamental human rights," she wrote on August 5. "It's then not political issue anymore. It's a matter of heart. Of humanity. Of survival."
When a Twitter bystander told her to "stick to singing," and claimed most of her country-genre fans likely have guns at her show, she responded. "Let me be clear - I'm from Texas. I grew up around hunting and guns," she wrote. "There's a time and place for that and even self-protection in ways..but this is different. The system is majorly flawed and NOBODY NEEDS ANYTHING REMOTELY AUTOMATIC. PERIOD. They're mass killing machines."
Kacey Musgraves Denies Slamming Taylor Swift, Blasts Kid Rock's 'Disgusting Misogyny' | Culture