Kacey Musgraves and Kelsea Ballerini are speaking up against a radio station's tweet about playing two women artists back to back.
The conversation began when Variety editor Chris Willman said he heard two female-sung songs, by Gabby Barrett and Ballerini, played in a row on 105.1, a Los Angeles country station. He then asked if the station would be fined for the decision.
In reply to Willman's tweet, Saginaw, Michigan station 98 KCQ, responded with the alleged rule at their station.
"We cannot play two females back to back," the station's Twitter account wrote in response. "Not even Lady Antebellum or Little Big Town against another female. I applaud their courage." The tweet has since been deleted.
Both Lady Antebellum and Little Big Town are male-female vocal groups.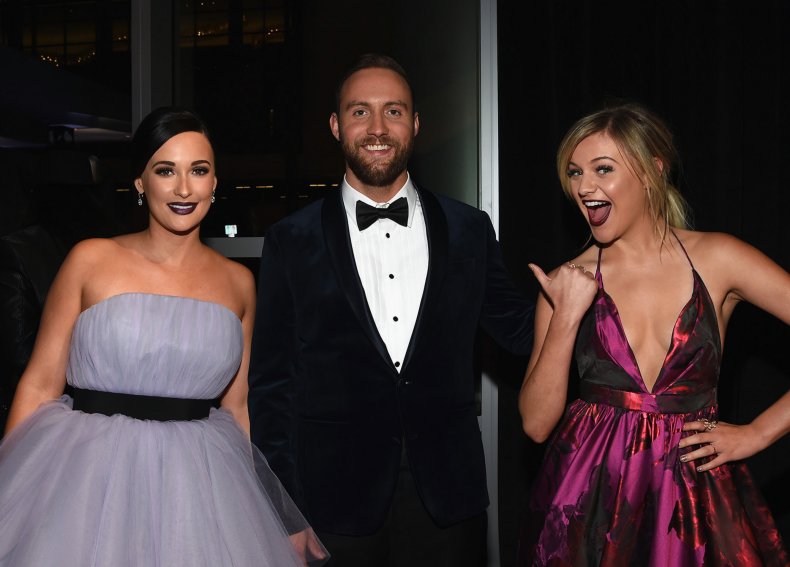 Shortly afterward, Ballerini and Musgraves, who won Grammy Album of the Year in 2019 despite a lack of air time on country radio, responded to the comment.
"Smells like white male bulls*** and why LONG ago I decided they cannot stop me," Musgraves replied to 98 KCQ. "And yet, they can play 18 dudes who sound exactly the same back to back. Makes total sense," the singer added in a separate tweet.
Ballerini had a similar point. "To all the ladies that bust their a**** to have half the opportunities that men do, I'm really sorry that in 2020, after YEARS of conversation of equal play, there are still some companies that make their stations play by these rules. It's unfair and it's incredibly disappointing."
However, Newsweek was told the rule does not exist. Brian Hatfield, Operations Manager/Program Director at MacDonald Broadcasting, Saginaw, said there's no standard that keeps female artists from being played at 98 KCQ.
"In the history of MacDonald Broadcasting, there has never been a rule against playing females back to back....ever!" he explained. "There is also no rule or policy that prohibits us from adding females to our playlist. There never has been and never will be."
The Federal Communications Commission also confirmed that no there is no fine issued for playing female artists back to back. "There is no such rule or regulation," said Tina Pelkey, Press Secretary to the FCC Chairman told Newsweek.
Though the original tweet from 98 KCQ has been deleted, the station left words of respect for each artist in reply to their tweets about the rule. It was not immediately made clear to Newsweek who controls the station's Twitter account.
"You are my favorite artist Kacey," the station tweeted to Musgraves. "I always pull for you when a new single comes out. Your music has meaning. I am not kissing up. Just speaking truth."
Ballerini also received a comment from 98 KCQ. "The conversation continues, Kelsea," the account said. "I am not alone in this. And neither is the music industry. (Oscars). Women deserve their share of the airwaves."
A 2019 study from by Dr. Jada E. Watson examined the amount of airplay female artists received on country music radio between 2000 and 2018. According to the study, female artists saw their amount of airplay on country radio decrease by 1.7 million spins in those 19 years. Meanwhile, the airplay for male artists increased by 4.4 million spins.
According to the study, Kenny Chesney, the top played male artist of that 19-year period, amassed 6,047,111 spins on country radio, while his female counterpart Carrie Underwood had 3,182,237. The second most-played artists, Keith Urban and Miranda Lambert, had 5,190,766, and 1,998,598. No male artist listed in the Top 10 most played artists from 200 to 2018 has fewer than 3 million individual spins while only Underwood, Lambert and Taylor Swift (1,824,994 spins) have more than 1.5 million. Only Dierks Bentley is below 3.5 million for male performers.
The study also shows that women saw fewer songs overall be released on country radio from 50 songs being played on airwaves in 2000 to 17 songs in 2018.
Many Twitter users were quick to give their support to female artists, some even swearing off of country radio until the gender gap is fixed.
Newsweek reached out to Musgraves and Ballerini for comment but did not immediately hear back.