Kacey Musgraves On What Inspired Her Amazon Christmas Special, And New Holiday Tune 'Glittery'
Four years after the release of her Christmas album, A Very Kacey Christmas, country crossover artist Kacey Musgraves is celebrating the holiday with a new twist on her record. From her own compositions to some classic, fireside jingles, Musgraves has created a holiday fantasy world in her Amazon special The Kacey Musgraves Christmas Show.
The show takes viewers on a tour of Musgraves' beautifully decorated, fictional home—a dollhouse-like set where each room hosts a different color theme, song and celebrity guest. It's inspired by classic television specials, Musgraves told Newsweek. "I kind of modeled it after the great Judy Garland Christmas specials and The Cher Show, things that we love like that," she said. "But a very fresh, modern take on it."
Within the walls, Musgraves celebrates comedy, sadness and everything sparkly. She created the special with a range of emotions in mind. "Obviously, hands down, it's got to have some comedy moments," she said of planning the special. "And then we have to have a little bit of sadness to balance the comedy and the happiness that the holidays can make you feel are up in your face."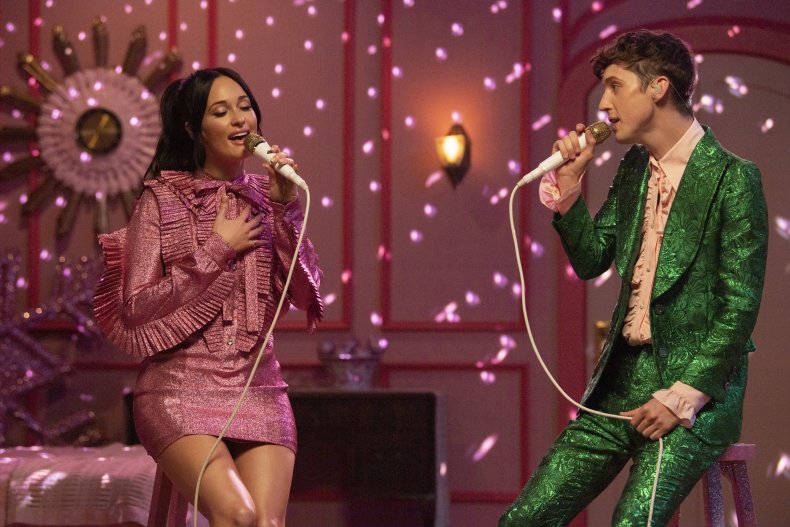 In The Kacey Musgraves Christmas Show, Musgraves dances, acts and of course, sings. She joked she's become a triple threat.
"I didn't want to seem out of my element, or like I was trying to convey or pull something off that wasn't really me," she explained. "Though I was pushing myself to explore other areas that I've never messed with before like comedy and light acting—although my acting skills are kind of laughable—and a little bit of dancing, you know, some light choreo. Those things don't come easy to me because those aren't my passions, but they're really fun. Ultimately, it's my Christmas music delivered. But it's wrapped up in a lot of things that I've never done before."
Through a list of celebrity-featured songs, comedic breaths and family conversations, Musgraves injects her own personality. The special also introduces a new Christmas song, 'Glittery,' which Musgraves released in conjunction with the show. In addition, audio from the Christmas special will be gifted to fans in the form of an updated album, also titled The Kacey Musgraves Christmas Show.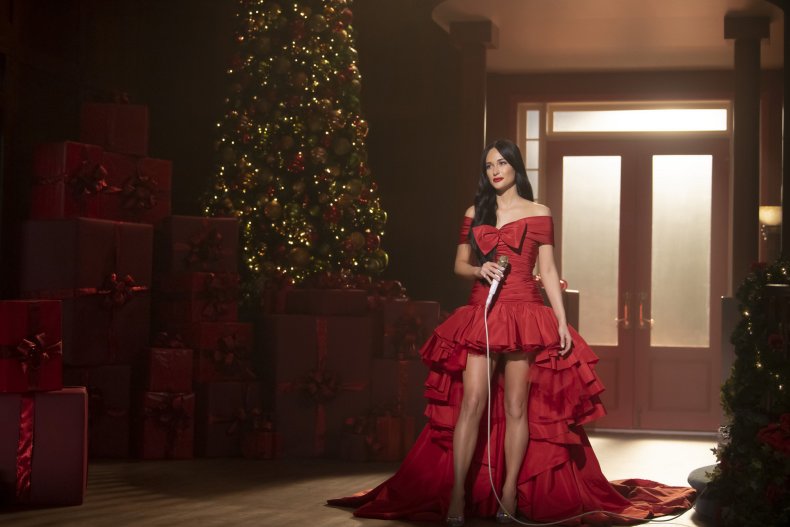 Musgraves explained the joy of writing a Christmas song, and how 'Glittery' differs from her most recent catalog: Golden Hour.
"I was poking around seeing if we could write a new Christmas song. Anything really goes," she said of holiday-themed tunes. "There's a bunch of things already in the Christmas box to pull from, but you have to figure out a way to say it differently from the 9 billion other people who have written and sang Christmas songs before. It's a really fun challenge."
'Glittery' is an uplifting love song. The lyrics pull from Christmas tropes like presents, decoration and Christmas lights.
Musgraves said it wasn't difficult to write. "It came out really quick. It almost doesn't sound like a Christmas song. It could also not be a Christmas song. It's got an easy-breezy, Marvin Gaye kind of thing to it which I really love. Aesthetically, it's one of my favorite moments on the show."
The Kacey Musgraves Christmas Show is available to stream on Amazon. The album is also available on all streaming platforms.
This article has been updated to correct the spelling of Marvin Gaye's name.