Putin Ally Believes Ukraine War Will End Soon: 'The West Will Kneel'
Ramzan Kadyrov, the president of Chechnya whose troops are fighting for Moscow in Ukraine, has reportedly said that the war will end by the end of the year with Russian forces prevailing.
An ally of Vladimir Putin, Kadyrov has criticized Russian commanders and aspects of the Kremlin's military campaign in Ukraine, without condemning the Russian president directly.
But despite months of downbeat assessments of Russia's military prowess, he still suggested that Russia would win the war which would end "by the end of the year." Then, he believed that European countries will "recognize the wrongness of their actions."
"The West will kneel, and as usual, European states will have to cooperate in all areas with the Russian Federation," he said. "There will not be and must not be any other way," he added.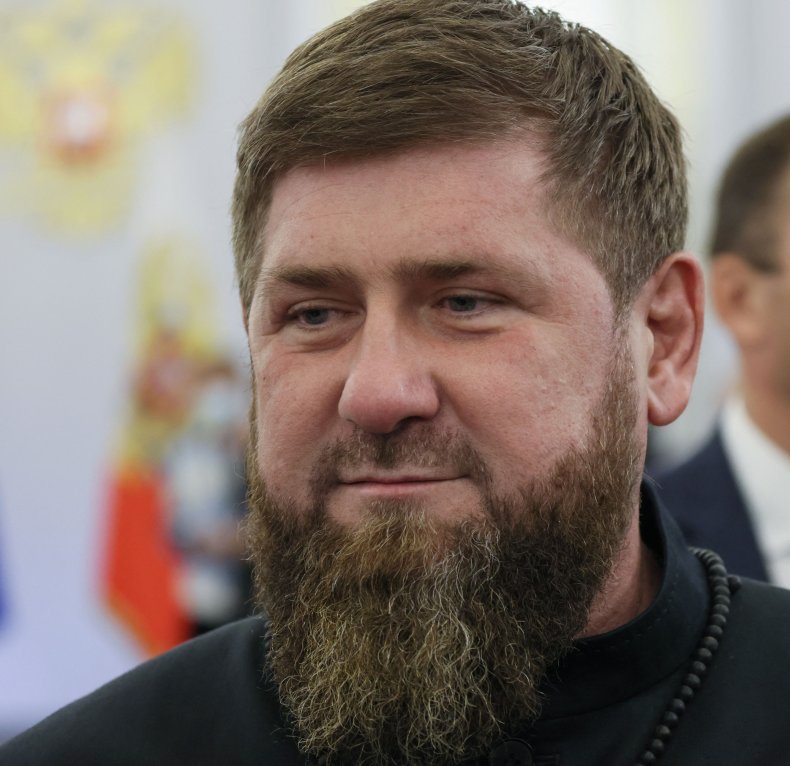 The comments were made in an interview with Chechen minister Akhmed Dudayev, widely shared on Telegram and reported by news outlets such as Gazeta.ru.
Kadyrov also appeared to issue a threat to Poland over its support for Kyiv. In a post on his Telegram channel on Monday, he said that Warsaw had depleted its own military resources and wrote that perhaps after the war, "what if...Russia begins to denazify and demilitarize the next country?"
The Kremlin has said one of the justifications for the war in Ukraine was to "denazify" Ukraine, which has been dismissed internationally.
Kadyrov wrote that the "fight against Satanism should continue throughout Europe, first of all on the territory of Poland."
Kadyrov and his commanders have regularly described the conflict in Ukraine as a "holy war" against the "satanic" values of the West, a view which is sometimes pushed on Russian state television.
Kadyrov said that Russia could assist in a referendum on independence for Silesia, a region of Poland "that has earned a special independent status."
Newsweek reached out to the Polish foreign ministry for comment.
Kadyrov has tried to take a prominent role in the war in Ukraine. In October, Kadyrov described General Alexander Lapin, who was dismissed as commander of Russia's Central Military District, as "mediocre," following the withdrawal of Russian troops from Krasny Liman in the Donetsk oblast.
Chechen troops fighting on the side of Moscow in Ukraine are known as "Kadyrovtsy" or "Kadyrovites," named after their leader.
However, human rights activists say many Chechen soldiers were recruited against their will and before the war, were accused of extrajudicial killings, kidnappings and torture. Earlier this month, Kadyrov appointed his 26-year-old nephew Khamzat Kadyrov as Chechnya's deputy prime minister.