Kaepernick Next? Eric Reid Signs With Panthers After Suing NFL
Eric Reid's NFL hiatus is finally over after the free agent safety signed with the Carolina Panthers on Thursday.
Reid's move to Carolina is a significant moment for both the player and the league as a whole, given the one-time Pro Bowl selection had failed to find a team since he was not re-signed by the San Francisco 49ers in the offseason.
The former Louisiana State University team member was among the first players to support his then-teammate Colin Kaepernick's protest two years ago. The latter rose to prominence in 2016 as he opted to kneel rather than stand during the national anthem as an act of silent protest against social and racial injustice.
Kaepernick became a free agent ahead of last season but wasn't given a tryout by any of the 32 NFL teams, and in October of last year he filed a grievance accusing the team owners of colluding with each other to prevent him from returning to the league .
The case will now go to trial after it was announced last month that the NFL had failed to get Kaepernick's lawsuit dismissed.
In May, the NFL Players' Association filed a similar grievance on behalf of Reid. The case is expected to go ahead despite the fact he has since found a way back into the league, as reported by Pro Football Talk's Mike Florio.
The Panthers needed a safety to replace veteran Da'Norris Searcy who was placed on injured reserve last week after suffering a second concussion in a month.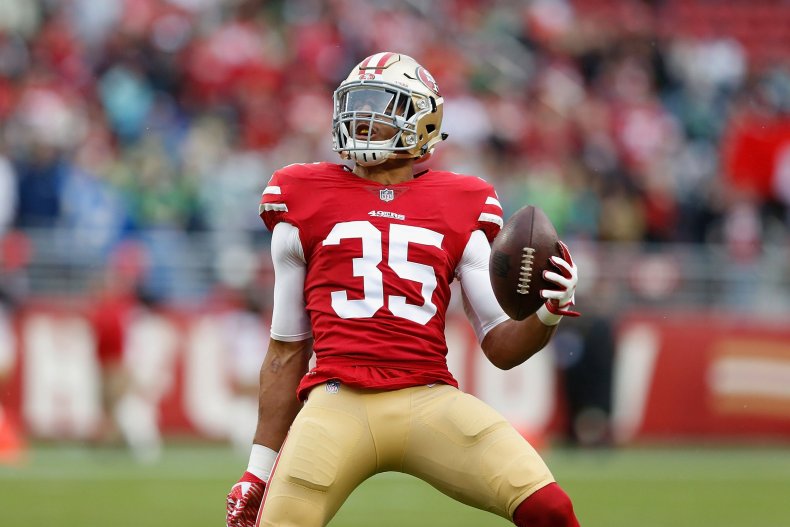 Panthers' general manager Marty Hurney insisted Reid's grievance with the NFL had not been considered by the team.
"Eric has been a starting safety in the NFL and has played at a high level throughout his career," he said in a statement on the team's website.
"After we put [safety] Da'Norris Searcy on injured reserve, Ron [Rivera] and I discussed our options, and Eric was at the top of our list. He is a physical safety with good ball skills and play-making ability."
According to ESPN, the 49ers, who drafted Reid with the number 18 overall pick in the 2013 draft, had offered a one-year deal to the 26-year-old earlier this week and had tabled a similar offer earlier this year.
San Francisco is currently without both of its starting safeties, with Adrian Colbert and Jaquiski Tartt nursing hip and shoulder injuries respectively.
Reid's brother, Houston Texans safety Justin Reid, said signing for the Panthers was the right reward for his brother's perseverance and the resilience he showed since the 49ers declined to re-sign him.
"It's just been a journey for him," he was quoted as saying.
"He's been consistently prepared for when this opportunity did come. Immensely proud of what he's done. Immensely proud of what all the guys have done that are trying to have a voice for the voiceless."
Kaepernick, who remains unsigned, took to Twitter to congratulate Reid for his return to the NFL.
" He [Reid] was the first person to kneel alongside me," the former 49ers quarterback tweeted.
"Eric is a social justice warrior, continues to support his family and communities in need."