Kagan Hearing Is the Charade She Detests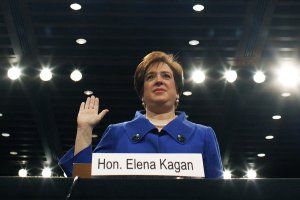 Elena Kagan is praised by just about everyone who knows her as extraordinarily skilled at understanding and respecting the views of people who disagree with her—conservatives in particular.
She offered a glimpse of that quality this afternoon in her 13-minute opening statement to the Senate Judiciary Committee.
After the usual thanks to her family, her friends, the president who nominated her, the senators who have met with her, and her late parents, and after praising retiring Justice John Paul Stevens, and after much else that is standard fare in such statements, Kagan got to the heart of the matter:
"What I've learned most is that no one has a monopoly on truth or wisdom. I've learned that we make progress by listening to each other, across every apparent political or ideological divide. I've learned that we come closest to getting things right when we approach every person and every issue with an open mind. And I've learned the value of a habit that Justice Stevens wrote about more than 50 years ago—of 'understanding before disagreeing' ... I will listen hard, to every party before the court and to each of my colleagues. I will work hard. And I will do my best to consider every case impartially, modestly, with commitment to principle, and in accordance with law."
Kagan also stressed a theme dear to the hearts of Democratic and Republican senators alike: that the high court should be "properly deferential to the decisions of the American people and their elected representatives" and must "recognize the limits on itself and respect the choices made by the American people."
Of course, Senate Democrats and Republicans disagree emphatically about when the justices should defer and when they should strike laws down. Democrats want deference to campaign-finance-reform laws but not to laws limiting abortion rights, for example; most Republicans want the opposite.
Kagan will avoid coming down on either side of such issues on Tuesday and Wednesday, when she will field questions from the committee's 12 Democrats and seven Republicans. She will make reassuring noises but resolutely refuse to answer questions about her views of specific issues.
Will this make her hearing the kind of "vapid and hollow charade" that Kagan said Supreme Court confirmation hearings had become in a now-semi-famous 1995 book review—where she urged nominees to testify about their views of specific issues?
Don't bet against it. Vapid and hollow has been the approach chosen by every careful Supreme Court nominee in the past three decades. And Kagan—who has been extraordinarily guarded for decades about her views—is nothing if not careful.