Kagan Hearings Are All About the Midterms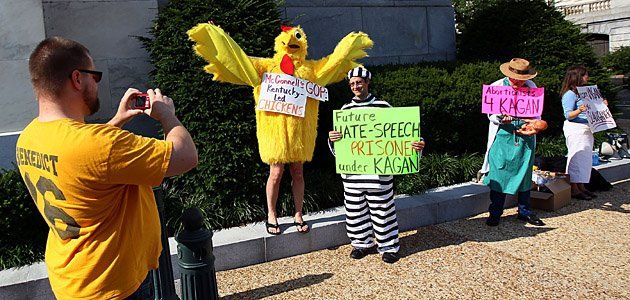 As Elena Kagan's hearings ground through their third day, with confirmation virtually assured, viewers learned little that was new about the nominee. Mostly they saw senatorial skirmishes to fire up the conservative and liberal bases in an election year.
Republican senators tried to paint Kagan as political and deceptive on issues including so-called partial-birth abortion. But her detailed answers sounded convincing. And her questioners moved on with little followup, to the frustration of conservative activists who thought a more effective case against Kagan could have been made.
Meanwhile, Democratic senators spent their time airing gripes against the "conservative activist" Roberts Court and other pet themes.
The partial-birth-abortion issue came up when Republican Sen. Orrin Hatch of Utah told Kagan that her role in writing Clinton White House documents about the "particularly gruesome" procedure "bothers me a lot" because it could involve "politicization of science." The Kagan documents involved a draft paper by a panel of the influential American College of Obstetricians and Gynecologists (ACOG) on whether the procedure that critics call partial-birth abortion is ever necessary to protect the health of the woman. The initial ACOG draft, which it shared with the White House, said that the panel "could identify no circumstances under which this procedure … would be the only option to save the life or preserve the health of the woman."
In a 1996 internal White House memo, Kagan wrote that it "would be a disaster" if that wording stood unchanged as the ACOG group's public statement. She also drafted or helped draft and send to ACOG some new proposed language: "An intact D&X [the medical term for the procedure], however, may be the best or most appropriate procedure in a particular circumstance to save the life or preserve the health of a woman." ACOG included this new language in its final statement, which was later cited by courts as medically authoritative.
Hatch pressed Kagan on whether she had influenced ACOG to change its own document to serve political rather than medical ends. She responded that the language that she had drafted was in fact exactly what she knew to be ACOG's position, based on previous public and private statements by the group. "What ACOG thought and always conveyed to us was two things," Kagan told Hatch. "They couldn't think of a circumstance in which this was the only procedure that could work, but they could think of circumstances in which it was the best procedure for a woman's health. Then we saw a draft statement which said the first, but not the second, which we also knew ACOG to believe [and] did not accurately reflect all of what ACOG thought."
Kagan added: "There is no way I would have or could have intervened with ACOG … to change its medical views."
Hatch did not sound satisfied, but did not really follow up.
Sen. Jeff Sessions of Alabama, who as the committee's senior Republican has been Kagan's main antagonist, continued his criticism of the treatment that she gave military recruiters as dean of Harvard Law School because of the law excluding gays from the military. And Republican staffers distributed piles of Pentagon documents to reporters who had no time to read them. But Sessions broke little or no new ground.
He did introduce a new theme by complaining that Kagan had not sought Supreme Court review of a preliminary federal appeals-court ruling adverse to the military on the "don't ask, don't tell" policy's constitutionality.
But Kagan explained that in her view, the government would have a stronger case in the Supreme Court if it awaited a final decision in the lower courts. If Sessions had a good rebuttal to that, he kept it to himself.
Democrats, including Sen. Sheldon Whitehouse of Rhode Island, continued bashing the Roberts Court for its big decision in January allowing corporations to spend unlimited amounts on political campaigns—a decision that has been broadly unpopular with the public. But the Whitehouse critique sounded warmed over, as did his complaints about a 2008 decision limiting punitive damages in maritime cases, the complaints by Sen. Al Franken of Minnesota about decisions upholding arbitration clauses in consumer agreements, and the like.
"Franken is just making points about his view of the law," wrote Tom Goldstein, the Supreme Court litigator who heads Scotusblog, which has been live-blogging the hearing. "This doesn't really have anything to do with learning about Kagan's views." Exactly.
Kagan Hearings Are All About the Midterms | U.S.