Who Is Kailyn Lowry Dating? 'Teen Mom 2' Star Says She Isn't Single Anymore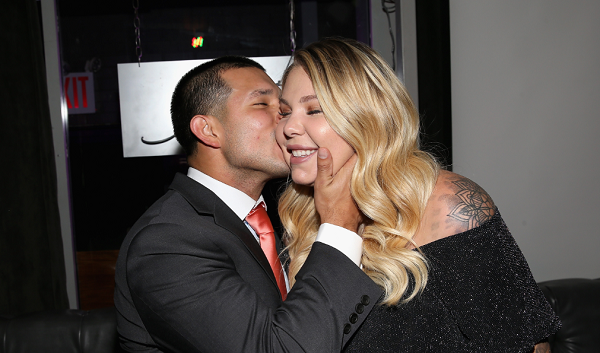 Teen Mom 2 star Kailyn Lowry is off the market. The mother-of-three confirmed her new relationship in an Instagram Stories post on Sunday.
Lowry revealed her latest romance after fan asked if she was still single during a Q&A session, to which the 26-year-old simply replied, "Nope."
She refrained from revealing the identity of her new boyfriend but noted she was happy with everything in her life right now. When asked by another fan about her biggest accomplishment thus far, Lowry replied: "You know what's really crazy. I thought about this morning. Aside from my children, I'm really proud of getting my bachelor's degree, buying a home & writing books. I truly am so thankful."
Lowry first gained the attention of fans when she appeared on the second season of MTV's original young mother series, 16 and Pregnant, in 2010, during which time she gave birth to her first son, Isaac Elliot Rivera, whom she shares with ex-boyfriend Johnathan Rivera.
Despite her breakup with Johnathan Rivera, she went on to be cast in the MTV spinoff Teen Mom 2, which she appeared on with Javi Marroquin. They married in 2013 just two months before giving birth to the couple's first child together—Lowry's second son—Lincoln Marshall Marroquin. Lowry and Javi Marroquin divorced in 2015 after it was revealed she suffered a miscarriage on Teen Mom 2.
A brief relationship with ex Chris Lopez brought the birth of Lowry's third son, Lux Lopez, whom the former couple welcomed months after their split in 2017. Although her relationship with Chris Lopez ended, the duo seems to be co-parenting cohesively. Despite claiming that she "hated his guts" when she first met Chris Lopez, Lowry previously admitted she would have another baby with him.
"Before I got pregnant with Lux and had multiple miscarriages, my doctor told me I should be thankful that I have two healthy boys and what's meant to be will be," Lowry told Us Weekly in October. "I kind of have that perspective now. In my book [A Letter of Love], I said that Lux will probably be my last child. I would definitely have more, but I also know that my life isn't really set up for another right now. Ideally, I would have liked Chris to be the father of my next child."