Kaitlyn Herman Shares Hateful Messages From 'Big Brother' Fans Months After Show Ends
Kaitlyn Herman was a polarizing force in Big Brother Season 20. Fans either loved her or hated her, and those who hated her haven't gotten over it. Months after the season ended in September (Herman was voted off in July) she still receives hate mail from angry fans.
Herman posted screenshots of messages she's received on Instagram, and detailed the endless harassment she's endured since her departure from the show on her Twitter account Tuesday. "These are some of the things I deal with on a regular basis," she wrote. "I'm sharing this with you all just so you can have a TASTE of what my life is like on a daily basis. These messages make me want to coach and inspire EVEN MORE."
The messages were riddled with curse words and derogatory names, from c*** to w****. Others made threats to Herman, like one Instagram user who direct messaged her "If I see you I'm f****** you up on sight," and another who insulted her with a comment about her voice. "You have the voice of an old racist," the message read.
Herman said she's not majorly affected by the messages, but does find them concerning. She's making a goal of fighting against online hate.
"Unfortunately, this is the reality of the situation," Herman told Newsweek. "Social media has become a place where people can hide behind their screens and muster up the courage to say just about anything. I receive hateful messages everyday. There's a ton of love too, but the hate is what sticks out sometimes. I'm a tough person and have pretty thick skin so it doesn't really bother me, but I'm VERY concerned for any future reality star that might not be as strong as me. There needs to be a change, and I'll make it my mission to raise awareness to this."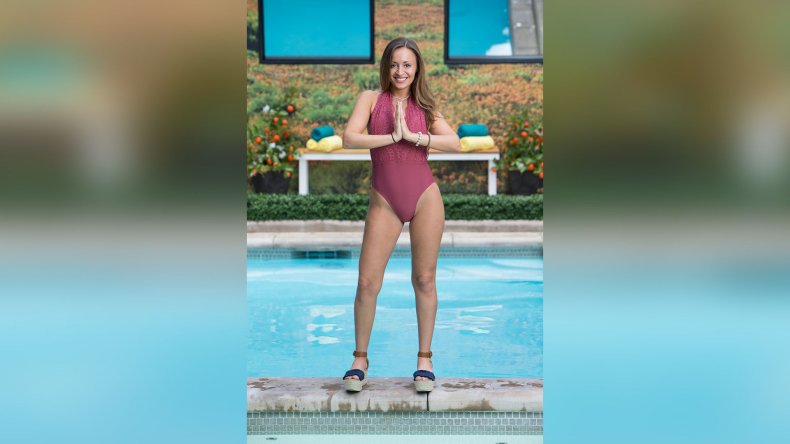 Herman, who is a life coach and capitalizes on spiritual energy, keeps a positive attitude on her social media accounts even after the drama that followed her departure from Big Brother. Her posts, more often than not, are motivational and designed to inspire her followers.
When she left the Big Brother house, Herman was met with both applause and criticism. Some have called her the most entertaining houseguest ever, and wished she had stayed on the reality show longer. Others took the side of her then-boyfriend, musician Aire Atlantica, who seemingly ended his relationship with Herman online while she was in the house. Throughout the season, viewers had commented Herman came across as flirty with other houseguests.
At the start of the Big Brother season, Herman controlled the house. Her reign quickly fell, though, as individual houseguests, and her closet alliance members began to turn against her. She was almost unanimously voted out of the house with a 9-1 eviction vote, the only houseguest voting to keep her JC Mounduix.
Herman was given the opportunity to battle back into the game with a puzzle, but did not complete it in time. She told host Julie Chen she wasn't upset about her dismissal. "I'm actually glad because that was me," she said of the failed puzzle. "That was my control. I can live with the fact that I just didn't do it. Like I say a million times, it was for the highest good. There's someone out there that needs me more than in here and I'm so proud of myself."
This article has been undated to include Kaitlyn Herman's comment.