Florida Gunmaker May Have Violated Russia Sanctions in Getting AK-47 Parts, Congressman Alleges
Updated | A United States congressman from Florida is questioning whether an American manufacturer of AK-47-style guns violated Russian sanctions, and he is asking for more information.
In a letter to the Department of the Treasury on Wednesday, Representative Ted Deutch, a Democrat, asked for information about Kalashnikov USA. The Florida-based company started as an importer of firearms from Kalashnikov Concern, a Russian company. After the U.S. imposed sanctions on the Russian company in 2014, Kalashnikov USA began manufacturing its own firearms.
Related: Where do AK-47s come from? Florida, thanks to sanctions
But Deutch believes that the American manufacturer still has ties to the Russian entity and is violating the Russian sanctions.
"Kalashnikov USA is reportedly using a web of shell companies to hide its relationship to the sanctioned Russian Kalashnikov company," he wrote in the letter. The congressman pointed to news reports saying that in 2015, after the sanctions were in place, the company still stated on an application for tax incentives that it was receiving parts and components from Russia.
"If these reports are accurate and Kalashnikov USA is using Russian parts from a sanctioned Russian company to assemble weapons of war, and Kalashnikov Russia is using Florida shell companies to generate profits in Russia, then a determination must be made into whether any violations of sanctions occurred or continue to occur," he wrote.
Deutch is asking the Treasury Department whether the importing of parts and components from a sanctioned company would violate the sanctions, whether Kalashnikov USA has indeed imported any such parts and components and whether the department's Office of Foreign Assets Control is investigating the matter.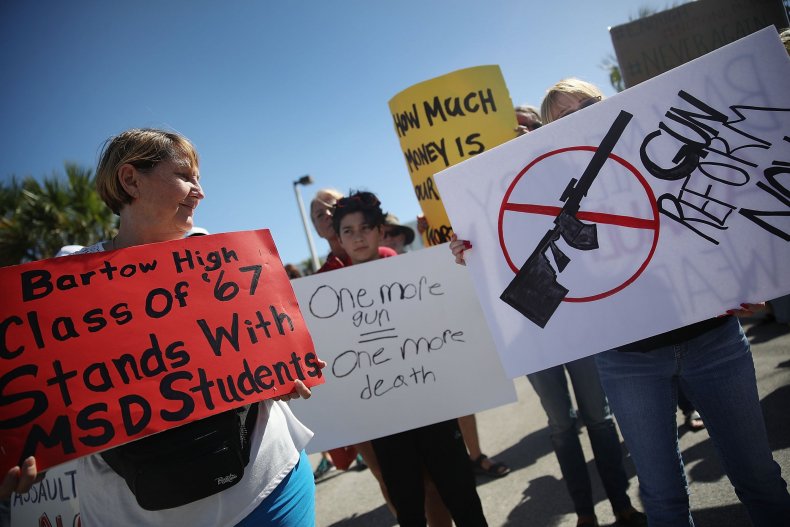 Kalashnikov USA denied those allegations. "Kalashnikov USA is a privately held U.S. company that operates in accordance with all applicable U.S. laws, including but not limited to the International Traffic in Arms Regulations and U.S. economic sanctions programs," it said in a statement. "Accordingly, as a 'U.S. Person' under such laws, Kalashnikov USA does not conduct business with the Russian company Kalashnikov Concern, which has been designated as a Specially Designated National by the [U.S.] Department of the Treasury."
The company's facility in Pompano Beach, Florida, was the site of a rally in February, following the deadly shooting at Marjory Stoneman Douglas High School in nearby Parkland. "AK-47s are weapons of war, and it's being manufactured in our own backyard," Mitchell Stollberg, who organized the rally and is chairman of the Broward County chapter of Progressive Democrats of America, told Newsweek in March.
The United States attorney's office for the Southern District of Florida, in Miami, is investigating ties between the American and Russian companies, Bloomberg reported in March. A spokesperson for the office told Newsweek by email, "The U.S. attorney's office cannot confirm or deny the existence of an investigation."
This article has been updated to include a response from the United States attorney's office in Miami.