Kamala 2020? Harris Says Things Could Get 'Ugly' If She Runs Against Trump: 'When You Break Things, It Is Painful'
Democratic Senator Kamala Harris of California said she planned to make the "very serious" decision about whether to run against President Donald Trump in 2020 over the holidays.
"I will make that decision with my family," Harris said said in an interview with MSNBC's Mika Brzezinski at the Know Your Value conference in San Francisco, adding that she was acutely aware of just how cutthroat the presidential race could become.
Read more: Is Kamala Harris running for president? Possible candidate stumps for 2018 congressional candidates in Iowa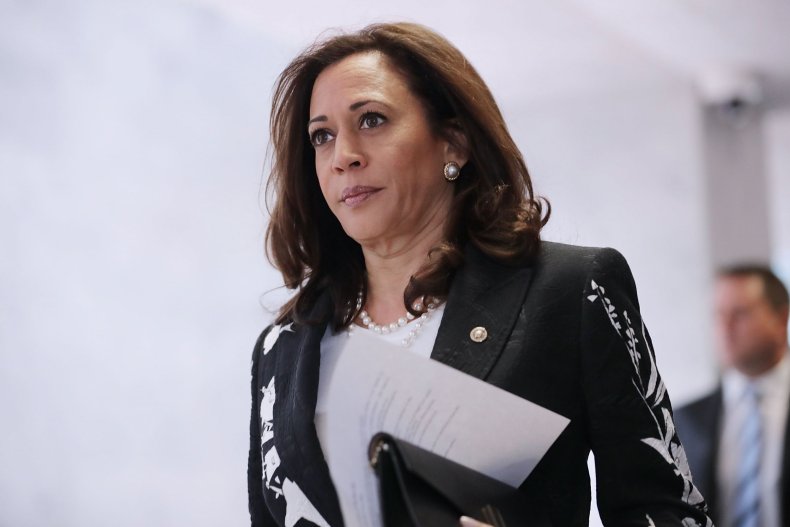 "Let's be honest. It's going to be ugly," Harris, a former attorney general of California, said. "When you break things, it is painful. And you get cut. And you bleed."
Speculation has swirled around whether Harris, 54, will make a 2020 bid. The Democrat has come into the national spotlight in recent months, particularly over her role in questioning Supreme Court justice Brett Kavanaugh during his hearing before the Senate Judiciary Committee.
She also recently visited both Iowa and South Carolina, states with early primaries during presidential cycles, suggesting that she could possibly be planning a 2020 run.
Last month, CNN ranked Harris as the most likely Democrat to get the party's presidential nomination, in its monthly power rankings list.
If Harris does throw her hat into the ring, she will likely be entering a crowded race, with a slew of names being floated as potential presidential candidates, including Senator Elizabeth Warren of Massachusetts, former Vice President Joe Biden and Beto O'Rourke of Texas, who recently lost his Senate race to Republican incumbent Ted Cruz.
After Harris, CNN's November list of Democratic candidate power rankings sees Warren as the second candidate most likely to receive the nomination, with Biden following behind.
CNN's ranking system is determined by analysts' projections based on current polling, historic trends and "lessons that the 2018 Democratic primaries have taught us."
Meanwhile, a November Politico/Morning Consult poll of Democratic voters' preferred nominee to take on Trump in 2020 saw Harris ranked fifth, with Biden in first place, followed by Vermont Senator Bernie Sanders, O'Rourke and Warren.
That poll was conducted between November 7-9 among 1,952 registered voters, with a margin of error of plus or minus 2 percentage points.
In addition to announcing her plans to make a decision on whether to launch a 2020 bid over the holidays, Harris also paid tribute to former President George H.W. Bush, who died on Friday at 94 years old.
"He is a symbol and an example of the nobility of public service," Harris said.
"I didn't necessarily agree with every policy he promoted, but I completely respect and am in awe of the dedication he gave to his country and service," she said, adding: "What we want most in our public officials is that we respect that when they make decisions, they do it based on what they truly believe is in the best interest of other people, not themselves."
The Democrat also expressed frustration with the slow progress of the Secure Elections Act, which she introduced in March, along with co-sponsor Republican Senator James Lankford of Oklahoma.
The bipartisan legislation has sought to give the Department of Homeland Security responsibility for ensuring the security of U.S. elections, as well as for fortifying election infrastructure to prevent cyberattacks.
The act would also establish an independent advisory panel of experts to determine a set of guidelines on election cybersecurity.
Senate Majority Leader Mitch McConnell has yet to bring the legislation to the floor for a vote, which Harris said she had been told was at the White House's request.
This story has been updated with more information about Kamala Harris.