Is Kamala Harris Now the 2020 Election Favorite to Take on Trump?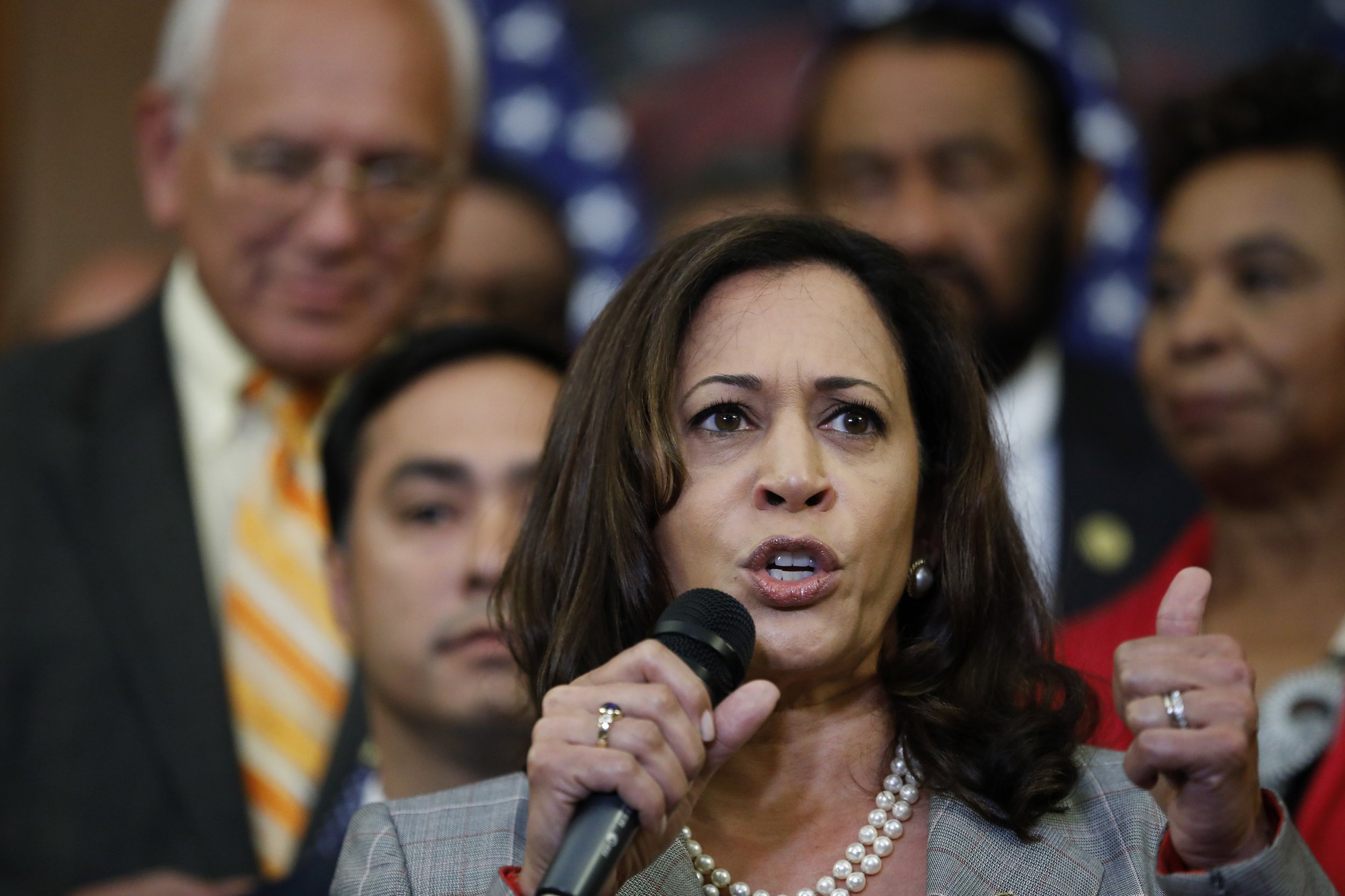 Already seeing her stature rise thanks to her high-profile opposition to the White House during congressional hearings, Senator Kamala Harris could soon get another boost in a presumptive bid for the Democratic nomination in the 2020 election. California will vote this week on whether to move forward its primary election, to March from June, which could give Harris, California's junior senator, the potential to land a huge haul of early delegates.
Related: If Bernie Sanders wants to win 2020 election, he needs to control his supporters, Democrats say
California handed out 548 delegates, 475 of them pledged, when it staged its 2016 primary on June 7. But by that point, Democrat Hillary Clinton had already effectively clinched the nomination by surpassing the 2,382 delegates required. Should California move up its primary in three years, though, the state could become a major player in deciding who goes onto the general election for president, rather than acting merely as a fundraising cash cow.
"In the past, New York and California, for Democratic candidates, were just states where you raise money," 2008 Democratic presidential candidate Bill Richardson told Politico. "Both, because of their lateness in the primary, were not significant, so it changes California to becoming a major, major state for the party, which is healthy because it just, in the past, has been a dumping ground for fundraising. Yet it's a state that's a trend-setter."
The state Senate has passed a bill to move the primary to the third Tuesday in March, while the state Assembly passed one to move it to the first Tuesday following the first Monday in March. A bill that would adopt the state Assembly text will go before both houses this week. Should it pass, it will then go before Governor Jerry Brown to be signed.
Were that to happen, California's primary would become one of the first in the nation, following Iowa, New Hampshire, Nevada and South Carolina. In what looks set to be a potentially record-large field for the Democratic nomination in 2020, that could be hugely significant. Harris, as the most recognizable current probable nominee from California, may stand to benefit most.
Harris became won her seat in 2016, defeating a Democratic rival with more than 62 percent of the vote. In doing so, the daughter of Indian and Jamaican parents became just the second black woman ever elected to the Senate.
Comparisons to Barack Obama and talk of a run for president have persisted since the 52-year-old became the first woman elected to serve as California's attorney general in 2010. But, with the party still searching for its message in the age of Trump, it is as the Democrats' most visible opponent of the new president that Harris has garnered nationwide attention.
Indeed, PredictIt, an online political stock market, now lists Harris as the most valuable of the possible 2020 Democratic nominees, higher even than Senators Bernie Sanders and Elizabeth Warren, as well as than former Vice President Joe Biden. An early primary in her own, delegate-rich state could only help her cause.
One word of caution, however: When California moved its primary forward to February in 2008, a number of states followed suit, and the winner in the Golden State, Hillary Clinton, wound up losing the nomination to Obama.