Kamala Harris Accepts VP Nomination: 'There Is No Vaccine for Racism'
California Senator Kamala Harris formally accepted the Democratic Party's nomination as vice presidential nominee during a speech at the 2020 Democratic National Convention (DNC) on Wednesday.
Harris is the first Black woman and first South Asian woman to be nominated for U.S. vice president. Formerly the attorney general of California, Harris ran for president herself against Democratic nominee Joe Biden. Harris ended her campaign in December of 2019 and did not endorse Biden until March.
During her Wednesday remarks, Harris spoke about the racial disparities in the number of coronavirus fatalities, calling the disproportionate effect the virus had on minority communities "the effect of structural racism."
"This virus has no eyes," Harris said, "and yet it knows exactly how we see each other-- and how we treat each other. And let's be clear—there is no vaccine for racism. We've gotta do the work."
Harris called President Donald Trump "a president who turns our tragedies into political weapons" while painting Biden as a potential president "who turns our challenges into purpose." Newsweek reached out to the Trump campaign for comment.
Harris described a vision of the U.S. under a Biden presidency as a "country where we may not agree on every detail, but we are united by the fundamental belief that every human being is of infinite worth, deserving of compassion, dignity and respect. A country where we look out for one another, where we rise and fall as one, where we face our challenges, and celebrate our triumphs. Together."
"Today," Harris continued, "that country feels distant. Donald Trump's failure of leadership has cost lives and livelihoods."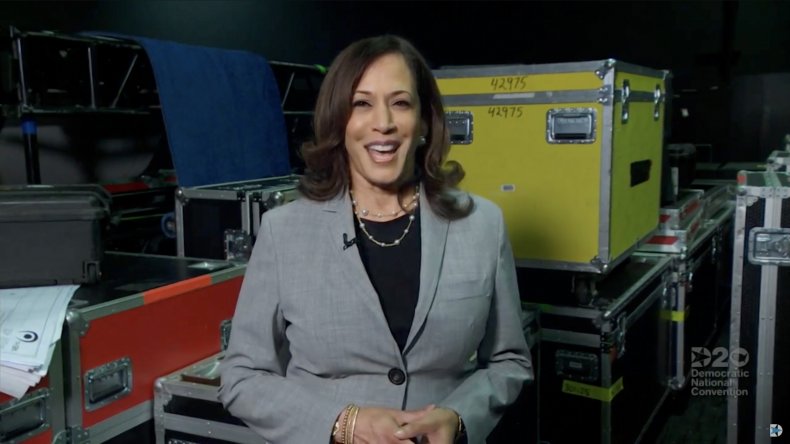 Trump said in August that he was surprised Biden chose Harris as his running mate. During a news conference, Trump cited Harris' behavior towards Biden during the Democratic debates.
"She was very disrespectful to Joe Biden," Trump said. "It's hard to pick someone that was that disrespectful."
Trump was referring to Harris' comments during the June 2019 debate when she accused Biden of standing in opposition to busing minority students to segregated schools.
"There was a little girl in California who was part of the second class to integrate her public schools, and she was bused to school every day," Harris told Biden. "And that little girl was me."
Biden claimed Harris had misrepresented his viewpoints. "I don't praise racists," Biden said.
Biden's choice of Harris as running mate came after weeks of speculation about who would fill the position. Lawmakers such as California Representative Karen Bass and Massachusetts Senator Elizabeth Warren were rumored to be on Biden's short list before Harris was confirmed as Biden's vice presidential candidate in August by Biden's campaign.
"Vice President Biden's focus from the very start was on who would be the best governing partner to help him lead our country out of the chaos created by Donald Trump," read an August statement from Biden's campaign. "Senator Harris is the right person to join Joe Biden in bringing our country together and restoring the soul of the nation."