Kamala Harris Appears to Draw Even Bigger Crowd Than Obama at Presidential Campaign Launch
Thousands of people cheered on January 27 as Democratic Senator Kamala Harris formally kicked off her 2020 presidential bid on Sunday in Oakland, California, her hometown.
"I'm running for president because I love my country," Harris, 54, told voters Sunday. "I'm running to be president of the people, by the people and for all people."
Throughout the event, several commentators took note of how many people were present at the Democratic senator's campaign launch, cheering her on.
Estimates put the numbers at 20,000. As The Guardian noted, if that number is accurate, it would mean that Harris drew an even bigger crowd at her presidential campaign launch than Barack Obama did when he announced his own run for president in Illinois in 2017 to an estimated 15,000-strong crowd.
Of course, when Obama announced his own presidential bid in 2007, the political landscape was worlds away from what it is now. And while Obama had represented the 13th District for three terms in Illinois Senate from 1997 to 2004 before winning a landslide victory to represent the state in U.S. Senate, the 46-year-old's presidential campaign was widely dismissed as a "novel feature" of the 2008 race, with many questioning his age and experience.
Some commentators have been drawing parallels between Harris and Obama since early on in the California senator's political career, while others said such comparisons were reductive, with one writer, Holly Thomas, calling the urge to compare the two "symptomatic of a lazy habit that infantilizes high-profile women in America and abroad and skims over the personal details and unique circumstances that shaped them."
Harris, who previously served as district attorney of San Francisco from 2004 to 2011 before becoming attorney general of California (and making history as the first African-American and first woman to do so) from 2011 to 2017, when she became the second African-American woman to join U.S. Senate, has seen a strong start to her 2020 campaign, with the lawmaker's popularity putting her in the top five in poll rankings of a crowded field of potential 2020 Democratic candidates.
The senator has also shot to the very top of progressive polls on 2020 Democrats, topping a recent 2020 straw poll on the progressive Daily Kos blog. With Harris claiming 27 percent of the vote, the poll showed support for the Democrat nearly doubling since a similar January 8 survey.
While Harris has emerged as a strong contender in the 2020 race, the California senator enters an already crowded field as high-profile Democrats continue to join the race.
In addition to Harris, Senators Elizabeth Warren, Kirsten Gillibrand and former U.S. Secretary of Housing and Urban Development Julián Castro have already announced plans to join the presidential race, while former Vice President Joe Biden, former Texas Representative Beto O'Rourke, Senators Cory Booker and Bernie Sanders and others are still mulling over whether to throw their hat into the ring.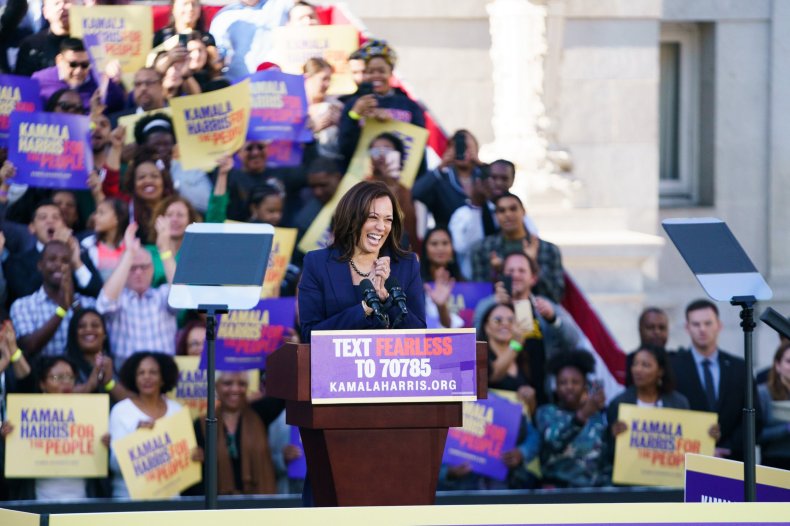 Kamala Harris Appears to Draw Even Bigger Crowd Than Obama at Presidential Campaign Launch | U.S.