Kamala Harris Backtracks on Support for Eliminating Private Insurance, Says She Heard Debate Question Wrong
2020 Democratic hopeful Kamala Harris was one of two candidates to raise their hand on Thursday night when asked by debate moderators if they wanted to eliminate private insurance in favor of a government-run health care option. But on Friday morning the California senator backtracked, saying she misinterpreted the question.
Harris, who was largely deemed the winner of the first Democratic primary debates of the 2020 election cycle, clarified her position on healthcare and Medicare for All on MSNBC's Morning Joe.
"Once and for all, do you believe private insurance should be eliminated in this country?" co-host Willie Geist asked Harris.
"No," she replied. When Geist pointed out that she was one of the candidates to raise her hand during the debate over abolishing private insurance, Harris said she heard the question differently and thought moderators were asking if she'd give up her personal private insurance.
"But the question was, 'Would you give up your private insurance for that option?' And I said yes," she said. "I am a proponent of Medicare for All. Private insurance will exist for supplemental coverage."
Over two nights, NBC moderators asked all 20 presidential candidates the same question: "Many people watching at home have health insurance at their employer. Who here would abolish their private health insurance in favor of a government-run plan?"
Seemingly intended to find out if candidates were in favor of eliminating private health insurance and introducing a single-payer, government-run plan like Medicare for All, the question could be interpreted in different ways. Only four candidates raised their hands over the course of the two nights: Elizabeth Warren, Bill de Blasio, Bernie Sanders and Harris.
After she raised her hand, Harris was quickly criticized by Republicans. The official GOP Twitter account wrote in a post: "MEET KAMALA HARRIS: She said that she wants to eliminate your private insurance—even if you like your plan."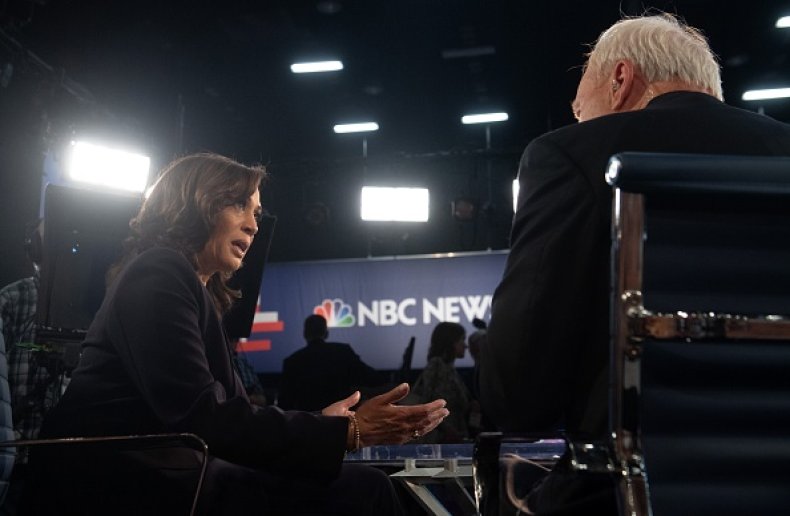 Medicare for All, as per legislation proposed by Senator Sanders, would eliminate private insurance in favor of a government-run system over the course of several years. But other, less-severe proposals like "Medicare for America" would create a new government plan while also preserving employer-sponsored insurance.
Harris and Kirsten Gillibrand are co-sponsors of Sanders' bill in the Senate. But Gillibrand did not raise her hand when asked if she supported eliminating private insurance. Instead, she said the quickest way for the country to achieve universal health care is to let people "buy in" to the Medicare program.
Sanders defended his policy, saying that it will "tell insurance companies and the drug companies their day is gone, that healthcare is a human right, not something to make huge profits off of."
Harris has not always been consistent on the topic of healthcare and Medicare for All. When she launched her campaign in January, she supported the idea of abolishing private health insurance during a CNN town hall.
"Let's eliminate all that, let's move on," she said.
But she immediately received criticism, from both Democrats and Republicans, and ended up walking back her comment just days later. Instead, she said she would also be open to more moderate health reform proposals.
"Medicare for All is the plan that she believes will solve the problem and get all Americans covered. Period," Ian Sams, Harris' campaign adviser, told CNN. "She has co-sponsored other pieces of legislation that she sees as a path to getting us there, but this is the plan she is running on."