Kamala Harris questioned Judge Amy Coney Barrett during the Supreme Court nominee's second confirmation hearing on Tuesday. The California senator and Democratic vice presidential nominee focused on the Affordable Care Act (ACA), also known as Obamacare.
Harris opened her questioning by addressing the American people, decrying that the Senate had "rushed" to hold Barrett's hearing, rather than focusing on the COVID-19 pandemic.
"But sadly, Senate Republicans have rushed to hold this Supreme Court confirmation hearing, rather than help those who are suffering through a public health crisis," Harris said. "As I said yesterday, these priorities are not the American people's priorities. As President Obama signed the Affordable Care Act into law. Senate Republicans' number one priority has been to tear it down," Harris said.
Harris accused Republicans of attempting to use the Supreme Court to "circumvent voters," and strike down the Act.
"And now, following a decade of failure, Washington Republicans have realized that the Affordable Care Act is working too well, and helping too many people to repeal it without facing serious political consequences. But what are they doing—after suffering the backlash that they provoked by targeting the law in Congress—[they] decided instead to circumvent voters and try to strike down the Affordable Care Act, through the courts," Harris said.
"Right now, the Trump administration and Senate Republicans are urging the Supreme Court to strike down the entire Affordable Care Act, and all of its patient protections republicans are scrambling to confirm this nominee, as fast as possible, because they need one more Trump judge on the bench before November 10 to win, and strike down the entire Affordable Care Act. This is not hyperbole," she continued.
Harris then asked if Barrett was aware of President Donald Trump's previous tweets about wanting to appoint an anti-Obamacare judge.
"Many of the Democratic senators wanted to know about the Affordable Care Act, and to satisfy themselves that I had not made any pre commitments to the President about it," Barrett said.
Harris continued pressing on the ACA, asking about the Americans who are served by the act.
"What weight would you give the fact that 130.5 million Americans with pre-existing conditions are now depending on the protections of the Affordable Care Act?" Harris asked.
"As I mentioned to Senator Hirono [D-Hawaii] stare decisis takes reliance interests into account, because as I've said before stare decisis is about keeping stability in the law. So the law often takes into account reliance interests, I can't really say sitting here, how they would play in a way in this case, because that's part of the legal calculus of the case. So I can't really give you the kind of commitment or pre-commitment that you're asking for me, or how I would weigh factors or how I would structure my decision making process," Barrett replied.
At the end of her questioning, Harris submitted three documents to be entered into the record: a letter against Barrett's nomination from the NAACP, a statement opposing Barrett's nomination from Planned Parenthood, and a report opposing her nomination from the NAACP Legal Defense and Educational Fund.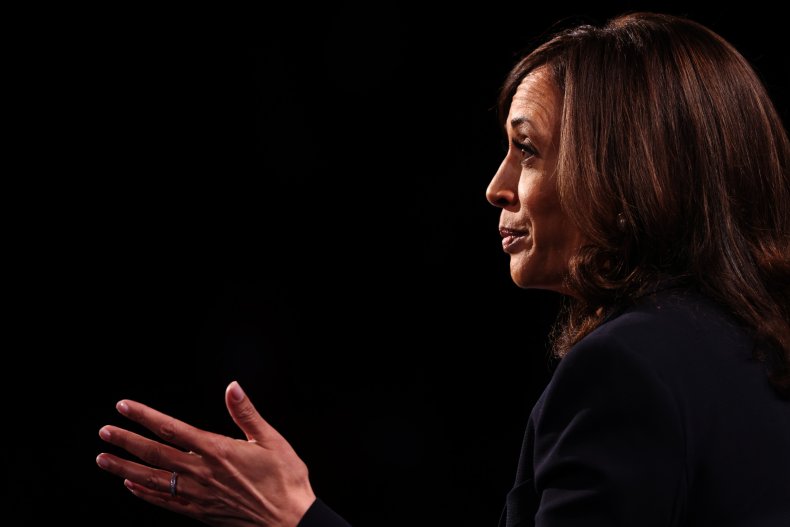 Members of the Senate Judiciary Committee each presented questions to Barrett, an appellate court judge in Indiana, throughout Tuesday's hearing. Trump nominated Barrett to fill Ruth Bader Ginsberg's seat on the U.S. Supreme Court shortly after the late jurist's passing on September 18. The push to appoint Ginsberg's successor so soon before Election Day, on November 3, sparked widespread controversy. Trump has already nominated two associate justices to the Supreme Court during his presidency.
Republican senators' decision to move ahead with Barrett's confirmation hearings ahead of next month's election garnered backlash and accusations of hypocrisy, since they refused to vote on Barack Obama's nominee to replace late justice Antonin Scalia after his death. Scalia passed away in February 2016, nine months before that year's election.
Democratic leaders have pushed back against Barrett's hasty appointment. In her opening statements during Monday's first hearing, California Senator Dianne Feinstein, who questioned Barrett during her Appeals Court confirmation hearings three years ago, clearly stated her perspective on the issue.
"Simply put, I believe we should not be moving forward on this nomination, not until the election has ended and the next president has taken office," Feinstein said. Harris shared the same sentiment over the weekend.
"The Supreme Court makes decisions that impact millions of Americans for generations. We must ensure that the integrity of the court is upheld by not appointing a new justice until we have a new president," the senator tweeted on Sunday.
Barrett's nomination to the Supreme Court is driving fears about the future of healthcare access and reproductive rights in the U.S. The court is expected to hear oral arguments in cases seeking to reverse the Affordable Care Act, which Trump has repeatedly said his administration intends to repeal, after the election in November.
Harris primarily focused on the future of the ACA during her opening statements to the committee on Monday.
"In America, access to healthcare should not be determined based on how much money you have, healthcare and access to healthcare should be a right," she said in part.
Trump has voiced similar intentions to overturn Roe v. Wade, the landmark 1973 Supreme Court ruling that established women's rights to choose to have an abortion, for years. With more than a dozen cases "just one step away" from reaching the high court that could overturn or deconstruct Roe, Barrett's standing on abortion is of particular concern.
Harris is participating in this week's confirmation hearings remotely. On Sunday, her office released a statement citing concerns about COVID-19 transmission as reason for the senator's virtual attendance. Republican senators Thom Tillis, of North Carolina, and Mike Lee, of Utah, both tested positive for COVID-19 last week, amid an outbreak among GOP leaders and White House personnel, including the president and first lady.
"Due to Judiciary Committee Republicans' refusal to take common sense steps to protect members, aides, Capitol complex workers, and members of the media, Senator Harris plans to participate in this week's hearings remotely from her Senate office in the Hart building," a spokesperson for Harris said in Sunday's statement.
Newsweek reached out to Harris' office for additional comments but did not receive a reply in time for publication.