Kamala Harris: Biden 'Had the Audacity' to Select Black Woman for VP Pick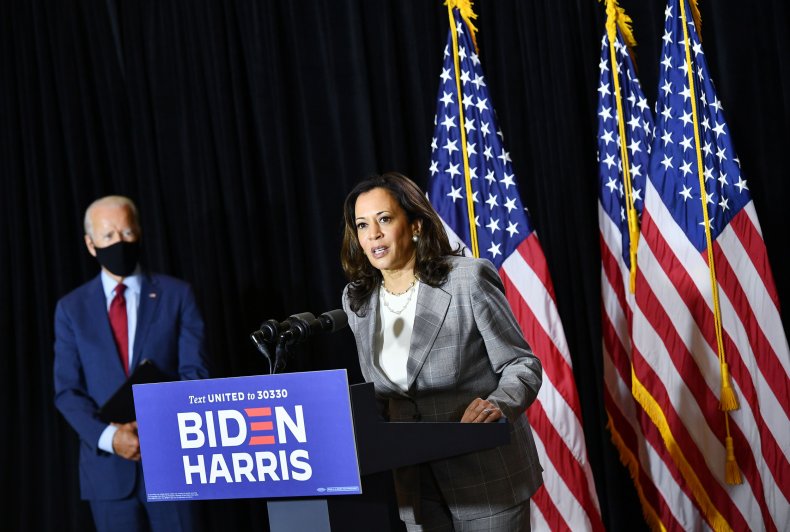 During her first sit-down interview as the Democrats' presumptive vice presidential candidate, U.S. Sen. Kamala Harris praised running-mate Joe Biden for his "audacity" in selecting her for the role.
"Joe Biden had the audacity to choose a Black woman to be his running mate," she said during a 30-minute conversation at The 19th Represents Summit put on by The 19th, a Texas-based nonprofit news outlet. "How incredible is that? And what a statement about Joe Biden—that he decided that he was going to do that thing that was about breaking one of the most substantial barriers that has existed in our country, and that he made that decision with whatever risk that brings."
"It's a statement about the character of the man we are going to elect as the next president of the United States," she added.
Harris, 55, this week became the first Black woman and first Indian-American to make it onto a major party's presidential ticket.
Former Vice President Biden praised Harris, a one time rival for the Democratic presidential nomination, during their first joint appearance as running mates Wednesday in Delaware and described how she was picked for the role.
"Her story is America's story, different from mine in many particulars, but also not so different in the essentials," Biden said. "She has worked hard, she has never backed down from a challenge, and she has earned each and every one of the accolades and achievements that she has gained."
Harris said she and her husband Douglas Emhoff have stayed in Delaware the rest of this week, spending time with Biden and his wife, Jill, and continuing discussions that she began with Biden during the VP vetting process.
"Joe and I share many experiences, believe it or not, and values," she said. "We both care deeply about family. Joe has known suffering and it is well-known about the people he loved the most who he's lost. He and I share an experience in that way."
Harris was close to her mother, who was a breast cancer researcher who died of colon cancer in 2009.
Biden's first wife, Neilia, and young daughter, Naomi, died in a car wreck in 1972, and his son Beau died of brain cancer in 2015.
Beau Biden and Harris were close, both serving as attorneys general of their respective states at the same time.
"The Biden-Harris ticket is about an agenda that is about representing who America really is and knowing that among us there may be those who seemingly have nothing in common but have everything in common, and Joe Biden knows that," Harris said.
Harris has already faced a barrage of attacks from President Donald Trump since the announcement was made. Speaking to reporters Tuesday, after Biden made his pick known via Twitter, Trump called Harris "extraordinarily nasty" and "nasty to a level that was just a horrible thing."
He has continued to hurl insults at her and question why Biden picked her after she challenged Biden on the Democratic debate stage before dropping out of the race late last year.
During Friday's interview, Harris accused Trump of trying "to sow hate and division in our country."
She said that contrasts with the Biden-Harris ticket, which is based on "not only with unity but about really knowing who the people of our country are and being focused on them."
"It really is about being grounded in values that are a combination of hope and vision and faith and commitment and hard work," she said.