Kamala Harris Border Visit Rebuked for Being Far From 'Epicenter' of Crisis
Vice President Kamala Harris is being denounced by lawmakers for visiting El Paso, Texas instead of more high-activity areas along the U.S.-Mexico border.
Harris's office announced the June 25 trip on Wednesday, stating she'd be accompanied to the Lone Star State by Homeland Security Secretary Alejandro Mayorkas.
The trip comes as Harris has been heavily criticized, primarily by Republicans, for not traveling to the southern border since she was tapped by President Joe Biden to lead the efforts to curb migration.
But on Thursday, Texas Democrat Henry Cuellar rebuked Harris for visiting El Paso instead of the Rio Grande Valley. Cuellar said that Harris was taking the "politically safe" route.
"The epicenter is down there in the Lower Rio Grande, the lower part of my district down there," Cuellar told Fox News on Thursday. "If you look at the numbers that are down there compared to El Paso, you're not going to get a true picture of what's happening."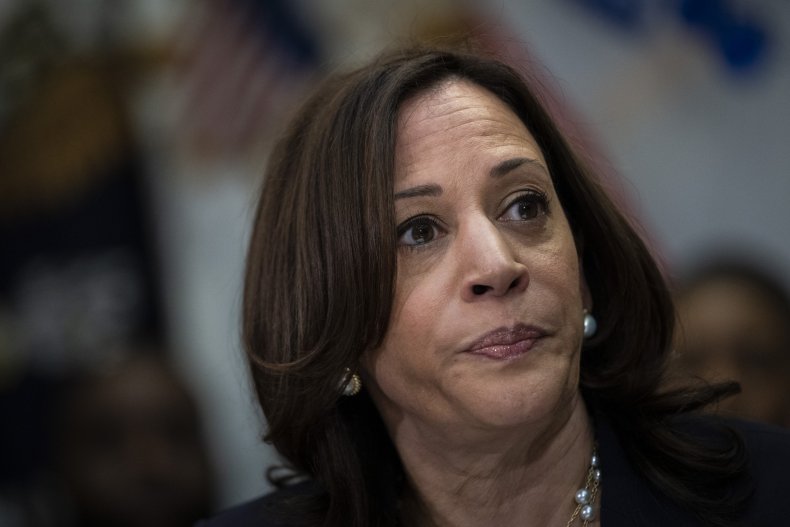 El Paso and Rio Grande are separated by more than 700 miles. El Paso is located in West Texas, while the Rio Grande Valley includes portions of South Texas and extending to the Gulf of Mexico.
Congressman Byron Donalds, a Republican from Florida, said Harris going to El Paso is "equivalent to firefighters prioritizing a dumpster fire over a five-alarm fire."
"Tomorrow's border visit encapsulates just how out of touch the Biden-Harris Admin is when it comes to the crisis they created," Donalds tweeted.
Congressman Rick Allen, a Republican from Georgia, tweeted that Harris was "intentionally avoiding the Rio Grande Valley."
"If she was serious about addressing this humanitarian crisis, she would go to the Donna Facility where CBP has been overwhelmed with record levels of unaccompanied minors," Allen wrote.
A record number of people, including unaccompanied minors, have traveled to the U.S.-Mexico border this year. The surge led to overcrowding in many migrant detention centers. Last month, there were 180,034 border crossings—the largest figure in two decades—according to data from U.S. Customs and Border Protection.
Harris told migrants "do not come" to the border during her first international trip to Guatemala earlier this month.
The administration has reached a deal with Guatemala, Honduras and Mexico to have the countries send more troops to their own borders to help stem the flow of immigrants. Harris has also been working with the leaders to address the root causes of why people are leaving the region.
Harris said in Guatemala that she was focused on "tangible" results as "opposed to grand gestures."
Newsweek reached out to the White House for a response to the criticism but didn't receive a response before publication.