Kamala Harris to Campaign for Terry McAuliffe as Virginia Governor's Race Remains Close
Vice President Kamala Harris is expected to join Virginia Democratic gubernatorial candidate Terry McAuliffe at a campaign event later this week as voters prepare to head to the polls on November 2.
Over the last week, McAuliffe's campaign announced several high-profile Democrats were expected to campaign alongside McAuliffe in Virginia during the final weeks leading up to the election, one of two regularly scheduled gubernatorial elections taking place this fall.
First lady Jill Biden campaigned with McAuliffe on October 15, and both Atlanta Mayor Keisha Lance Bottoms and voting rights activist Stacey Abrams supported McAuliffe at Souls to the Polls events on Sunday.
McAuliffe announced last week that former President Barack Obama will join him at an October 23 campaign event in Richmond. McAuliffe's campaign said Monday the vice president will also travel to Virginia this week, two days before Obama's scheduled event.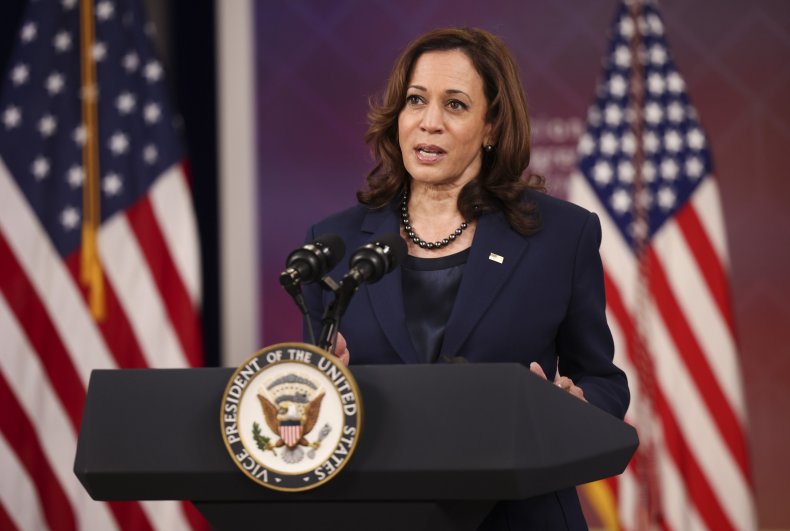 CNN was first to report Monday on the vice president's anticipated visit to Virginia. According to CNN's report, Harris will appear at a campaign event scheduled to take place Thursday evening in Prince William County, which the article noted was identified in last year's census as the state's most diverse area.
McAuliffe campaign spokesperson Renzo Olivari shared a link to CNN's article on Twitter Monday afternoon and wrote, "Excited to welcome Vice President @KamalaHarris back to the Commonwealth on Thursday!"
Harris' office confirmed the vice president's expected appearance at the Thursday campaign event with Newsweek and said further details would be available in the coming days.
Earlier Monday, Harris encouraged Democrats to phone bank in support of McAuliffe's campaign ahead of what she described on Twitter as Virginia's "important election." She added, "we need all hands on deck to remind voters what's at stake."
President Joe Biden posted a similar message Monday from his Twitter account. The president hasn't yet announced plans to travel to Virginia ahead of next month's gubernatorial election, but White House press secretary Jen Psaki told reporters last week she did "expect he'll do more to help his friend."
Recent polling has indicated Virginia's race for governor is close, with some voter surveys showing McAuliffe slightly ahead of or tied with Republican Glenn Youngkin. Some political strategists have suggested Virginia's gubernatorial election could be an indication of how voters will cast their ballots in the 2022 midterm elections, with former Republican House Speaker Newt Gingrich referring to the race as a "national bellwether" in a recent Newsweek opinion article.
When contacted for comment last week about the support McAuliffe's campaign has received from Democratic politicians like Abrams and Obama, Youngkin campaign spokesperson Macaulay Porter said the scheduled visits indicated McAuliffe was "scared."
"Terry McAuliffe is scared because Virginians are roundly rejecting 40-year politician Terry McAuliffe's plans to defund the police, strip parents of their rights to have a say in their children's education, and to fire people who don't follow his authoritarian vaccine mandates, so his response is to bring in more politicians to help draw a crowd larger than 12 people," Porter told Newsweek. "Glenn Youngkin is an outsider focused on delivering for the people of Virginia and making the state the best place to live, work, and raise a family."