Kamala Harris Criticizes Trump, Barr for Denying Systemic Racism in Justice System
Democratic vice presidential nominee Kamala Harris countered President Donald Trump and U.S. Attorney General William Barr's recent comments dismissing systemic racism in the United States, particularly as it exists within the justice system, on Sunday.
During an appearance on CNN's State of the Union, Harris told correspondent Dana Bash both federal officials "are spending full time in a different reality," given the known disparities between law enforcement's conduct toward white people and people of color.
"The reality of America today is what we have seen over generations, and frankly, since our inception, which is we do have two systems of justice," said the California senator and former state attorney general. Harris' interview comments trailed remarks from Barr less than one week ago, arguing the opposite.
Speaking to CNN's Wolf Blitzer on Wednesday, Barr said the disproportionate number of Black Americans subjected to police violence in the U.S. is not a result of racism.
"I don't think there are two justice systems," stated the U.S. attorney general, who defended law enforcement elsewhere in the interview. "I think we have to be a little careful about throwing the idea of racism around...I don't think it is as common as people suggest."
Trump also declined to acknowledge racism's role in the police shootings of Black civilians like Breonna Taylor and Jacob Blake that gained national attention this summer. During his visit to Kenosha, Wisconsin—where Blake was shot seven times in the back by police and consequently suffered serious injuries—the president dodged a reporter's question about systemic racism in the U.S., and whether he believes it is an issue.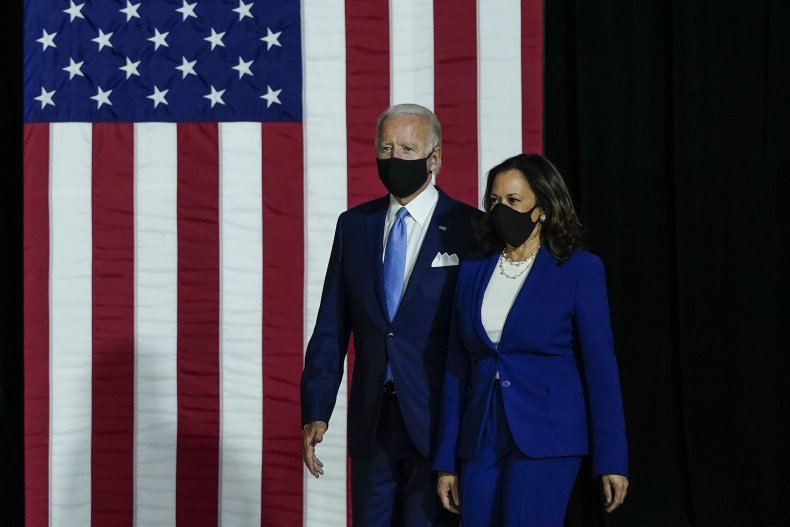 "Well, you know you just keep getting back to the opposite subject. We should talk about the kind of violence we've seen in Portland and here and other places," Trump said, the same day the White House released a controversial memo threatening to revoke federal funding from local governments in areas where protests against police abuse and racism continue to take place. "The fact is that we've seen tremendous violence and we will put it out very, very quickly if given the chance," Trump continued on Wednesday.
Harris referenced studies that show Black Americans are more often arrested for drug offenses and victims of police violence than others in her interview comments on Sunday.
"I don't think that most reasonable people who are paying attention to the facts would dispute that there are racial disparities and a system that has engaged in racism in terms of how the laws have been enforced," she said. "It does us no good to deny that. Let's just deal with it. Let's be honest. These might be difficult conversations for some, but they're not difficult conversations for leaders, not for real leaders."
Newsweek reached out to the White House and Justice Department for comments, but did not receive replies in time for publication.