Does Kamala Harris Want to Defund the Police, as Trump Campaign Facebook Ads Claim?
President Donald Trump has shared several Facebook ads making claims about changes Democratic vice presidential candidate Kamala Harris would look to implement, including suggesting she wants to "defund, dismantle and dissolve police departments."
The question of defunding the police has become a topic of debate following recent incidents involving officers, such as the death of George Floyd, and widespread protests in the aftermath.
Harris has been asked about this and expressed that she feels there is a need to reform how public safety in America is managed.
Asked by The New York Times about the concept of defunding the police, which advocates taking away from law enforcement budgets to reallocate the money into other measures for the community, Harris said: "Well, it's a concept. We do have to reimagine what public safety looks like. And here's the thing. It is status quo thinking to believe that putting more police on the streets creates more safety. That's wrong. It's just wrong. You know what creates more safety? Funding public schools, affordable housing, increased homeownership, job skill development, jobs, access to capital for those who want to start small businesses, or who are running small businesses in communities."
She ended these comments by stating: "But, no, we're not going to get rid of the police. We all have to be practical. But let's separate out these discussions."
Harris previously questioned how defunding the police would be defined, when asked about this at a press conference earlier this year.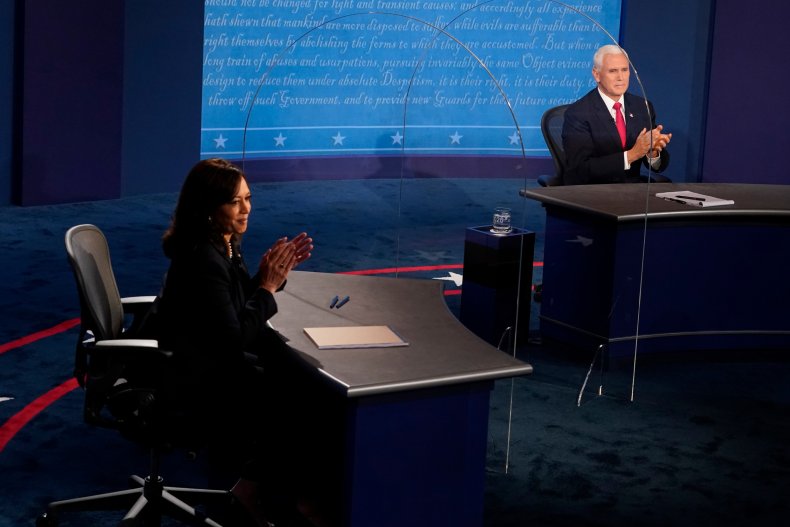 "To have cities where one-third of their entire budget is going into policing but yet there is a dire need in those same cities for mental health resources, for resources going into public schools, resources going into job training and job creation, come on," she said. "We have to be honest about this."
She has also spoken of a need to "invest in communities."
On Good Morning America she spoke of having to stop the "militarization of police" but said: "But that doesn't mean we get rid of police, of course not."
While Harris has expressed an openness to reform and questioned budgeting, she has said reform does not necessarily mean getting rid of police as the ad from Trump would suggest she believes.
Newsweek has contacted Harris as well as the Biden and Trump campaigns for comment.
The graphic below, from Statista, shows the results of a CNN/SSRS poll following the debate, in which most respondents said Harris won.