Kamala Harris Dodges Supreme Court Packing Question While Pence is Evasive on Peaceful Transfer of Power
During Wednesday night's vice presidential debate, Democratic vice presidential nominee Kamala Harris didn't answer a question posed to her by Republican Vice President Mike Pence asking whether a Biden administration would try and pack the U.S. Supreme Court.
Near the end of the debate, Pence didn't answer the moderator's question about how he'd respond if Republican President Donald Trump refused a peaceful handover of power after losing the election.
Pence asked Harris his question when responding to the moderator's question about whether Trump's U.S. Supreme Court nominee Amy Coney Barrett would help overturn Roe v. Wade, the 1973 court decision granting Americans legal access to abortion.
"I think the American people really deserve an answer, Senator Harris," Pence said. "Are you and Joe Biden going to pack the court? ... Your party is actually openly advocating adding seats to the Supreme Court, which has had nine seats for 150 years."
"Pack the court" in this context means adding additional seats to the court in order to undo the court's political slant. Pence noted that Biden had refused to answer the same question in the past.
Harris responded, "Joe and I are very clear, the American people are voting right now, and it should be their decision about who will serve on this most important body for a lifetime."
Her response indicated her opposition to Republicans seating a new Supreme Court justice during an election year, a rule made up in 2016 by Republican Senate Majority Leader Mitch McConnell to block a Supreme Court appointment by then Democratic President Barack Obama.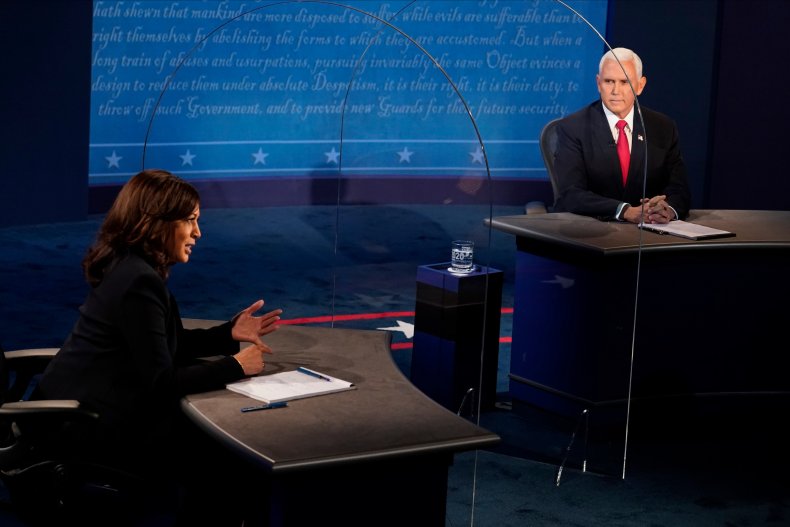 Near the end of the debate, moderator Susan Page said to Pence, "President Trump has several times refused to commit himself to a peaceful transfer of power after the election. If Vice President Biden is declared the winner and President Trump refuses to accept a peaceful transfer of power, what would be your role and responsibility as Vice President? What would you personally do?"
Pence responded, "First and foremost, I think we're gonna win this election." He continued, "I have every confidence that those the same Americans that delivered that historic victory in 2016... I think that movement of Americans has only grown stronger in the last four years."
Pence then pivoted to accusing Biden and Harris of "changing the rules and creating this universal mail-in voting that will create a massive opportunity for voter fraud." It's a line that Trump has often repeated but studies have repeatedly shown that there is no significant fraud from mail-in voting.
Newsweek contacted Harris and Pence for comment.