Donald Trump Jr. Burned on Twitter by Kamala Harris Team After Northam Tweet: 'Your dad Said Nazis Were Very Fine People'
Amid the bipartisan backlash against Democratic Virginia Governor Ralph Northam for allegedly appearing in a decades-old yearbook photo dressed either in blackface or a Ku Klux Klan robe, Donald Trump Jr., the president's eldest son, is knocking Democratic Senator and presidential candidate Kamala Harris for previously supporting the governor.
The California senator, however, has already denounced Northam's alleged actions and called for his resignation. On Saturday, Northam denied he was in the racist photo, a complete reversal from statements the previous evening in which he apologized and confirmed he was one of the two people. He could not remember which one was him. In his Saturday remarks, the governor refused to resign.
"Leaders are called to a higher standard, and the stain of racism should have no place in the halls of government," Harris said Friday evening. "The Governor of Virginia should step aside so the public can heal and move forward together."
In November after Northam won his race against GOP candidate Ed Gillespie, Harris tweeted her congratulations to Northam and his team "for showing that Virginia won't stand for hatred in bigotry."
"Well this is awkward & didn't age well at all," Trump Jr. said Friday of her previous praise for Northam, who continues to face calls for resignation from members of his own party.
Harris's team responded by highlighting the president's own track record when it comes to denouncing hatred, specifically white nationalism.
"Your dad said Nazis were very fine people," said Lily Adams, Harris's communications director. "Maybe sit this one out."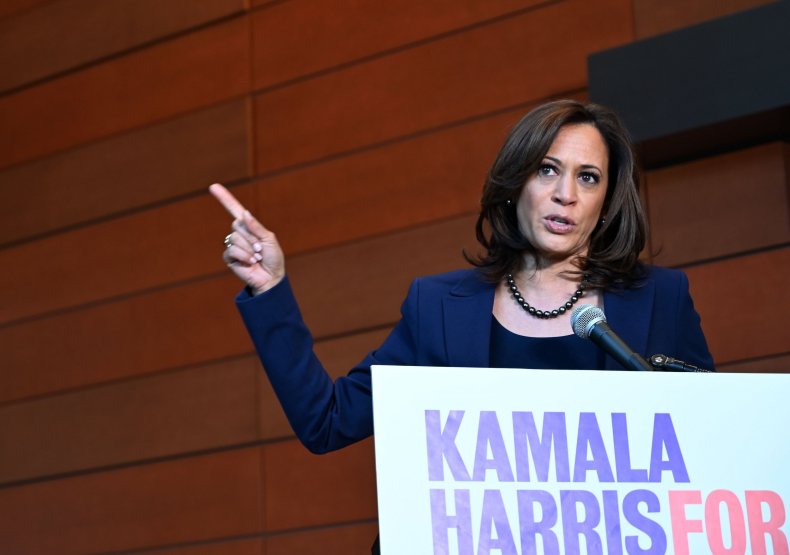 Adams was referring to the president's remarks following the violent and deadly 2017 Unite the Right rally in Charlottesville, Virginia, which resulted in the death of a woman after a white nationalist plowed his car into a group of counter-protesters. The rally featured Neo-Nazi sympathizers and white nationalists carrying Nazi flags, shields, guns and other weapons, who had several physical encounters with counter-protesters.
"You had some very bad people in that group, but you also had people that were very fine people, on both sides," Trump said at the time, blaming the violence on "both sides." His remarks were met with fierce backlash from critics and Democrats, who accused the president of failing to acknowledge and condemn the far-right and racist members of the rally.
Northam originally apologized and admitted that he was one of the two men pictured in blackface and a KKK robe, which was taken during his time in medical school. The governor did not, however, remember which person was him, and he showed no signs that he planned to resign.
But in a 180 degree turn less than 24 hours since the image surfaced, Northam said Saturday that, upon reflection with friends and family, he no longer believed he was either of the people wearing the racist costumes.
In another instance around the same time in 1984, Northam said he "darkened" his face with "a little bit of shoe polish" to appear as Michael Jackson in a dance competition. He said both instances of blackface "are wrong," but there's a "contrast between the blackface and someone standing there in a Ku Klux Klan outfit and me dressed up in a Michael Jackson costume for a dance contest."
"I realize that many people will find this difficult to believe. Last night I finally had a chance to sit down and look at the photograph in detail," Northam told reporters. "I am not the person in that photo. I have had friends look at it and tell me that it's not me."
This story has been updated with additional comments made by Northam during a Saturday afternoon press conference.