Kamala Harris Says She 'Will Not Participate' in Conversation that Reduces Racism to Just Donald Trump
While on the campaign trail in Iowa, 2020 Democratic presidential candidate Kamala Harris had some strong words when asked if President Donald Trump is a white supremacist.
"Let me tell you the concern I have with that question," Harris said in reply to a reporter. "It begins and ends with the question and then the answer to that, as opposed to recognizing the long history in the United States of this as an issue. The issue of hate."
Harris' comments came as she spoke to press after giving a 20 minute speach on the Des Moines Register's Political Soapbox stage at the Iowa State Fair.
"I as a prosecutor handled hate crimes. As the attorney general running the California Department of Justice - the second largest Department of Justice in the United States - I would publish hate crime reports every year," the California Senator said. "This is not new in America. Hate is not new. Hate that takes the form of racism, antisemitism, homophobia, transphobia, Islamophobia is not new in our country."
"I will not participate in a conversation that simplifies this issue without recognizing one - the history, speaking the truth about it and recognizing it happened before [Trump] was in the White House and it will continue after this guy in the White House," Harris added.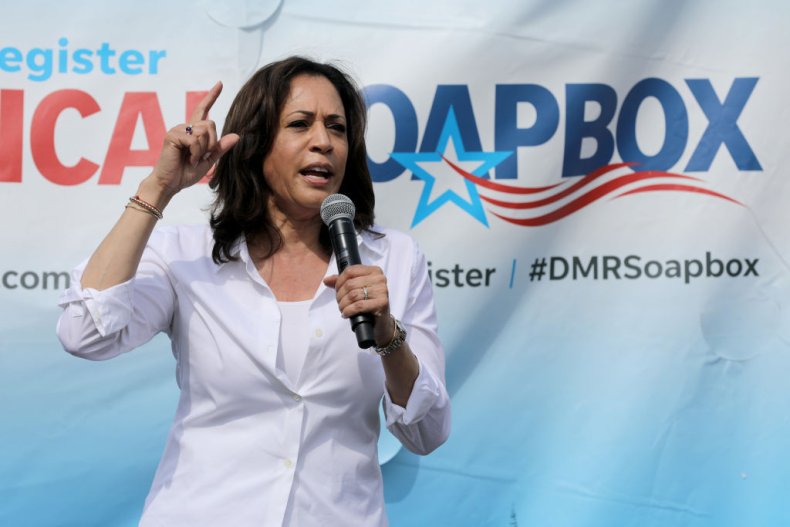 Conversations have been ongoing regarding the president's alleged racism and support of white supremacists for some time, but increased considerably when some critics felt Trump failed to condemn a group of white supremacists who conducted a rally in Charlottesville, Virginia in August 2017. During the rally, James Alex Fields Jr. drove his car into a group of counterprotesters, killing Heather Heyer and injuring 30 others.
This week, as Americans experienced the fallout of mass shootings in El Paso, Texas and Dayton, Ohio, Trump also generated ire for pointing blame at violent video games, movies and mental illness, but failing to blame alleged El Paso shooter Patrick Crusius. Authorities have said that Crusius posted a manifesto online just before the shooting and that the document contains some of the same rhetoric Trump has used in relation to immigrants.
According to the Associated Press, Crusius admitted to police that he drove to the Walmart where the shooting occurred to target Mexicans. However, Crusius also told police that his views pre-date Trump's presidency and that anyone blaming the president for his actions was mistaken.
Speaking to reporters, Harris said there is "no question" that Trump is "fanning the flames of hate in America."
"But if we're gonna have this conversation, let's have it in a meaningful way, because when we have seen everything from what happened in Poway [California], to the Tree of Life synagogue, to Charlottesville, to what happened in El Paso — we should all be having a conversation, and partly looking in the mirror to say 'where have we been on this and what are we prepared to do?'," she said.
Harris then pointed to the Trump administration's decision to stop providing funding for a program that helped combat domestic terrorism and said that if elected in 2020 she would restore the funding.
"I have been talking about this for months and months which is: they shut down the resources on domestic terrorism. They just shut it down. In terms of putting resources and support into it and acknowledging that it is real and that it must be treated as what it is - domestic terrorism," Harris said.
According to Politifact, after temporarily freezing grants for 31 projects that were approved at the end of former President Barack Obama's term, the Trump administration approved grants for 26 programs in June 2017. The programs run on two-year terms, which the White House did not seek to renew when the grants expired in July 2019.