Kamala Harris Says President Should Open Trump Tower to Furloughed Workers: 'I Bet He's Got Some Rooms'
Democratic Senator Kamala Harris of California suggested that President Donald Trump use Trump Tower in New York City to house some of the federal workers who have not been paid in over 30 days because of the partial government shutdown and are now struggling to pay rent.
"You know what I think should happen? If the president feels this strongly about it, then open up the Trump Tower and let everybody live in there rent-free, and then we could start having a discussion," Harris said during an interview with MSNBC's Rachel Maddow on Wednesday night. "I bet he's got some rooms."
Federal workers are poised to miss their second paycheck on Friday since the shutdown began on December 22. About 800,000 employees have either been furloughed or forced to work without pay during the partial closure of the federal government.
Without paychecks, many federal employees have begun to work second jobs to supplement their income. Food banks have sprung up around the country to help support federal workers, and organizations that normally serve disadvantaged communities are redirecting their resources for the government employees.
Hundreds of federal workers protested the shutdown in the Senate building on Wednesday, chanting phrases such as "No more food banks! We need paychecks!" Signs held up during the demonstrations read "Let me work!" and "This is 'America first'?"
Trump has applauded the federal employees who have suffered as a consequence of the shutdown over border security, calling them "great patriots" and saying that eventually "we will win big."
The president has refused to back down from his demands for nearly $6 billion in federal funding to construct his long-promised border wall between the U.S. and Mexico. Democrats have also so far declined to compromise with the president, calling the wall immoral and ineffective.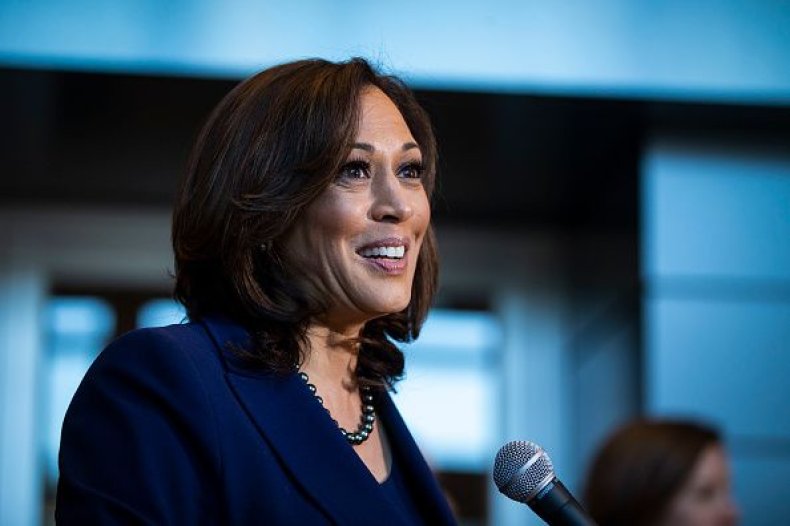 Harris told Maddow on Wednesday that if Trump really wanted to secure the nation, he should "pay those people to do the job they took an oath to do every day."
The Trump administration was under fire on Thursday morning after Commerce Secretary Wilbur Ross said during an appearance on CNBC that he didn't "really quite understand why" federal employees would need to go to food banks.
"Because, as I mentioned before, the obligations they would undertake, say a borrowing from a bank or a credit union, are in effect federally guaranteed," Wilbur continued. "So the 30 days of pay that some people will be out, there's no real reason why they shouldn't be able to get a loan against it, and we've seen a number of ads from financial institutions doing that."
Harris, who announced her candidacy for the 2020 presidential election on Monday, said the Trump administration has reached the "height of irresponsibility" by holding federal workers and the American public "hostage over the president's vanity project."
"We have to keep the government running, and we have to open the government back up, and there should not be any conditions on that," she added.