Kamala Harris Says Her Husband Will Be Known as 'Second Gentleman'
Set to make history as the first ever female vice-president, Kamala Harris has hinted at how her husband might be addressed following Inauguration Day.
Until now, spouses of the vice president have all been women and are informally known as the second lady. The expression is a parallel to the title of First Lady, referring to the wife of the president.
But a female vice president begs the question of just what title will be conferred upon Harris' husband, Doug Emhoff after January 20.
CNN's Jake Tapper broached the topic during a wide-ranging interview which eventually touched upon the subject of her spouse. "What should we be calling him?" Tapper asked, "Is he the second gentleman, is [he] the second dude?"
Harris replied laughing: "Well, I think that the term has evolved into the 'second gentleman.' "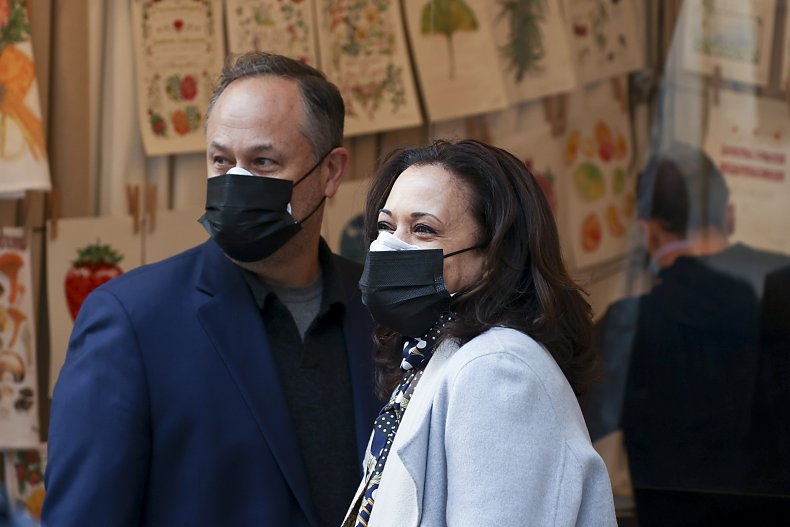 Tapper said: "I like second dude, but I will defer." Harris went on: "I think some of his friends are inclined to say that," provoking Tapper to respond: "But you'll call him the second gentleman?"
"No, I'll call him honey," Harris quipped.
Emhoff, 56, took a leave of absence from his private law practice DLA Piper in August when President-elect Joe Biden chose Harris, a U.S. senator from California, as his running mate.
The couple met in 2013 and got married in 2014 in what was Harris' first marriage and Emhoff's second. Emhoff has children in their 20s, the Associated Press reported.
Emhoff was a fixture on the campaign trail and will leave the firm to focus on his new role at the White House. On November 7 he tweeted an image of the couple hugging, with the message "So proud of you."
He told PEOPLE in October that any role would not include any professional advice, telling the outlet "I'm her husband, that's it," adding, "She's got plenty of great people giving her political advice."
Spouses of the president and vice president often act as advocates for prominent causes but Emhoff has revealed little about what role he would take. He has indicated that he would like to focus on issues involving access to justice, which he became interested in as a young lawyer.
"There is a lot of symbolism from a man stepping back from his high-powered career in order to support his wife's career," Kim Nalder, a professor of political science who has focused on women and gender at California State University-Sacramento.
"We've been waiting for this sort of gender switch for decades now," she told the AP.