Kamala Harris didn't mince words in her latest appearance on the campaign trail.
The 2020 presidential candidate joined several others campaigning for the Democratic nomination on Friday in Iowa, and the California senator had some harsh criticism for one of the current front-runners, Massachusetts Senator Elizabeth Warren, regarding the latter's connections to corporations.
"We're all here to fight to end that national nightmare called Donald Trump. And to win, Democrats. To win," Harris said during her speech at the Iowa Democratic Party's Liberty And Justice Dinner.
Harris added that in order to win the 2020 election, Democrats need a candidate who can "go toe to toe" with President Donald Trump, and that she is that person.
"To win, we are going to have to fight against those who have been trying to push hate and division among us and have Americans turn on each other. To win, we're going to have to fight for what I know in my heart and in my soul to be true—which is in the beauty and the diversity of who we are as a nation. We all have so much more in common than what separates us," Harris said.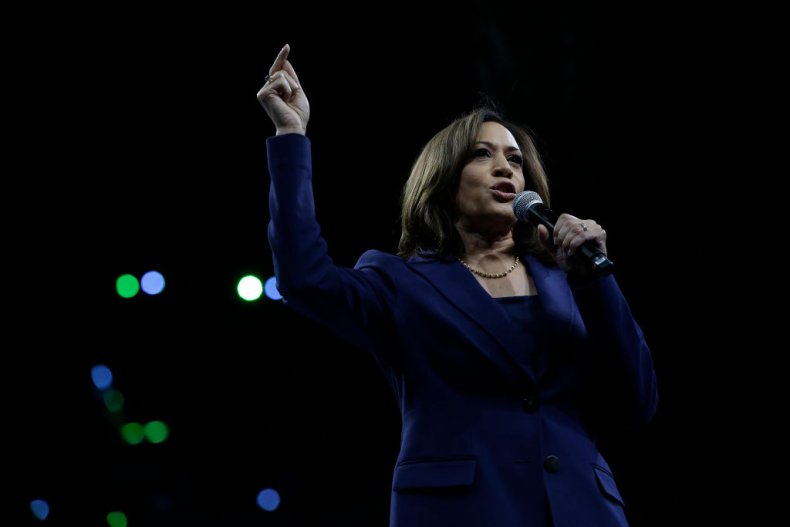 Harris then highlighted her qualifications, including her time serving as California's attorney general.
"I've only had one client in my entire life, and that has been the people. Unlike other people, unlike others, I have never represented a corporation," Harris said, alluding to Warren's previous work as a lawyer for several large corporations. "I have never represented a special interest. I started my career fighting for the people. In fact, the first time I walked into a courtroom, I spoke five words. 'Kamala Harris, For the People.'"
Warren's connections to corporations have been a frequent problem for her campaign and were highlighted earlier this week in a report from The New York Times. The article included Warren's work on behalf of LTV Steel, who she represented in 1995 by petitioning the Supreme Court to hear the lawsuit. According to the suit, LTV Steel filed for bankruptcy in 1986, but a law enacted in the 1990s required the company to contribute to a health care fund for retired workers in its coal mines. In the suit, the company said they should not be liable due to the Chapter 11 filing.
While Warren failed to convince the Supreme Court to hear the case, her connection to the company has followed her through her political career, the Times said. The Massachusetts senator has made implementing a wealth tax and breaking up tech conglomerates like Google and Amazon cornerstones of her campaign policies, again putting her previous work under a microscope for political opponents.
Earlier this week, the other Democratic presidential contenders—former Vice President Joe Biden, South Bend, Indiana Mayor Pete Buttigieg, and Minnesota Senator Amy Klobuchar—criticized Warren's plan for Medicare For All. The policy called for $20.4 trillion in tax increases to create government-run health care for all Americans. However, Warren's proposal did not include a tax increase for middle-class families but relied on a wealth tax for the nation's wealthiest by increasing the rate from 3 percent to 6 percent. Under that rate, Amazon CEO Jeff Bezos would pay over $6 billion a year in taxes,
CNBC reported.

"For months, Elizabeth Warren has refused to say if her health care plan would raise taxes on the middle class, and now we know why: because it does. Senator Warren would place a new tax of nearly $9 trillion that will fall on American workers," Biden's deputy campaign manager Kate Bedingfield said on Friday.
Warren responded by saying that Biden's criticism is a "Republican talking point" and "dusting off the points of view of the giant insurance companies and the giant drug companies who don't want to see any change in the law that will bite into their profits."
"But if anyone wants to defend keeping those high profits for insurance companies and those high profits for drug companies and not making the top 1 percent pay a fair share in taxes and not making corporations pay a fair share in taxes, then I think they're running in the wrong presidential primary," Warren continued, according to
The Hill.
Klobuchar and Buttigieg, both considered moderate Democrats like Biden, also expressed concern that Warren's promise of not raising taxes for the middle class isn't feasible.
On Friday night in Iowa, Warren took aim at all three candidates in her speech at the Liberty And Justice Dinner.
"This is a time of crisis. And media pundits, Washington insiders, even some people in our own party, do not want to admit it," Warren told the crowd. "They think that running some vague campaign that that nibbles around the edges is somehow safe, but if the most we can promise is business as usual after Donald Trump, then Democrats will lose."
"I'm not running some consultant-driven campaign with some vague ideas that are designed not to offend anyone," Warren added. "I am running a campaign based on a lifetime of fighting for working families. I am running a campaign from the heart. Because 2020 is our time in history, 2020 is our time to win the fight for a Green New Deal and save this planet."