Kamala Harris' Favorability Rises as Biden is Urged to Pick a Black Woman For Vice President
Former Democratic presidential hopeful Senator Kamala Harris has seen her favorability rise by 6 percentage points in the past month, as presumptive Democratic presidential nominee Joe Biden has been urged to select a woman of color as his running mate.
New polling by Morning Consult and Politico, which was published on Wednesday, shows that 59 percent of Democrats view Harris favorably. In previous polling conducted in early May, that number stood at 53 percent for the California lawmaker. Overall, 33 percent of registered voters now view Harris favorably, compared to 29 percent at the beginning of May.
Newsweek reached out to representatives for Harris for comment, but they did not respond by the time of publication.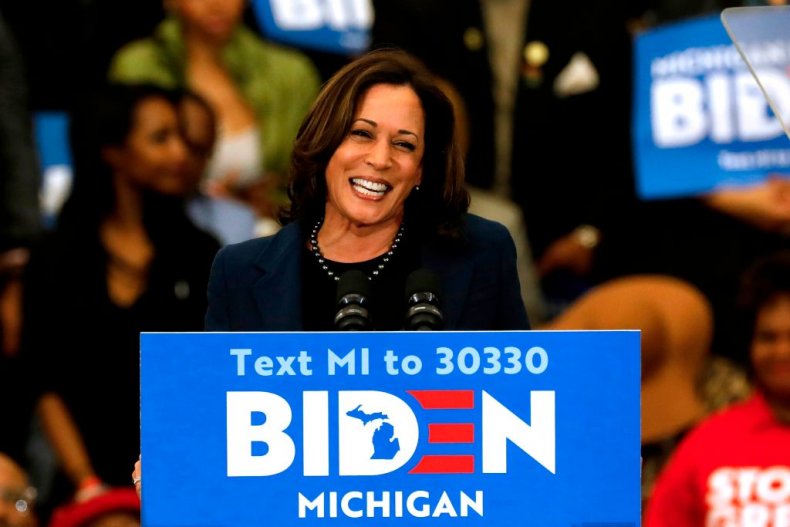 The polling also found that a higher percentage of Democrats increasingly believe it is important for Biden to select a person of color as his running mate. Now, 46 percent of Democratic voters believe it is "very" or "somewhat" important for Biden to prioritize a person of color to run as his vice president. That's a 10 point jump from April, when 36 percent believed it should be a priority.
Biden has previously committed to selecting a woman as his running mate, while leaders from the black community have urged him to select a black woman. Among the women reportedly under consideration to be the former vice president's running mate, Harris, former Georgia House Minority Leader Stacey Abrams, Atlanta Mayor Keisha Lance Bottoms, and Representative Val Demings of Florida are black. Senator Tammy Duckworth of Illinois, who has also reportedly interviewed for the job, is also a woman of color and became the second Asian American woman to serve in the Senate in 2017.
Although more Democratic voters believe Biden should prioritize a person of color to join his ticket, former Democratic presidential contender Senator Elizabeth Warren still has the highest favorability among those reportedly under consideration for the job, according to the Morning Consult data.
Warren, who represents Massachusetts, is favored by 69 percent of Democratic voters – 10 points higher than Harris. Some progressive Democratic leaders have urged Biden to select Warren as his running mate, arguing that selecting the progressive senator would help to unite the party.
Warren has said that she would gladly accept an offer to run alongside Biden, despite the two having clashed throughout the primary debates. Harris, who also clashed with Biden during the debates, has said she'd be "honored" to run alongside the Democratic nominee. Both Warren and Harris have publicly endorsed Biden.