Kamala Harris Celebrates 50 Days Until Biden Is President; Sarah Cooper, Rosanna Arquette and Others Respond
Vice President-elect Kamala Harris took to Twitter on Tuesday morning to happily remind people that they are only 50 days away from Joe Biden's Presidential Inauguration on January 20.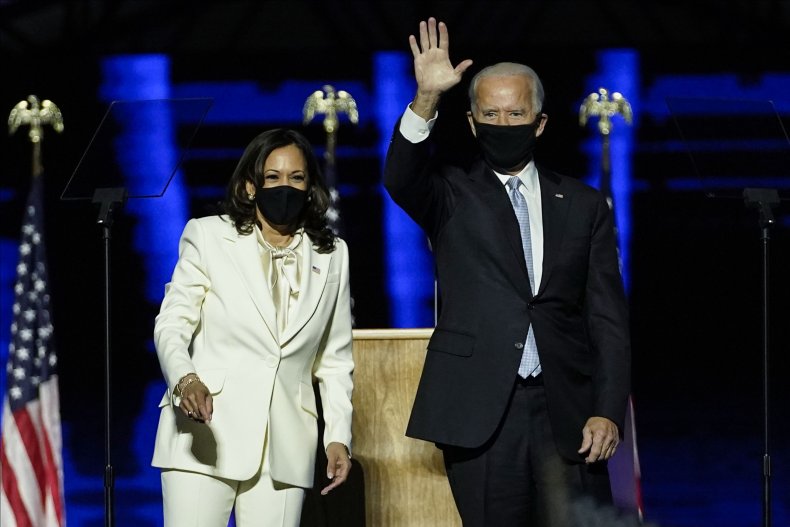 As she put it, "Only 50 days until we get to call @JoeBiden President of the United States."
Popular comedic satirist Sarah Cooper stated that the day "cannot come soon enough" for her.
Kim Sherrell, a TV producer and founder of the creative development company Intertheory, rejoiced herself, replying to the message with a GIF of Beyonce dancing.
Actress Rosanna Arquette replied with a simple "And MVP," which is presumably a reference to Harris making history as the first woman set to occupy the office of vice president. When Harris and Biden are sworn in, she'll officially be known as "Madam Vice President."
Jim Watson, a Canadian actor on the NBC medical drama Transplant, responded to Harris by stating that he's currently enjoying the longest period of not thinking "about America in 4 years...and that's a compliment."
Jennifer Rubin, an opinion columnist for The Washington Post, questioned whether some Republican senators would be joining others in calling Biden the new president.
And aside from Arquette, many other commenters also enthusiastically made a point to remind Harris that in 50 days she will be called Madam Vice President.
Actress/musician Angela Belcamino said 50 days is "starting to feel like an eternity."
Morgan J. Freeman, who won the Best Director award at the 1997 Sundance Film Festival for his film Hurricane Streets (and is not the more famous actor with whom he shares a name), made mention of the 50-day threshold while retweeting one of President Donald Trump's many disputed election messages.
Not long after Harris tweeted, the future First Lady, Dr. Jill Biden, also shared that the countdown had begun.
David Weissman, a former Trump supporter and current member of The Lincoln Project, paid respect to Dr. Biden by replying to her tweet that she will officially be the First Lady in 50 days.
Multimedia journalist David Leavitt noted the upcoming inauguration by hashtagging his tweet with #tuesdaymotivations.
Political pundit Frank Luntz seemingly mocked Trump supporters by sharing a recent poll that showed 29 percent of people who voted for Trump say Biden will be inaugurated in January. He said it might be a "good question to circle back on in 50 days."
Meanwhile, some people were happy to point out that Trump's time in office will also be over at that point. Or, as writer/actress Natasha Rothwell put it while tagging the sitting president, "50 days until trash pick up."
Actor Michal Rappaport, a very vocal Trump critic, shared a sentiment similar to Rothwell's. He wrote it's "50 Days until EVICTION."