Vice President Kamala Harris' plane to Guatemala was forced to return to Joint Base Andrews in Maryland on Sunday due to a "technical issue."
The plane turned back roughly 30 minutes after takeoff today and safely landed back at Joint Base Andrews around 3 p.m. ET. Symone Sanders, chief spokesperson and senior adviser to Harris, said the incident was caused by "a technical issue" and assured the public there were "no major safety concerns," according to a White House pool report.
"Everybody good?" Harris said. "I'm good, I'm good. We all said a little prayer, but we're good."
Harris and her team—Sanders, deputy chief of staff Michael Fuchs, national security adviser Nancy McEldowney and National Security Agency special adviser Mazin Alfaqih—flew out about 80 minutes later at 4:19 p.m. on a different plane to Guatemala City, where she will begin her first overseas trip as vice president before heading on to Mexico.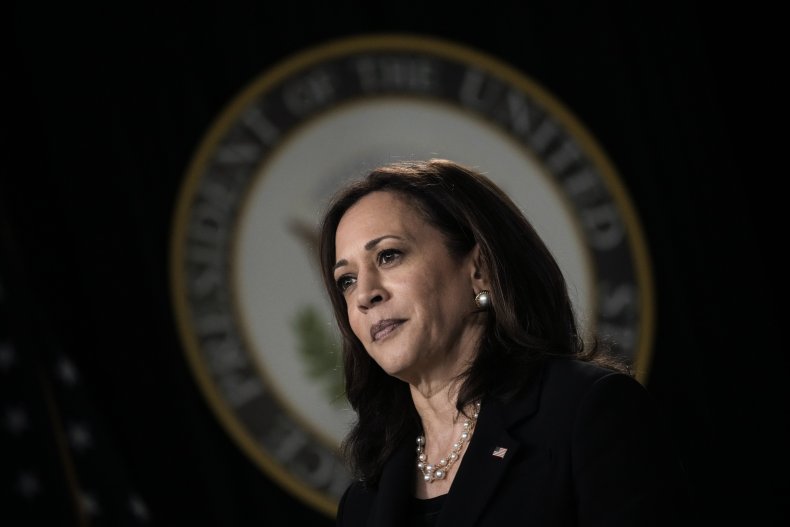 The two-day trip comes two months after President Joe Biden appointed Harris to lead his administration's response to immigration issues at the southern border in late March. Though the administration has said that Harris will assume a diplomatic, rather than managerial role.
"I can think of nobody who is better qualified to do this," the president told White House reporters at the time.
During the trip, Harris is expected to highlight the president's efforts to curtail the mass migration to the U.S. from Central America. In Guatemala, Harris will reportedly deliver gifts including a promise of coronavirus vaccines and hundreds of millions of dollars in humanitarian aid to President Alejandro Giammattei.
She will arrive in Mexico on Monday to meet with President Andrés Manuel López Obrador. The two world leaders are expected to discuss cooperation in strengthening immigration measures.
U.S. Customs and Border Protection reported it encountered 178,600 migrants in April, an increase of about 5,000 from the previous month. So far this year, the agency has seen 749,600 encounters. In 2020, the agency reported a total of 458,088 encounters.
"There needs to be political will on the part of the government, but we also are looking to partner with multilateral organizations, the private sector and other entities to really build a comprehensive approach that addresses the many root causes of migration in the region," Alfaquih told reporters ahead of Harris' trip, according to the Washington Post.
Newsweek reached out to the White House for comment. This story will be updated with any response.