California Sen. Kamala Harris is set to appear on the ticket as Joe Biden's running mate in the 2020 election—and already, Americans are asking questions about the lawmaker who could soon become the country's next vice president.
Newsweek looked at the top five questions that people in the U.S. are asking on Google about Biden's pick for VP.
Here are your biggest questions about Kamala Harris answered:
Did Donald Trump Donate to Kamala Harris?
Both President Donald Trump and his daughter and advisor Ivanka Trump have donated to Harris in the past, when she was running for re-election as California's attorney general prior to joining Senate.
The donations were brought to light during Harris's own presidential bid, before she dropped out of the 2020 race, by McClatchy D.C.
Campaign-finance records showed Trump donating a total of $6,000 to Harris' re-election campaign bids in 2011 and 2013, which saw the billionaire donate $5,000 and $1,000 respectively.
Meanwhile, Ivanka Trump donated $2,000 to Harris's campaign in 2014.
While Harris initially accepted Trump's donations, a campaign spokesperson told McClatchy last year that she had later sought to reject the funds after Trump began promoting the baseless birther conspiracy theory about President Barack Obama.
She did so by donating the $6,000 to a non-profit advocating for the rights of Central Americans, but the contribution wasn't made until 2015, a year after she won her attorney general re-election bid and as she launched her run to join Senate.
Was Kamala Harris a Cop?
While many Biden supporters have celebrated his pick for VP, which was announced on Tuesday, others have honed in on her background as a "top cop."
In a tweet condemning Biden's choice, Briahna Joy Gray, the former national press secretary for Sen. Bernie Sanders' 2020 presidential campaign, said the pick showed "contempt for the base."
"We are in the midst of the largest protest movement in American history, the subject of which is excessive policing," Gray said, pointing to nationwide protests demanding an end to police brutality and for systemic racism to be addressed in the wake of George Floyd's killing.
And yet, she wrote, "the Democratic Party chose a 'top cop' and the author of the Joe Biden crime bill to save us from Trump. The contempt for the base is, wow."
Indeed, Harris's background as a prosecutor, including working as San Francisco district attorney from 2004 to 2011 and later going on to become California's attorney general from 2011 to 2017, was one of the key sticking points in her own 2020 presidential bid.
While Harris has sought to emphasize her efforts to reform California's criminal justice system as a "progressive prosecutor", she has repeatedly come under fire from political rivals and critics on the left over her record.
For his part, Sanders welcomed the news of Biden's pick, offering his congratulations to Harris on Twitter.
"She understands what it takes to stand up for working people, fight for health care for all, and take down the most corrupt administration in history. Let's get to work and win," Sanders said.
Did Kamala Harris Say She Believes Joe Biden's Accusers?
After a number of women to came forward to accuse Biden of inappropriate touching and kissing, Harris told reporters in April 2019 that she believed their accounts.
"I believe them, and I respect them being able to tell their story and having the courage to do it," Harris said at the time.
Asked whether she believed Biden, who had not yet announced a presidential bid, but was expected to do so, should still run, Harris said: "He's going to have to make that decision for himself."
Then, earlier this year, Biden faced further accusations from Tara Reade, who had served as a former aide to Biden during his Senate career.
Reade accused Biden of pinning her to a wall in a Senate building, reaching under her clothing and penetrating her with his fingers, an accusation that Biden has denied.
Addressing Reade's claims, Harris said she believed the former Senate staffer had "a right to tell her story."
"I believe that and I believe Joe Biden believes that, too," she said on the San Francisco Chronicle podcast.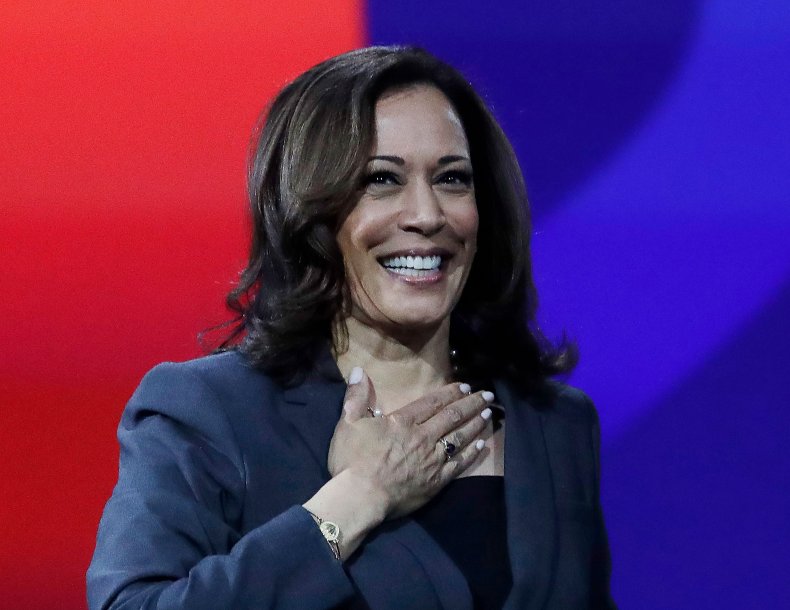 Is Kamala Harris Asian?
With widespread calls for Biden to pick a woman of color as his vice president, there has been a focus on Harris' racial background as the first woman of color on a major party ticket.
While Harris has described herself as being simply "an American," she has also expressed pride in her roots as the daughter of an Indian-born mother and a Jamaican-born father.
In her autobiography, The Truths We Hold, Harris described what it was like growing up mixed race, particularly after her parents separated when she was five.
Harris wrote that while her family "instilled us with pride in our South Asian roots," her "mother understood very well she was raising two black daughters."
"She knew that her adopted homeland would see Maya and me as black girls, and she was determined to make sure we would grow into confident black women," Harris wrote.
Did Kamala Harris Call Joe Biden a Racist?
As soon as Biden announced Harris as his pick for VP, the Trump campaign was ready to go on the attack, with campaign adviser Katrina Pierson claiming that "not long ago" Harris had "called Joe Biden a racist and asked for an apology she never received."
The Washington Post was quick to jump on this claim, dismissing it as false, with national correspondent Philip Bump writing that "none of that is true."
The claim, he noted, appears to stem from a moment in the first Democratic primary debate in June 2019, in which Harris took aim at Biden touting his ability to work with senators he has disagreed with, including those who have supported segregation.
Noting the point of pride for Biden, Harris said: "It was hurtful to hear you talk about the reputations of two United States senators who built their reputations and career on the segregation of race in this country."
"And it was not only that, but you also worked with them to oppose busing," she said, referring to the federal push to integrate schools by busing Black students into predominantly white areas.
"You know, there was a little girl in California who was part of the second class to integrate her public schools, and she was bused to school every day," Harris said. "And that little girl was me."
While the attack was an effective one, as Bump noted, Harris was not calling Biden racist.
In fact, as he noted, Harris prefaced the comments by outright stating she did not believe Biden was racist.
"I do not believe you are a racist, and I agree with you when you commit yourself to the importance of finding common ground," she had said.
Biden later also addressed his own comments, expressing regret over what he said.
"Was I wrong a few weeks ago to somehow give the impression to people that I was praising those men who I successfully opposed time and again? Yes, I was. I regret it," Biden said. "I'm sorry for any of the pain or misconception I may have caused anybody."
Harris responded to the apology, telling CNN: "He says he's sorry, and I'm going to take him at his word."
However, she noted, Biden's statement did not "address the issue of busing in America."
Still, she said the former vice president was "right to recognize the impact of his words" and said his apology showed "courage."
The graphic below, provided by Statista, highlights Harris' popularity among Democratic voters.