Kamala Harris Has Run 29,000 Facebook Ads Mentioning Trump—More Than Nearly All Other 2020 Candidates Combined
Sen. Kamala Harris has run approximately 29,000 Facebook advertisements mentioning President Donald Trump since May 2018—more than almost all the other 2020 candidates combined, according to Newsweek's analysis of Facebook's political ad archive.
Facebook's ad library contains data on every active and inactive ad about social issues, elections or politics that has run since May 2018. Harris officially launched her presidential bid in January.
By comparison, former Vice President Joe Biden has run roughly 2,300 sponsored posts referencing Trump. Sens. Bernie Sanders and Elizabeth Warren have posted 8,200 and 3,400 respectively.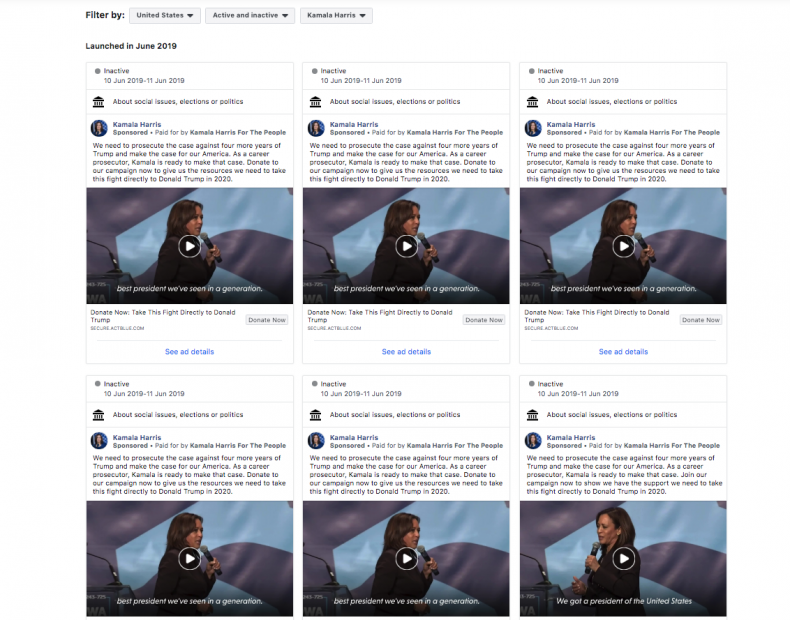 "Donald Trump betrayed the American people, and he will lose this election," read one of Harris' advertised posts, active in Iowa between August 6 and 26. The sponsored content cost Harris' campaign less than $100, according to Facebook ad data.
"We need to prosecute the case against four more years of Trump and make the case for our America," another advertised post from June said. "As a career prosecutor, Kamala is ready to make that case."
In a statement to Newsweek, Harris' campaign defended the candidate's focus on Trump as a necessary move to thwart his re-election. "It is impossible to win back the White House in 2020 without taking on Donald Trump," a Harris spokesperson said in response to the analysis. "Kamala has clearly demonstrated she is the best candidate to prosecute the case against four more years of Trump and deliver on a 3 a.m. agenda focused on the issues that keep Americans up at night."
The graphic below, provided by Statista, illustrates the gulf between Harris and other contenders in Facebook adverts mentioning Donald Trump.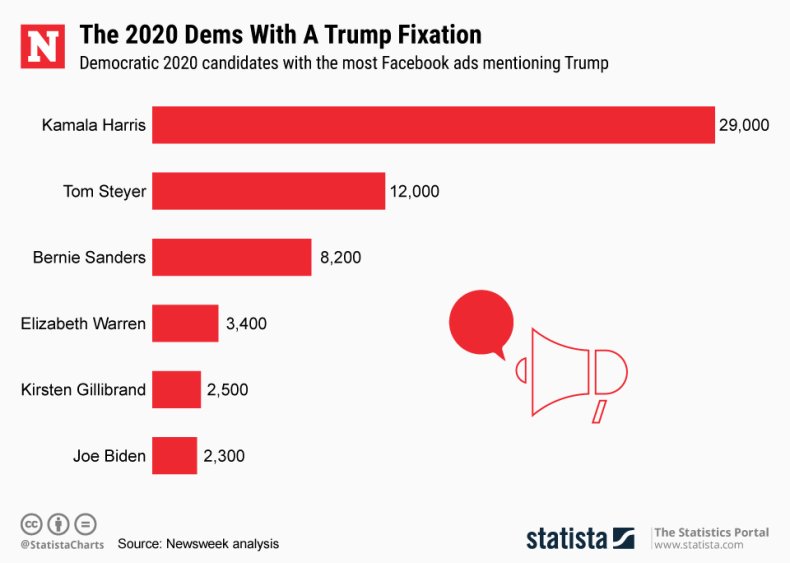 Pete Buttigieg appears to have taken a different approach. The South Bend, Indiana Mayor invoked Trump the least in his Facebook ads, with only 11 posts since March 2018, among all 2020 candidates currently polling above one percent. Interestingly, just one of Buttigieg's 11 Facebook ads that mention Trump specifically refers to the president in the text of the post. The remaining 10 ads contain Trump's name in various political headlines and summaries linked in the posts.
Chris Meagher, Buttigieg's national press secretary, told Newsweek on Tuesday that the South Bend Mayor's campaign is more focused on policy matters than taking down Trump.
"Whether in digital ads or meeting with voters face-to-face, Pete knows that the less we're talking about the president, the more time we can spend talking about the issues that matter most to people," Meagher said. "Pete knows this is a now or never moment for our nation—whether it's climate change, a gun violence epidemic or rising costs and stagnant wages—and that we are running out of time."
Buttgieg "will break from the inaction of the past to create a better future for our country," he added.
Former Texas congressman Beto O'Rourke and New Jersey Sen. Cory Booker are the only candidates currently polling in the single digits who have run more than one thousand Facebook ads targeting Trump, with both having posted approximately 1,200 each.
Entrepreneur Andrew Yang, author Marianne Williamson and former President Barack Obama cabinet secretary Julián Castro have all run fewer than 1,000 Facebook ads mentioning Trump, according to the archive, with figures totaling 250, 220 and 720 respectively.
The only candidate who came close to Harris' figure is American billionaire philanthropist Tom Steyer, who officially announced his 2020 Democratic presidential campaign in July. Steyer has paid over $12 million for online and television advertising in the past six weeks, according to The New York Times, more than any other Democratic candidate has spent all year. His campaign has run roughly 12,000 Facebook ads referencing Trump.
To put this in perspective, all current candidates except for Harris and Steyer have posted approximately 23,700 Facebook adverts mentioning Trump, well short of Harris' 29,000 count. Adding Steyer brings the figure up to approximately 35,700 Facebook adverts mentioning Trump to Harris' 29,000.
The only two Republican candidates running against Trump for the 2020 GOP nomination were among the five presidential hopefuls who referenced Trump the least in their Facebook ads. Former Massachusetts Governor Bill Weld has posted 4 ads mentioning Trump and former Illinois congressman Joe Walsh, who announced his campaign on Sunday, has run 5.
Walsh's announcement over the weekend came after he penned a New York Times op-ed in which he stressed the need for a Republican challenger "from the right." He added: "The fact is, Mr. Trump is a racial arsonist who encourages bigotry and xenophobia to rouse his base and advance his electoral prospects," Walsh wrote.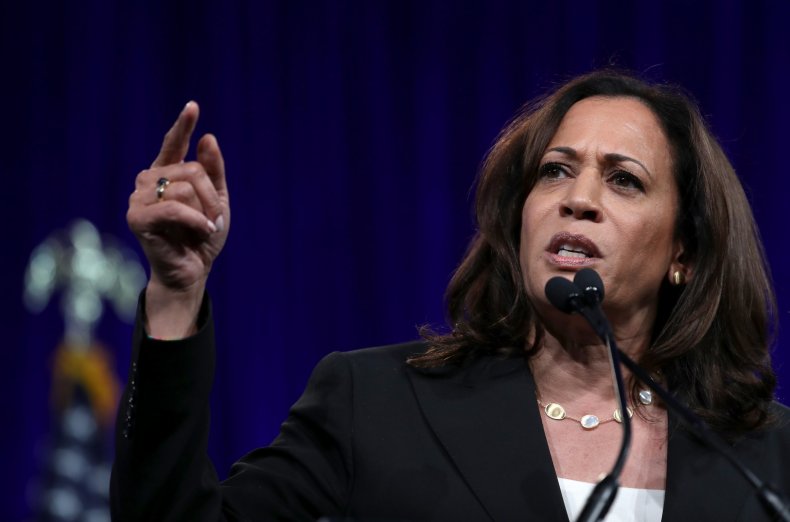 In January, Harris kicked off her presidential campaign at a boisterous rally in Oakland by casting herself as a direct contrast to Trump and someone who is capable of standing up to the president's false statements with civility and sincerity. Without mentioning the president by name, Harris declared that democracy in America was under attack and said the current administration has failed the public.
The California Democrat also criticized the White House for allegedly "bullying and attacking the free press" and holding migrant "children in cages."
Although Biden has been leading in almost every poll since he announced his 2020 campaign in April, results from the latest Monmouth University Poll, released Monday, suggest that the race for the Democratic nomination could be tightening.
According to the poll, Sanders and Warren tied for first place with 20 percent each among Democratic voters. Biden fell one point behind at 19 percent. No other candidates garnered double digits.
Harris came in at fourth place with 8 percent, Booker and Buttigieg both garnered 8 percent, and Yang secured seventh place with 3 percent of votes. Castro, O'Rourke and Williamson tied eighth with 2 percent each.
Number of Facebook ads mentioning Trump (full list):
Joe Biden (D): 2,300
Bernie Sanders (D): 8,200
Elizabeth Warren (D): 3,400
Kamala Harris (D): 29,000
Pete Buttigieg (D): 11
Tulsi Gabbard (D): 170
Michael Bennet (D): 1,400
Bill de Blasio (D): 65
Cory Booker (D): 1,200
Steve Bullock (D): 1,300
Julián Castro (D): 720
John Delaney (D): 180
Kirsten Gillibrand (D): 2,500
Amy Klobuchar (D): 360
Wayne Messam (D): 5
Beto O'Rourke (D): 1,200
Tim Ryan (D): 160
Joe Sestak (D): 0
Tom Steyer (D): 12,000
Andrew Yang (D): 250
Marianne Williamson (D): 220
Joe Walsh (R): 5
Bill Weld (R): 4
This article was updated to include an infographic.