Kamala Harris Highlights Democrats' 'Great Wins' in New York, Ohio Despite McAuliffe Loss
Vice President Kamala Harris told reporters on Wednesday Democrats had "great wins" in the November 2 election outside Virginia, where the party lost a gubernatorial election viewed by many as a bellwether heading into next year's midterm elections.
Harris attended two campaign events in the weeks leading up to Election Day alongside Democratic gubernatorial candidate Terry McAuliffe, a former governor of Virginia who was seeking a second term in office. Harris was one of several high-profile Democrats who traveled to the state to stump for the former governor, a list that also included President Joe Biden and former President Barack Obama.
Speaking with reporters Wednesday on Capitol Hill, Harris said she thought McAuliffe "would have made a great governor."
"But it clearly was a fair election, and I applaud the governor-elect," Harris said.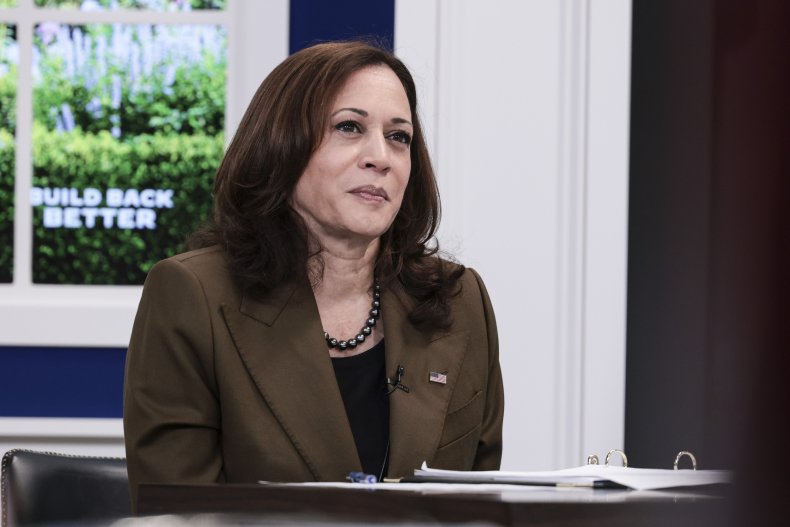 While McAuliffe initially held a lead in the polls over his Republican competitor, Glenn Youngkin, that lead narrowed as the election drew closer, with a handful of polling results released in the final weeks of the race suggesting the candidates were tied. Youngkin had an estimated one-point lead over McAuliffe by the time Election Day arrived, according to polling averages compiled by FiveThirtyEight.
The Associated Press called the race for Youngkin shortly after midnight on Wednesday, and McAuliffe released a statement conceding the race a few hours later.
Virginia and New Jersey are the only states that had regularly scheduled gubernatorial elections this fall. Before Election Day, many politicians around the country said the outcome of Virginia's race would likely serve as an indication of how voters are leaning ahead of the 2022 midterm elections, during which Democrats will seek to defend their party's slim majorities in both chambers of Congress.
In addition to the visits Harris and other Democrats paid to Virginia in support of McAuliffe's campaign, Democratic National Committee (DNC) Chair Jaime Harrison emphasized the importance of the race to the party in the weeks before the election. On Wednesday, Harrison said Democrats "will not be deterred" in a statement addressing the outcome of Tuesday's elections in Virginia.
As the 2022 campaigns begin to pick up steam, Harrison said Democrats "will remain laser focused on delivering for working families and making our case directly to each and every voter."
"We will not rest until the polls close next year and we know that Democrats have won the House, Senate, and governors' mansions across the country to continue delivering hope and progress for the American people," Harrison's statement concluded.
When asked Wednesday what McAuliffe's loss means for Democrats heading into the midterms, Harris told reporters she would leave further analysis of the race to the pundits before pointing to her party's wins in New York, where Eric Adams was elected mayor of New York City, and Ohio, where Shontel Brown claimed a congressional seat following a special election in Cleveland.
"We had great wins, as well as what we obviously talked about in Virginia, and I celebrate those," Harris said. "We have Eric Adams in New York; in Ohio we had, with Ms. Brown, Shontel Brown, a great win, and what I think will be a great addition the United States Congress. So, as I said, I supported Terry McAuliffe, but I congratulate Mr. Youngkin."
Newsweek reached out to the DNC for further comment and will update this article with any response.