Who Is Douglas Emhoff? Kamala Harris' Husband Supports Wife at Democratic Debate in Houston
California Senator Kamala Harris and nine other presidential hopefuls made their way to Houston for the third Democratic debate Thursday. Harris' husband Douglas Emhoff also traveled to Texas to support his wife as she prepared to go toe-to-toe with fellow Democrats ahead of the primaries.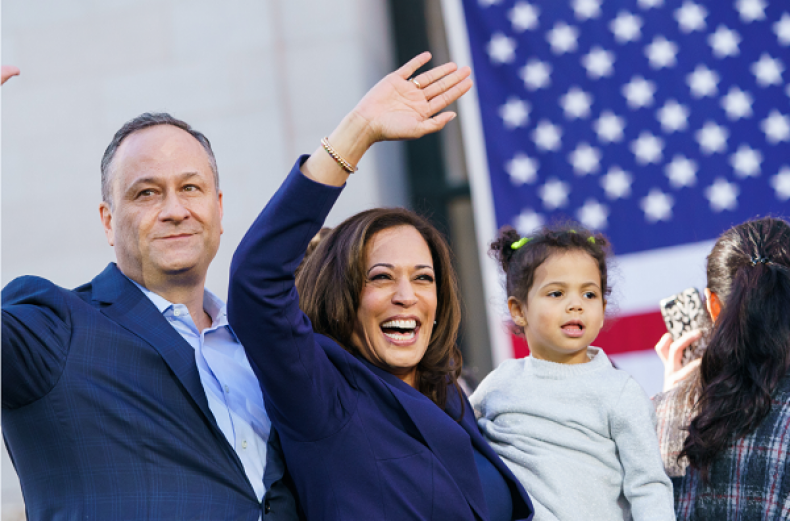 Emhoff has been at Harris' side at every step of the campaign, supporting her at public events, rallies and marches. He's also taken to social medial to advocate for his wife's bid to become the first woman president of the United States.
Get to know a little more about Emhoff below.
He's a Lawyer
The Brooklyn native is a University of Southern California Gould School of Law alum. At Los Angeles-based firm DLA Piper, Emhoff handles "complex business, real estate and intellectual property litigation disputes" for a number of top-tier domestic and international corporations according to his firm's website. He also works with high profile individuals and influencers.
Emhoff joined the firm as a partner back in 2017, but he was a well-regarded attorney long before then thanks to his work on a famous lawsuit involving the popular Taco Bell mascot. Michigan-based company Wrench claimed to be the creators of the "Psycho Chihuahua" character featured in the fast food restaurant's advertisements. Wrench sued Taco Bell for breach of contract and was awarded $42 million. Taco Bell blamed ad agency TBWA for the mishap and essentially tried to make the company pay the settlement, but Emhoff helped TBWA avoid footing the bill.
He met Harris on a blind date orchestrated by the senator's friend
Emhoff was introduced to Harris back in 2013 when she was California's attorney general. In a March profile by The Hollywood Reporter, he credited public relations consultant Chrissette Hudlin, a mutual friend of the pair, for setting them up on a blind date. An instant match, the couple continued to date and eventually exchanged vows a year later in a ceremony officiated by Harris' sister Maya Harris West at the Santa Barbara Courthouse. In honor of Emhoff's Jewish faith and upbringing, the couple followed the age-old tradition of breaking glass to seal the deal.
He has two children
Emhoff had already been married and divorced before he met Harris. He shares two children—son Cole and daughter Ella, named after John Coltrane and Ella Fitzgerald—with his ex-wife Kerstin Emhoff. Harris has a loving relationship with her step-children, who affectionately refer to her as "Momala." She gushed over the pair in her book The Truths We Hold and shared the story of first meeting them: She brought them cookies and wore Chuck Taylors. Emhoff's son is a Colorado College alum, while his daughter is currently a student a Parsons School of Design.
Harris will square off against former Vice President Joe Biden, Senator Bernie Sanders, Senator Elizabeth Warren, Senator Amy Klobuchar, Senator Cory Booker, South Bend, Indiana Mayor Pete Buttigieg, former Congressman Beto O'Rourke, former Housing Secretary Julián Castro and tech entrepreneur Andrew Yang Thursday at 8 p.m. ET on ABC and Univision.