Kamala Harris Isn't Enough to Persuade These Bernie Supporters to Vote for Biden
Senator Kamala Harris has faced criticism for being further left than her running mate, former Vice President Joe Biden, but for some supporters of Senator Bernie Sanders, she isn't progressive enough to get them to cast their ballot for the presumptive Democratic nominee.
Harris, who would make history if elected to the vice presidency, was rated the most liberal senator in 2019 by GovTrack, a nonpartisan, independent congressional tracker, based on how often she co-sponsored bills with Republicans. While Harris undoubtedly leaned further left in 2019 than years past, going beyond the surface data reveals a mixed track record with Medicare for All and her stance on student debt relief doesn't go as far as Sanders'.
Harris' policies, although progressive, are too limited in scope to persuade Emmaline Bennett, a student at Columbia University and member of the Young Democratic Socialists of America (YDSA), to vote for Biden. Whereas Sanders supports forgiving all student loans, Harris' 2019 plan would have forgiven $20,000 in student loans for Pell Grant recipients who start and maintain a business in a disadvantaged community for three years.
A stark contrast between the two senators' stances, Bennett also pointed to Harris' flip-flopping on Medicare for All. At a Democratic debate in 2019, Harris raised her hand acknowledging she would abolish employer-provided health insurance in favor of a government-run plan. She'd already signed on as a co-sponsor of Sanders' single-payer health bill, but later walked back the commitment and a proposal of her own fell short of a true Medicare for All system.
Under her plan, Harris would set up a government-run system but private insurers would still be an option. It would have also transitioned all Americans to a Medicare plan in ten years, not four years as proposed by Sanders.
"Harris was never clear on her position and what she did say was a watered-down version of Bernie's proposal," Alex Pellitteri, a founding member of Hunter College's YDSA chapter, said. "Ultimately, Bernie represented a break from politics as usual, Harris does not.… Like Biden, Harris is not going to make the transformative change we need, she's just another establishment politician."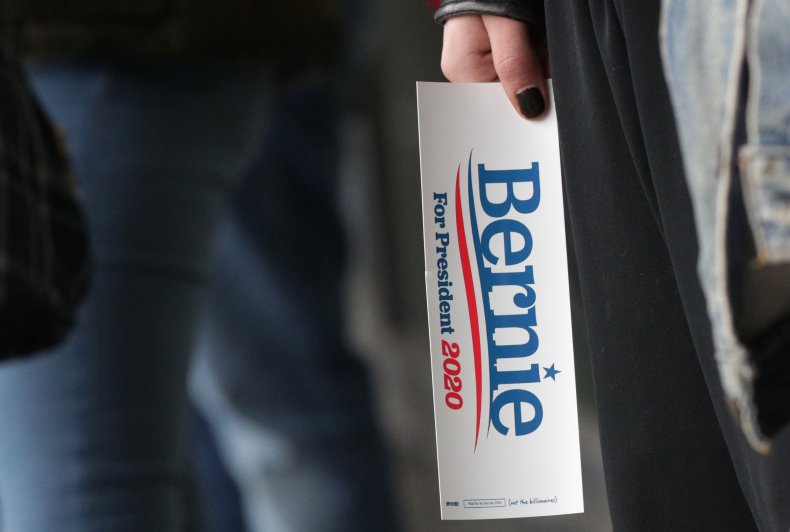 Ben Spielberg, the co-founder of 34justice, told Newsweek Sanders' supporters likely fall into one of three groups: those who refuse to vote for Biden, those who will vote for Biden no matter what because President Donald Trump is worse and those who are waiting to make a decision based on what Biden does.
For those who committed to voting for Biden, such as Alán Zaizar, a Sanders supporter in Texas, Spielberg suspected Biden's choice for a running mate wouldn't change their decision. Harris would have ranked toward the bottom of Zaizar's choices for vice president, in part because of her backing out of a Medicare for All plan, but her nomination isn't enough to make him not vote for Biden.
"I decided before he picked his VP that I would end up voting for him only as damage control against Trump [and] ... I will vote for Biden/Harris but only because Trump and his supporters are pushing me to," Zaizar said.
Harris also won't make many of those who refuse to vote for Biden, a group Spielberg considers himself a member of, to change their position, he said. However, the vice president selection may have been an opportunity to court those in the wait and see camp.
"If you were making your decisions based on how progressive Biden's appointments and selections and policy positions are over the next few months, to me, I don't think this suggests he's moving in a particularly progressive direction," Spielberg said. "I think the choice of Kamala Harris is very consistent with the skepticism that many Bernie Sanders supporters have of Biden and of the Democratic Party."
Harris' nomination garnered praise, including from Sanders, who called her an "asset" to Biden and Representatives Rashida Tlaib and Alexandria Ocasio-Cortez, who endorsed Sanders in the primary. Other prominent Sanders supporters, such as Cori Bush, who Sanders endorsed and recently bested 10-term Congressman William Lacy Clay Jr. in the primary, and Briahna Joy Gray, former national press secretary for Sanders, criticized the choice. Gray called Harris a "top cop" in a tweet and promoted Sanders as the candidate to beat Trump, not Biden.
"I'm not going to tear down another woman of color," Bush told The New York Times. "But as a progressive, I have to stand with my progressive values."
Had Biden chosen someone such as Nina Turner, a former Ohio state senator who Zaizar hopes will challenge Biden in 2024 if he wins, Spielberg said it would have excited Sanders' supporters. Realistically, that wasn't likely to happen, but Representative Karen Bass and Senators Tammy Baldwin and Elizabeth Warren, who were all reportedly in the running for the position, may have been more attractive to those who have yet to decide.
Spielberg expected the biggest group of Sanders supporters to be those who are voting for Biden no matter what and Bennett agreed it's a personal decision each individual must make. Sanders himself endorsed Biden and encouraged people to vote for him, as it's likely to be easier to push progressive policies with Biden in office than with Trump.
Each choice comes with consequences, Spielberg said. Not voting for Biden could help pave the path to Trump's second term, an undesirable result of the election for many of Sanders' supporters. But, voting for Biden could perpetuate a cycle of the Democratic Party not feeling pressure to cater to progressive values because "they know progressive will fall in line."
At the end of the day, Bennett said effecting change goes beyond casting a ballot on November 3, and regardless of who wins the election, her organization's task remains the same.
"I don't think it really matters at all whether I, as an individual, vote for Biden or Howie Hawkins or no one at all—what does matter is the work that I do alongside others to build up a strong working—class movement which can exercise power from below," Bennett said.
This article has been updated to reflect Ben Spielberg's title as co-founder of 34Justice.