'That Little Girl Was Me:' Kamala Harris Attacks Joe Biden's History on Busing and Civil Rights During Debate
Kamala Harris and Joe Biden went head-to-head on the issue of racism in what was one of the most heated exchanges of Thursday night's Democratic primary debate.
"As the only black person on stage I would like to talk about the issue of race," Harris said, prompting a loud moment of applause from the audience. "This is an issue that is still not being talked about truthfully and honestly."
The California senator then turned on former Vice President Joe Biden, who has been under fire recently for touting his ability to work with segregationist senators. The two late senators Biden mentioned, James O. Eastland and Herman Talmadge, were two Southern Democrats who were strongly opposed to desegregation and the civil rights movement.
"I do not believe you are a racist. And I agree with you when you commit yourself to the importance of finding common ground," Harris said to Biden. She then directly commented on his controversial comments about the segregationist senators: "It's personal and it was actually very hurtful."
The former vice president was looking down at his podium as Harris spoke to him directly. But Harris continued, adding that Biden worked with the two senators to oppose busing for black students.
"There was a little girl in California who was part of the second class to integrate her public school and she was bused to school every day. And that little girl was me," Harris said. "So I will tell you on this subject it cannot be an intellectual debate among Democrats, we have to take it seriously."
When it was Biden's turn to respond, he called Harris' remarks a "mischaracterization of my position across the board."
"I did not praise racists. That is not true," he added. He went on to explain that he didn't oppose busing, but opposed busing ordered by the Department of Education.
But after continuing to be attacked by Harris, he ultimately relented, saying: "My time's up, I'm sorry,"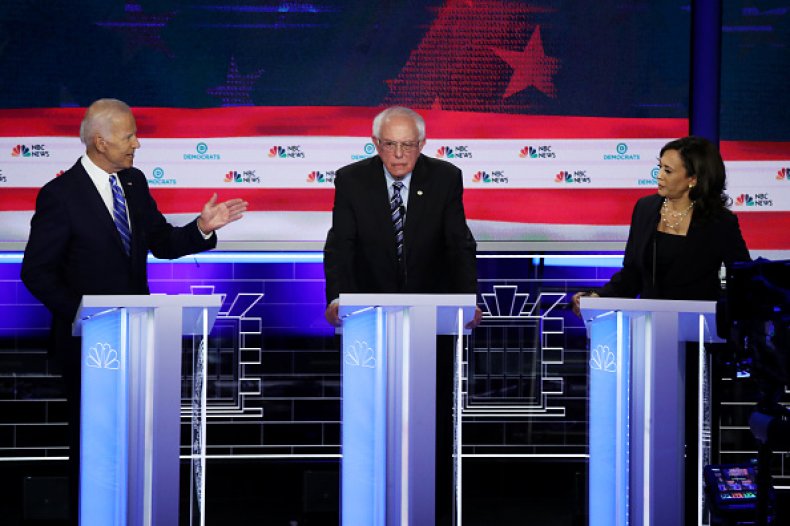 Biden was at a fundraising event with wealthy donors in New York City on earlier this month when he discussed his professional relationship with the late senators.
"I was in a caucus with James O. Eastland. He never called me 'boy,' he always called me 'son,'" Biden reminisced. "Well guess what? At least there was some civility. We got things done. We didn't agree on much of anything. We got things done."
The 2020 Democratic hopeful went on to slam the current era of partisan politics, stating that "today you look at the other side and you're the enemy. Not the opposition, the enemy. We don't talk to each other anymore."
Biden's comments, an extension of the bipartisanship pitch he's made on the campaign trail for the past several weeks, were a step too far for fellow 2020 Democrats and activists.
"Vice President Biden's relationships with proud segregationists are not the model for how we make America a safer and more inclusive place for black people, and for everyone," Senator Cory Booker wrote in a statement released last week. The 2020 Democrat added that he is "disappointed" that Biden has yet to issue an apology for "the pain his words are dredging up for man Americans."