Kamala Harris Kicks Off 2020 Bid: 'President of the People, by the People, and for All People'
Democratic Senator Kamala Harris kicked off her 2020 presidential bid on Sunday with an energetic speech in her hometown of Oakland, California, where she promised to fight "for all the people."
"I stand before you today clear-eyed about the fight ahead and what has to be done," the 54-year-old senator said during a rally with thousands of supporters. "With faith in God, with fidelity to country, and with the fighting spirit I got from my mother, I stand before you today to announce my candidacy for president of the United States."
She continued: "And I will tell you, I'm running for president because I love my country. I'm running to be president of the people, by the people, and for all people."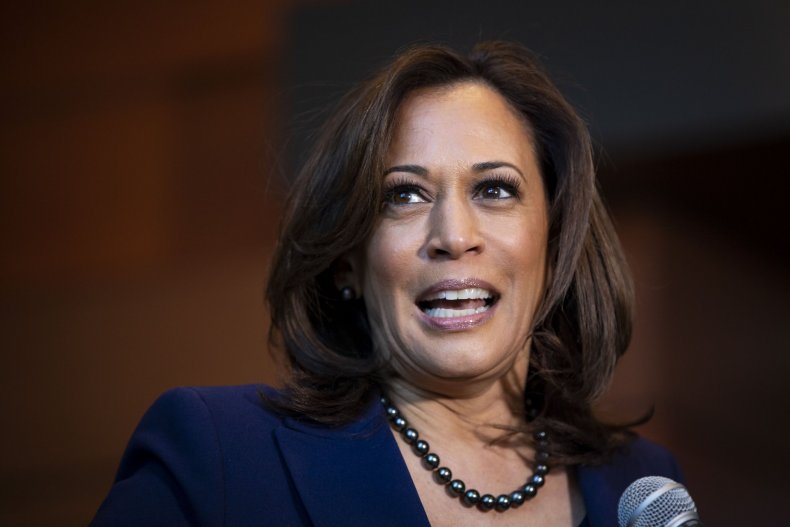 Harris — whose campaign slogan is "Kamala Harris, for the people" — initially announced her bid for the 2020 presidency during a segment on ABC's Good Morning America last week. "When I look at this moment in time, I know the American people deserve to have someone who is going to fight for them... and put them in front of self-interest," she said on Martin Luther King Jr. Day.
During her rally on Sunday, Harris also criticized President Donald Trump's White House, arguing that "under this administration, America's position in the world has never been weaker" with "foreign powers infecting the White House like malware."
"We are here because the American Dream and our American democracy are under attack and on the line like never before," the senator said. "We are here at this moment in time because we must answer a fundamental question. Who are we? Who are we as Americans? So, let's answer that question to the world and each other right here and right now. America: we are better than this."
"People in power are trying to convince us that the villain in our American story is each other," Harris continued, referring to Trump's rhetoric without mentioning his name. "But that is not our story. That is not who we are. That is not our America."
"As we embark on this campaign I will tell you this: I am not perfect," she added. "Lord knows I am not perfect, but I always speak with decency and moral clarity and treat all people with dignity and respect."
Harris — the daughter of Jamaican and Indian immigrants — was elected San Francisco district attorney in 2003, seven years before she was voted California's attorney general. She was elected to the Senate in 2016.
Harris has joined an increasingly crowded 2020 Democratic primary field with Sens. Elizabeth Warren (D-MA) and Kirsten Gillibrand (D-N.Y.) having already announced exploratory committees. Rep. Tulsi Gabbard (D-Hawaii), Julian Castro, federal housing chief under former President Barack Obama and former Maryland Rep. John Delaney have also officially joined the race, while Sens. Bernie Sanders (VT) and Cory Booker (D-NJ) are expected to run.
The developments in the early days of the Democratic primary campaign has strongly highlighted the party's diversity. Of those that will be running, four are women, including Harris, who is also African-American. There's also Castro, who is Latino, and candidate Pete Buttigieg — the mayor of South Bend, Indiana who joined the campaign on Wednesday — would make history as the first openly gay presidential nominee from a major party if he wins the nomination.
Watch Harris' speech below:
Kamala Harris Kicks Off 2020 Bid: 'President of the People, by the People, and for All People' | U.S.