Kamala Harris Memes Flood Internet as Her Reactions to Mike Pence Go Viral
Memes of Democratic Senator Kamala Harris flooded the internet during the Wednesday night vice presidential debate as social media users posted humorous images and videos that highlighted her opposition to Republican Vice President Mike Pence.
One of the earliest memes posted during the debate was from the Republican-led political action committee, The Lincoln Project, focusing on Harris' face as she listened to Pence speak.
One of the most viral memes came from American activist Jamira Burley, who seemed to strike a nerve about men condescending to women.
Another also focused on Harris' facial reactions as she listened to Pence's responses throughout the debate.
Self-described "pop-culture enthusiast" Tevin JC compared Harris' facial reactions to that of Elektra, a fictional performer in Ryan Murphy's ballroom drama series Pose, whose animated facial expressions regularly deliver some of the show's funniest moments.
A meme from American commentator and editor of PC Magazine, Lance Ulanoff, highlighted comedian Maya Rudolph's depiction of Harris on the long-running comedy sketch show Saturday Night Live.
Washington Post contributor Jonathan Capehart succinctly summarized Harris' sentiments in the debate by showing an animated GIF of the vice-presidential nominee.
The pro-choice organization NARAL posted an animated GIF of Harris repeatedly shutting down Pence's attempts to interrupt her.
Before the debate, late-night talk show host Jimmy Kimmel poked fun at the plexiglass divider between Harris and Pence, meant to serve as protection against possible COVID-19 transmission, by comparing it to the protective glass between FBI Agent Clarice Starling and cannibal Hannibal Lecter in the 1991 film The Silence of the Lambs.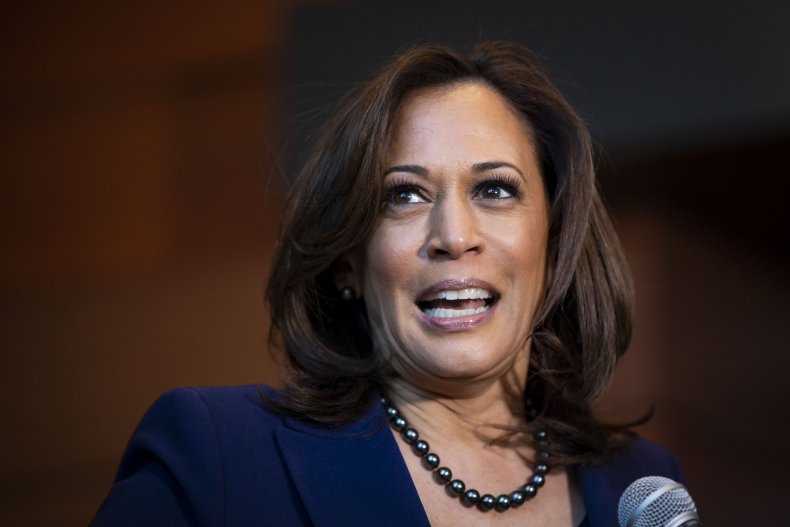 Commentator and radio show host Zerlina Maxwell also alluded to Pence's proximity to Trump and other Republicans who have since tested positive for COVID-19 by suggesting that Harris should spray Pence with Lysol disinfectant at the start of the debate.
Josh Marshall, a contributor of Talking Points Memo, posted a video of a boxing match as an "infographic" of Harris' treatment of Republican President Donald Trump during the debate.
Artist Aman Chaudhary depicted Pence as a literal gaslight as a way to accuse him of "gaslighting,"a term for manipulating someone into questioning their own sanity. The Trump administration has often been accused of gaslighting Americans by getting them to doubt news and scientific reports.
While many Twitter users made note of the fly that landed on Pence's head during the debate, one in particular juxtaposed Harris' face while Pence looked down, oblivious of the fly that was on him.
Newsweek contacted Harris for comment.