Vice President Mike Pence said he couldn't wait to debate his Democratic challenger Kamala Harris in Salt Lake City later this year as he repeatedly tried to paint the U.S. senator as a member of the "radical left."
Appearing on Fox News on Wednesday, Pence said Harris had followed a radical left agenda "throughout her political career," setting out his possible line of attack when the vice presidential debate goes ahead at the University of Utah in October.
But the vice president also had praise for his opponent, saying she had proven to be a "skilled debater" during the Democratic primaries.
Speaking on Hannity last night, Pence said: "I think she is a skilled debater, but I can't wait to get to Salt Lake City and be on the stage with her to compare Joe Biden's nearly 50 years in public life, the agenda of the radical left, the agenda she's embraced throughout her political career, with the results of this president and this administration."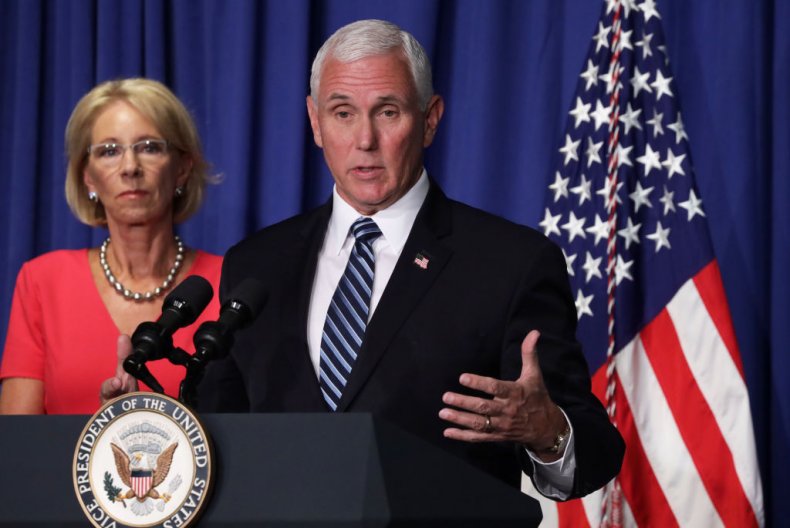 Asked about the late scheduling of the presidential debates, Pence told Fox News host Sean Hannity: "The American people ought to hear from this president and hear from Joe Biden on the stage to talk about their competing visions for this country."
The first presidential debate is slated for September 29, with Pence's one-on-one with Harris following shortly after on October 7.
The sole vice presidential debate will be followed by two more head-to-heads between President Donald Trump and Biden in mid-October.
At a campaign event in Arizona, Pence told supporters: "You all might like to know that the vice presidential debate is on October 7 in Utah. So my message to the Democratic nominee for Vice President—congratulations. I'll see you in Salt Lake City."
The vice president's remarks came after the Biden campaign revealed that Harris had been selected as the presumptive Democratic nominee's running mate on Tuesday, putting an end to months of speculation about who was in the running for the nomination.
Appearing alongside Biden at a school in Wilmington, Delaware on Wednesday night, Harris said she was "incredibly honored" to have been offered the Democratic VP slot.
"This is a moment of real consequence for America," she later said. "Everything we care about—our economy, our health, our children, the kind of country we live in—it's all on the line."
She added that the U.S. was "crying out" for leadership under a president who "cared more about himself" than the country.