Kamala Harris Mum on 2024 Presidential Ticket: 'We Are Thinking About Today'
Nearly one year into her term as vice president, Kamala Harris is still mum on whether Americans should expect any changes to the presidential ticket in 2024.
In a Thursday interview with the Today show's Craig Melvin, the vice president dismissed a question on whether President Joe Biden would again seek the nation's top office, with her as his running mate.
"I'm sorry, we are thinking about today," she said. "I mean, honestly, I know why you're asking the question, because this is part of the punditry and the gossip around places like Washington, D.C."
She added that the administration is focused on "the things in front of us" and "what we need to do," like providing Americans with access to affordable child care, among other concerns.
Melvin also asked Harris whether she'd heard rumors that she could be replaced as Biden's running mate by someone else, such as Republican Representative Liz Cheney.
"No, I did not," she responded. "And I really could care less about the high-class gossip on these issues."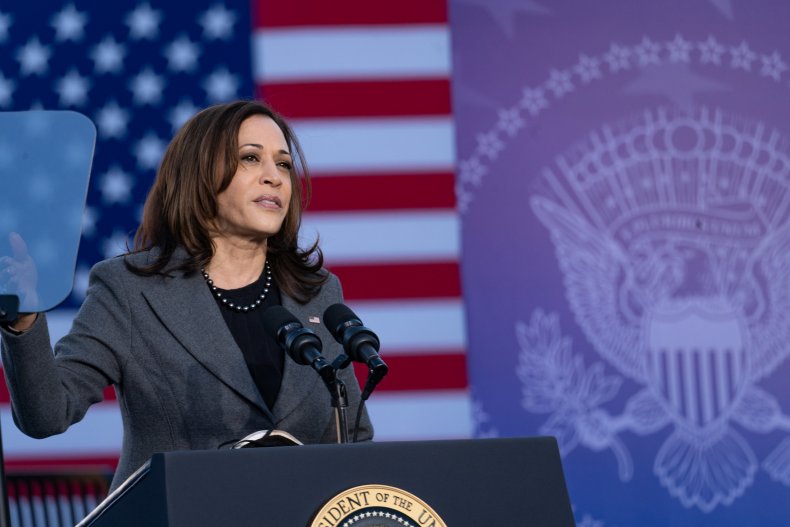 The possibility of Biden switching Harris for Cheney was recently brought up by New York Times columnist Thomas Friedman. He was writing about "the most diverse national unity government in Israel's history, one that stretches from Jewish settlers on the right all the way to an Israeli-Arab Islamist party and super-liberals on the left."
"Is that what America needs in 2024—a ticket of Joe Biden and Liz Cheney?" he asked. He suggested other potential pairings, like Biden and Republican Senator Lisa Murkowski or Harris and GOP Senator Mitt Romney.
Biden has not detailed any concrete plans for 2024, although he has said it is his "plan" and "expectation" to run again. He became the oldest president to take the oath of office last January when he was 78, breaking the record previously held by former President Donald Trump. Harris' swearing in was also a historic moment, when she became the first woman, the first Black person and the first person of Indian descent to assume the vice presidential office.
If Biden decides to end his presidential tenure after one term, Harris would appear to be the most likely contender to succeed him, although she had a 44 percent approval rating and a 54 percent disapproval rating in a Gallup poll released at the end of last year.
A spokesperson from Harris' office did not offer any additional comment to Newsweek.