Kamala Harris Says Based on Video of Jacob Blake Shooting, Officer 'Should Be Charged'
Democratic vice presidential nominee Kamala Harris has said that based on the video of Jacob Blake's shooting, the white police officer who shot him should be charged.
In a wide-ranging interview with CNN's Dana Bash, Harris said she was "very clear" that the charges should be "considered in a very serious way and that there should be accountability and consequence."
"Based on what I saw, he should be charged," the California senator told Bash, but added that she was "not in full possession of the facts and the evidence."
Rusten Sheskey shot Blake, who is Black, seven times in the back in Kenosha, Wisconsin on August 23, sparking several nights of unrest in the city that led to some businesses being burned down.
A cellphone video that circulated widely on social media showed Sheskey opened fire after Blake opened his SUV's driver-side door and leaned into the vehicle.
Sheskey and the other officers involved in the shooting were placed on administrative leave pending the outcome of an investigation by the Wisconsin Department of Justice. None have been charged so far.
In a recent interview, Trump stopped short of saying whether Sheskey should be charged. "Well I'm looking into it very strongly. I'll be getting reports, and I'll certainly let you know pretty soon," he told WMUR. He added that Blake's shooting "was not a good sight."
But the president said he wouldn't be meeting with Blake's family during his visit to Kenosha because they had wanted lawyers present.
Blake's father, who is also called Jacob Blake, later told CNN that his son's recovery is more important that meeting Trump. "I'm not going to play politics... this is my son's life," he said.
During his visit to the city on Tuesday, Trump didn't even mention Blake but backed law enforcement.
"You have people that choke," he said. "They're under tremendous pressure. And they may be there for 15 years and have a spotless record. And all of a sudden, they're faced with a decision. They have a quarter of a second—quarter of a second—to make a decision. And if they make a wrong decision, one way or the other, they're either dead or they're in big trouble. And people have to understand that. They choke sometimes."
Trump claimed there were some "bad apples" as well as situations where police officers "choke," but denied there was an issue of systemic racism in law enforcement.
Trump's Democratic opponent Joe Biden, on the other hand, told residents of Kenosha that the turmoil since Blake's shooting could help Americans confront centuries of systemic racism.
"We're finally now getting to the point where we're going to be addressing the original sin of this country, 400 years old... slavery and all the vestiges of it," Biden said at Grace Lutheran Church after a private meeting with Blake and his family, the Associated Press reported.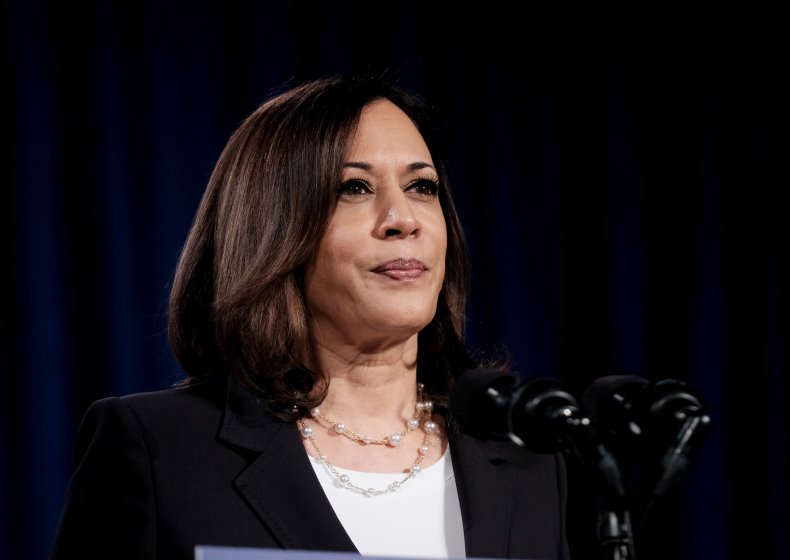 During her interview with CNN, Harris hit back at those remarks as well as Attorney General Bill Barr's recent denial of systemic racism in U.S policing.
"We do have two systems of justice in America," she said.
Harris, who is the first Black and first South Asian American woman on a major party ticket, added that Barr and Trump are "spending full time in a different reality."
The former California attorney general added that there are "huge disparities in our county based on race," including in law enforcement.
"There's no question that we have seen an unacceptable... incidents for generations, of unarmed Black men bing killed," she said.
"Nobody can deny that. You look at the numbers and proportionate to the population, a Black man is exponentially more likely to be stopped without probably cause, arrested."
She added: "I don't think most reasonable people who are paying attention to the facts would dispute that there are racial disparities and a system that has engaged in racism."