Polls Showed Kamala Harris Struggled to Reach Black Voters. But That Is Changing
When California Sen. Kamala Harris dropped out of the 2020 Democratic presidential race in December, she was followed by doubts over whether she would have been able to rally the support of Black voters behind her.
At the time, Harris had been polling well behind then-rival Joe Biden, the presumptive Democratic presidential nominee she is now set to run alongside, in terms of support among Black voters.
She also trailed behind Vermont Sen. Bernie Sanders and in more recent polls, behind Massachusetts Sen. Elizabeth Warren, with one November Quinnipiac University poll showing Harris flagging with 6 percent of support from Black voters, compared with Biden's 44 percent, Sanders' 10 percent and Warren's 8 percent.
While Harris' campaign might have expected to receive support from Black communities, Biden was able to draw backing, particularly given his relationship with and record serving alongside former President Barack Obama.
Other elements may have also weakened outward support for Harris, with one aspect being captured in a report written for Pete Buttigieg's campaign at the time, which after polling Black voters found that that while people "see potential in her" they "do worry that America won't elect a black woman."
Part of that was surmised in a report written for Pete Buttigieg's campaign at the time, with the then-candidate's pollster writing of Harris that Black voters "see potential in her." However, they "do worry that America won't elect a black woman," the report said.
Many voters have also taken issue with Harris' past as a prosecutor, regardless of how progressive she has claimed to be during her time working as San Francisco district attorney from 2004 to 2011 and later going on to become California's attorney general from 2011 to 2017.
The latter issue continues to be a point of contention around Harris's candidacy as vice president, with Briahna Joy Gray, the former national press secretary for Sen. Bernie Sanders' 2020 presidential campaign, railing against Biden's choice for VP at a time of nationwide protests against "excessive policing" in the wake of George Floyd's death.
"We are in the midst of the largest protest movement in American history, the subject of which is excessive policing," Gray wrote in a tweet. And yet, she wrote, "the Democratic Party chose a 'top cop' and the author of the Joe Biden crime bill to save us from [President Donald Trump]. The contempt for the base is, wow."
While there have been concerns around whether Harris as VP will help or hinder Biden's bid to unseat Trump, positive signs are emerging in the midst of the presumptive Democratic nominee's announcement.
A Georgetown University/Battleground national poll conducted between August 1 and 6 and released on Monday, just a day before Biden announced Harris as his pick for VP, found support for the California senator, with 44 percent of likely voters nationwide having a favorable view of Harris, compared with 35 percent who had an unfavorable view.
Eight percent said they had no opinion on her, while 13 percent said they had never heard of Harris.
Among Black voters, in the new poll, Harris enjoyed a 64-15 percent favorable rating among Black voters, significantly higher than support among white voters, which stood at 41-39 percent and Hispanic and Latino voters (39-32 percent.)
Generally, the favorable rating shows a surge from Georgetown University polling from last October, which found 35 percent of likely voters to have favorable views of Harris, compared with 43 percent who had unfavorable views.
Meanwhile, in a new poll by The Economist/YouGov, most Biden supporters (51 percent) said they believe Harris will be an asset to the Democratic ticket. Meanwhile, only about one in eight (12 percent) said they felt she would hurt his chances of winning the White House.
Among Black voters, the same share (51 percent) said they felt Harris would help Biden's bid, compared with 9 percent, who said they believed it would hinder his campaign. Fifty percent of white voters, meanwhile, said they believed Harris could be a help, while 14 percent said they felt she could hurt the Democratic bid.
The graphic below, provided by Statista, highlights Harris' popularity among Democratic voters.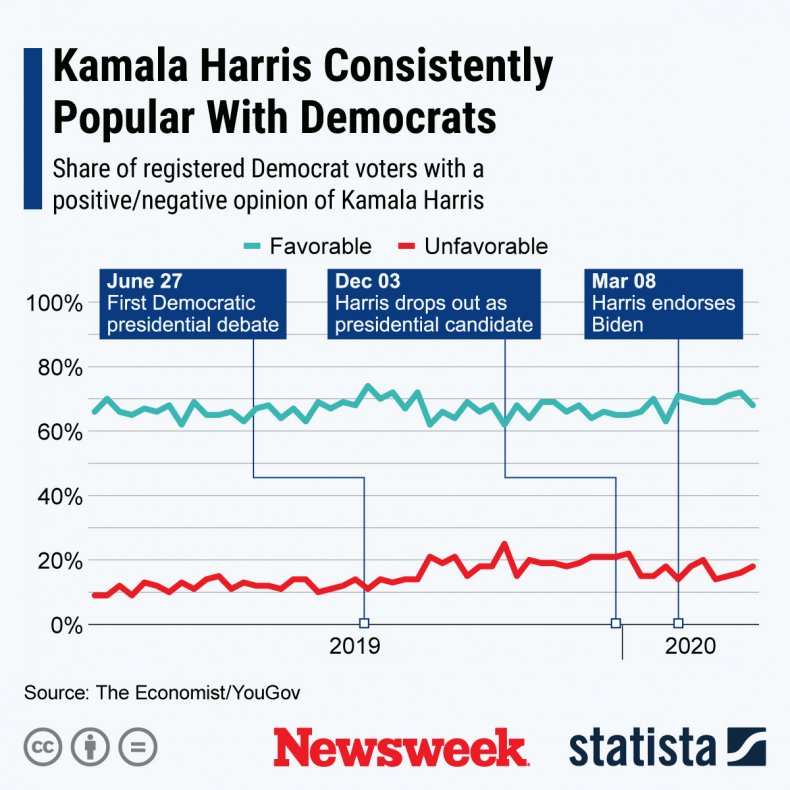 Speaking with Newsweek, Rebecca Sive, a political analyst and the author of Vote Her In: Your Guide to Electing our First Woman President, said she believed that the national discussion around racial injustice has likely helped rally support for Harris, even despite her career as a prosecutor.
"There's some truth to that old adage about the fact that when things get really stirred up, people can really change their world view," Sive said.
"Right now, we're desperate for safety for ourselves and our children and our loved ones and who's going to do that for us? They know that a confident and successful woman who has prevailed in very difficult circumstances is someone who can," she said.
While Harris' past as a prosecutor may not play well with liberals pushing criminal justice reform, as well as for criminal justice systems to be defunded, Sive said she believed that asked to choose between Trump and Vice President Mike Pence and Biden and Harris, even those who question Harris' career may feel compelled to vote for her.
"No candidate is perfect. No person is perfect. Here are two leaders saying, 'We need to continue to protest for our rights' and Kamala Harris is certainly going to support that. We need someone who is tough and can take on a fight and she's going to do that."