Sen. Kamala Harris: As President, I Would Use Executive Orders for Stricter Gun Control if Congress Doesn't Act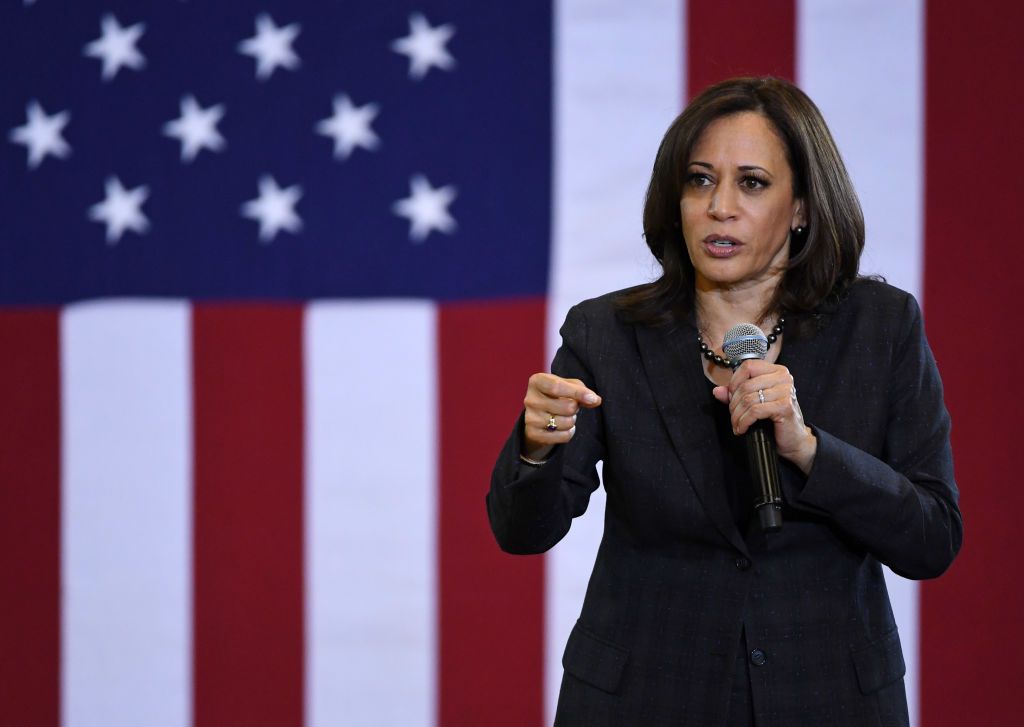 California senator and 2020 Democratic presidential hopeful Kamala Harris said Sunday that if she were elected to the Oval Office, she would give Congress a short window to act on passing stricter gun control laws, but then take action on her own if lawmakers failed to act.
Appearing on CNN's State of the Union Sunday, host Jake Tapper asked Harris her opinion on other candidates' proposals for laws intended to further regulate the sales of firearms.
Harris said she liked these ideas, but noted "We're not at any loss for good ideas. People have been having good ideas for decades on this issue."
Where Americans are at a loss on the matter of gun control, argued Harris, was for "people in Congress to have the courage to do something."
The former California attorney general pointed to the slew of public attacks —including the recent shooting at the STEM School in Highlands Ranch, Colorado — as evidence that there is already enough violence to merit these changes.
"We're not waiting for tragedies and we're not waiting for good ideas," she told Tapper. "Universal background checks? Check! Really good idea; you might wanna know if someone has been proven to be a danger to themselves or others before they can buy a lethal weapon."
Harris continued: "What we're waiting for is for Congress to have the courage to act."
She then outlined her plan to give Capitol Hill lawmakers a deadline for acting.
"If, by my 100th day in office when I'm elected President of the United States, the United States Congress fails to put a bill on my desk to sign, with all of the good ideas — or any of the good ideas — then I'm prepared to take executive action because that's what's needed," Harris told Tapper.
"Specifically, for anyone who sells more than five guns a year, they would be required to perform background checks on the people they sell them to," she continued, adding that these checks would be the "most comprehensive" that "has ever been had in our country thus far."
Harris additionally stated that she would be prepared to direct the Bureau of Alcohol Tobacco and Firearms (ATF) to"remove and take away the licenses of gun dealers who fail to follow the law," claiming that "90 percent of the guns that are associated with crime have been sold by 5 percent of the gun dealers. We need to take their licenses away."
While it is not immediatley clear that a president could enact these policies solely through executive order, Harris stated with certainty that "Yes it can."
Tapper also pressed Harris on her past as a prosecutor, which has been used by critics to label her, negatively, as a "cop."
The candidate responded by saying she "will never apologize for prosecuting people" who committed violent crimes like rape and murder, and that the criminal justice system is ther to "make sure there is consequence and accountability" in such cases.
"I am also acutely aware that we have a criminal justice system in America that is deeply flawed, has often been informed by bias, and is in need of severe reform," she continued, "which is why my entire career I have worked to do both."
Harris is currently polling at fourth place in the latest Hill/HarrisX poll of the field of Democratic candidates. Former Vice President Joe Biden leads the group by a large margin over Senator Bernie Sanders and South Bend, Indiana, Mayor Pete Buttigieg. Harris is ahead of fellow Senators Elizabeth Warren and Cory Booker.
Though the first primaries are not until February 2020, the vast slate of some two-dozen Democratic candidates will begin debating each other in June.