President Kamala Harris? Senator's Odds of Gaining Democratic Nomination Soar Following Debate Performance
There was almost unanimous agreement Thursday night that Kamala Harris starred on night two of the opening Democratic debates. While it remains to be seen how her performance will be reflected in the polls, oddsmakers have already reacted by dramatically shortening the odds on the California Senator to grab the Democratic nomination.
Harris gained widespread acclaim for her performance throughout the debate in Miami, but particularly for the way in which she took on frontrunner Joe Biden over his record on race and desegregation. In a crowded debate with nine other candidates and with 20 contenders appearing over two nights, Harris also garnered the precious commodity of a viral moment.
"That little girl was me," Harris said passionately when she took on Biden's record of opposing busing, a plan to help alleviate racial segregation, in the 1970s.
Going into the debate, Harris was at-best fourth favorite with most oddsmakers, trailing Biden as well as Senator Bernie Sanders, South Bend, Indiana, Mayor Pete Buttigieg and, in some cases, Senator Elizabeth Warren.
After her standout showing Thursday, though, Harris has moved into second place in the betting with many firms. The former California attorney general, who gained national attention for her pointed questions to President Donald Trump's nominees, now has odds of 5/2, according to Bet Online. That puts her into the position of favorite for the nomination.
Biden, meanwhile, following his struggles to defend his record on race, slipped to odds of 13/4.
It was a similar story on the political prediction stock market Predict It. Harris' price on the site soared from 12 cents and fourth place up to 20 cents and a share of first place with Biden and Warren.
In terms of odds to win the presidency overall, Harris is now the second favorite, according to Bet Online, at 5/1. Donald Trump is the clear favorite, a product of him being the incumbent and being almost certain to garner the Republican nomination.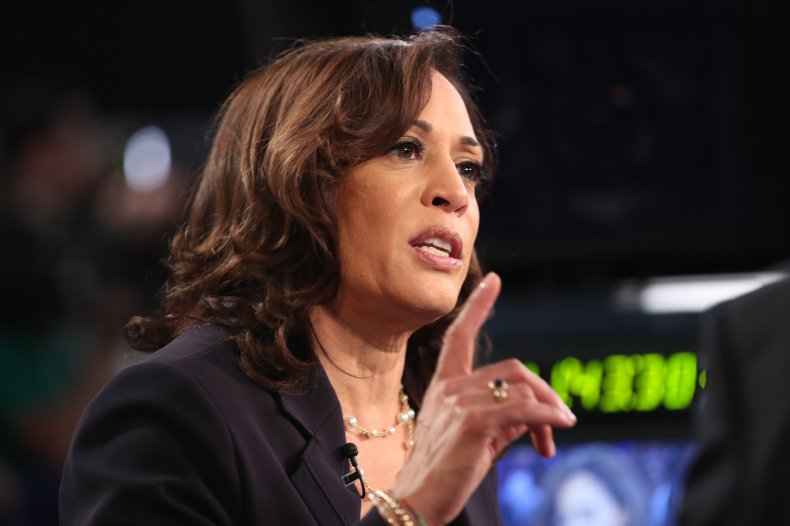 With a packed field of 24 candidates, this week's debates marked an opportunity for a number of contenders to break out from the pack. In Harris' case, her campaign started with plenty of buzz but had stalled as Biden and Sanders entered the race and Buttigieg surged in the polls. The challenge for Harris now will be to maintain her new-found momentum through the second round of debates at the end of next month.
For others, the challenge is more immediate. As well as Biden, the other big loser from the debates was Beto O'Rourke. The former congressman and defeated Senate candidate from Texas struggled on the first night in Miami and has seen his odds for the nomination fall from 25/1 to 40/1.