Kamala Harris Was the Real Winner of the Midterms
Vice President Kamala Harris may emerge from last week's midterm elections as a winner after she supported a slew of successful Democratic candidates in what had been expected to be a tough year for the party.
Harris made numerous campaign appearances with candidates who went on to win their races, including Representative Karen Bass in the Los Angeles mayor's race and Josh Shapiro in the battle for governor of Pennsylvania.
The vice president's efforts have won praise on social media, with some pointing to the high success rate of Democrats she publicly supported.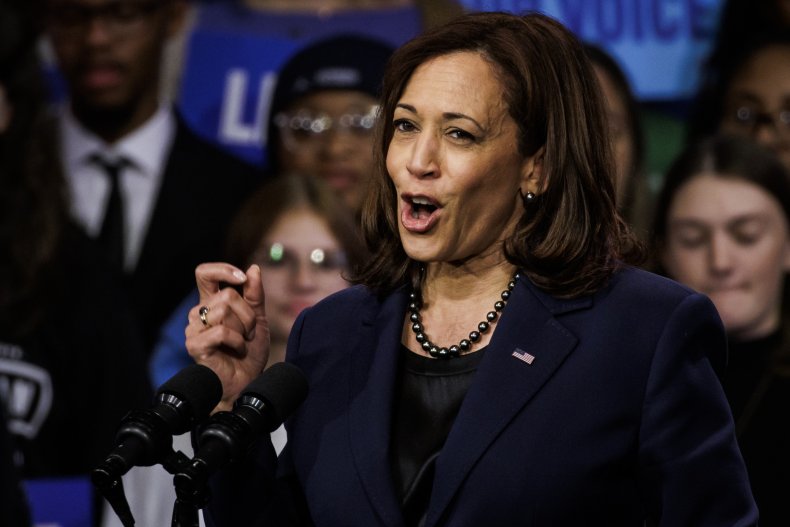 "For all of the 'where is the vice president?' talk, too few people realize that she spent the weeks ahead of the midterms visiting universities across the country and helping turn out the GenZ vote," tweeted Eugene Scott, national political reporter at The Washington Post.
Author Keith Boykin tweeted a list of candidates who'd won after receiving Harris' backing. They included Michigan Governor Gretchen Whitmer, Illinois Governor J.B. Pritzker and New York Governor Kathy Hochul.
Twitter user @flywithkamala suggested that Harris should be considered as a potential future presidential candidate alongside people like California Governor Gavin Newsom as well as Shapiro, Whitmer and others, saying that Harris "who stumped for them all, deserves a plug too!"
Political scientists told Newsweek that while the vice president likely had a very limited impact on midterm election results, Harris could potentially benefit from her role in the campaign.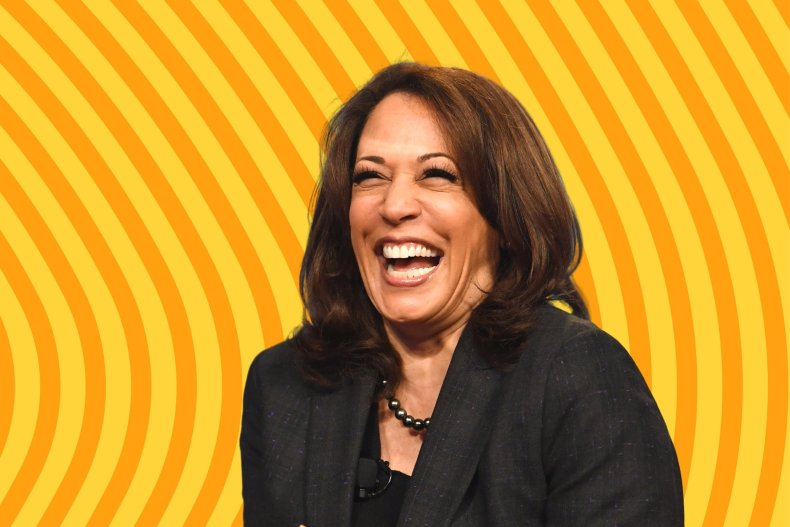 Favorable Media Coverage
Harris' association with winning Democratic candidates is likely to find favor among Democratic voters despite the wider issues at play during the midterms.
"Vice President Harris campaigned for about two dozen Democratic candidates, in races for House and Senate seats, key governorships, and even the mayoralty of Los Angeles," Paul Quirk, a political scientist at the University of British Columbia in Canada, told Newsweek.
"She was an effective campaigner, attracting favorable media coverage of her rallies and other events with those candidates," he said.
"It would be quite a stretch, however, to give her any large part of the credit for the Democrats' successes in the elections," Quirk went on. "For one thing, even presidential campaign visits have only small effects on midterm races."
"And in fact, Harris did a lot of her campaigning for candidates - Josh Shapiro, Wes Moore, Letitia James, and others - who won their elections by comfortable, and sometimes huge margins," he said.
Boosting Harris
The vice president has often been the subject of speculation about her presidential ambitions, particularly given President Joe Biden's age and negative approval rating. He will be 80 on Sunday.
It may be little surprise that fans of Harris are praising her role in the midterms.
"People in her camp are bragging that every candidate she campaigned for won their elections," Quirk said.
"But that just tells us that she largely stayed away from the toughest races, where a small boost from her visit could have made the difference," he said. "With that allocation of her efforts, and the small effects of such visits, Harris's campaigning probably was not critical to the success of any candidate."
Strategic Endorsements
If Harris chose to stay away from closer races, that could have been a deliberate choice.
"VPs usually have almost zero effect even in presidential campaigns where they are actually a major part of the story," David A. Bateman, an associate professor of government at Cornell University, told Newsweek.
"Endorsements are strategic - you don't endorse weak candidates unless you have another agenda - and in an environment where the Democrats did better than expected, almost anyone who endorsed standard Democratic candidates would have a decent track record," he said.
'Buzz Around Kamala'
Even though Harris may have had little influence on the ultimate outcome of the midterms, perceptions about her role could benefit her nonetheless.
"There seems to be a hunt for an explanation of why the Democrats bucked historical trends of the party in power losing seats in midterm elections, and the VP is apparently a popular choice among some," Robert Singh, a professor at the Department of Politics at Birkbeck, University of London, told Newsweek.
Singh expressed skepticism about Harris' effect on the elections "at least absent more concrete empirical evidence."
"It seems difficult to attribute the 'youth' turnout to Kamala," he said. "While this may have played a role at the margins in some races, it was hardly an earthquake."
Singh said that about 31 percent of eligible 18-29 year old voters turned out and that was "a tad higher than usual in midterms but still pretty low in comparative terms."
"Moreover, it seems pretty clear that issues - most notably, abortion rights - were a big part of the explanation," he said.
"The buzz around Kamala seems to reflect more a desire among some progressives to defend her or advance her a possible Harris 2024 bid than a serious appraisal of the 2022 race," Singh said.