Kamala Harris Reportedly Weighing up Endorsing Joe Biden After Former VP Said He'd Consider Her As His Running Mate
Senator Kamala Harris is reportedly weighing up endorsing moderate 2020 Democrat Joe Biden after the former vice president said he'd consider her as his running mate.
Multiple Democratic officials familiar with her deliberations told The New York Times, in an article published Thursday evening, that Harris, who dropped out of the 2020 race in early December, had been considering endorsing Biden for the Democratic nomination and presidency. The officials noted that such an endorsement would likely be made after the conclusion of the Senate impeachment trial of President Donald Trump. As their discussions were surrounding the disclosure of private conversations, the sources spoke on the condition of anonymity.
Harris declined to comment on the report. "Senator Harris remains focused on the ongoing impeachment trial of President Trump," said Chris Harris, a spokesman for the senator. "No decisions have been made about whether she will endorse, which candidate, nor when an endorsement decision will be made."
According to Democrats close to Harris, the senator is also cautious about making the move as she's careful about sidelining her two female colleagues—Senators Elizabeth Warren and Amy Klobuchar—who are competing for the Democratic nomination. Harris is also aware that a possible Biden endorsement may draw negative responses from her California constituents.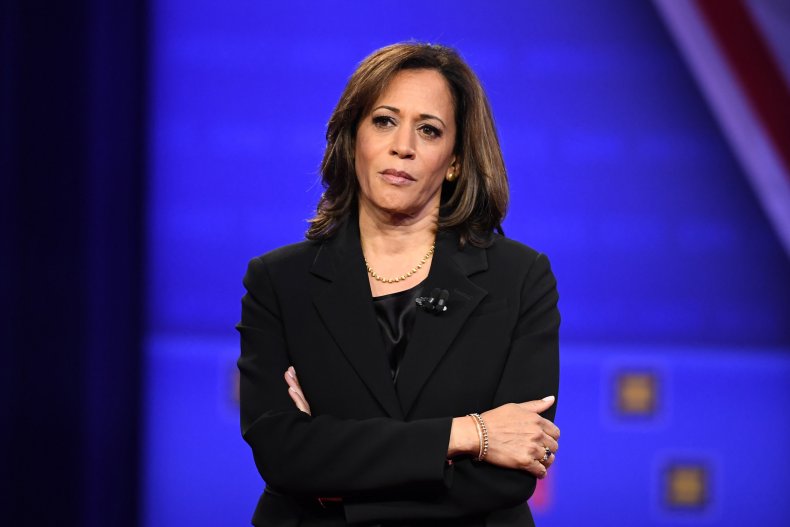 The news of Harris' potential endorsement for Biden comes nearly two months after the senator ended her presidential campaign after months of attempts at lifting her campaign to the crowded field's top-tier.
"I've taken stock and looked at this from every angle, and over the last few days have come to one of the hardest decisions of my life. My campaign for president simply doesn't have the financial resources we need to continue," Harris said at the time in a note to her supporters.
Since her departure from the race, Biden has showered Harris with praise. "Senator Harris has the capacity to be anything she wants to be," Biden told reporters after her announcement in December. "I talked to her yesterday. She's solid. She can be the president one day herself. She can be the vice president. She can go on to be a Supreme Court justice."
One day after Harris dropped out of the race, a reporter asked Biden whether he'd consider Harris as his running mate. "Of course I would," he responded.
The two former 2020 opponents have not always been amicable. During the Democratic debate in June, Harris ripped the former vice president over his busing record.
"I'm not good at keeping hard feelings," Biden said of Harris when asked about the incident in December.
Newsweek reached out to Biden's campaign for comment but did not receive a response in time for publication.