Kamala Harris Responds to Planned Parenthood Rejecting Title X Program: 'I Will Undo This Gag Rule'
In response to Planned Parenthood's refusal of federal funds on Monday, presidential candidate Kamala Harris called the new regulations a "disgrace."
She tweeted on Monday, "As president, I will undo this gag rule on my first day in office."
Many others responded immediately, and #PlannedParenthood, as well as #ProtectX were trending on Monday and Tuesday. Various prominent 2020 candidates decried the restrictions.
Senator and presidential hopeful Elizabeth Warren immediately commented on Monday evening saying, "The Trump administration is deliberately obstructing low-income people's access to basic health care services & interfering in medical decisions made by patients & their doctors. If the administration won't #ProtectX, then the courts must."
Similar indictments for the rule change were issued by other candidates including the US senators Amy Klobuchar and Kirsten Gillibrand, and by Joe Biden, the current frontrunner who came under fire recently for past backing of a ban on federal funding of abortions.
Biden said on Tuesday: "The Trump Administration's Title X rule is a direct attack on Planned Parenthood and the crucial services the organization provides. Access to health care could be taken away from millions of women. It's wrong, and as president I will reverse it."
In a divisive moment for Planned Parenthood, the organization said on Monday it will withdraw from the federal Title X program that helps low-income people access contraception. It will do so because it refuses to comply with new constraints under President Donald Trump's administration that block federally-funded clinics from referring patients for abortions. The clinic's exit will result in a loss of millions of federal dollars.
Others seem to laud the Trump administration on the regulations. House Republican Steve Scalise had a completely opposing view of the outcry from Democrats, saying on Twitter on Tuesday, "Planned Parenthood is clearly revealing itself to be in the business of abortion, not health care. I'm proud to see @realDonaldTrump stand up to Planned Parenthood, and prevent taxpayer funding from subsidizing the abortion industry."
Conservative podcaster who specializes in "Daily Rant" videos Graham Allen tweeted on Monday, "BREAKING: @realDonaldTrump has DEFUNDED Planned Parenthood!! Amazing to have a President stand up for our unborn!! He promised he would, and he did!!!"
Many others — particularly Christian social media user — tweeted about their happiness that Planned Parenthood would be withdrawing from federal funding, "saving tax dollars" and "unborn lives."
In a conference call with reporters on Monday, Planned Parenthood's new leader, Alexis McGill Johnson, announced all the health care clinic's affiliates would be sending letters to the Department of Health and Human Services Monday, formally announcing their resignation from Title X. She warned that without Planned Parenthood, low-income women in rural areas would struggle to find affordable birth control options.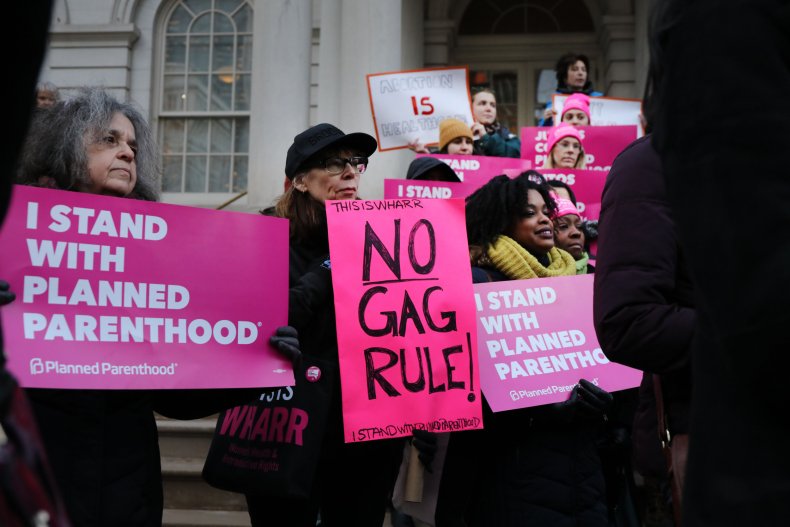 "For too many people struggling to make ends meet, it may be that they may go without care," Johnson said on the call.
Title X was created in 1970 to provide affordable reproductive care to women who otherwise couldn't afford it. Last year, more than four million people relied on Title X for health care services, 41 percent of whom received services at Planned Parenthood, according to the health clinic.
Anti-abortion rights advocates argue that any money given to Planned Parenthood — even if it's not used for abortions — frees up funding to be used for the procedure.